« And I see AMD's desktop GPU market share continue to slip and think to myself "maybe this is not a coincidence."
|
Main
|
Food Thread: Memorial Day Beer [Beerslinger] »
May 24, 2015
Food Thread: A Structural Analysis of Deli Sandwiches [CBD]
It's a breathtakingly simple food; bread, meat, cheese, some vegetables and a condiment or two. Any decent supermarket or deli can provide the raw materials for a solid sandwich....although the bread can be a problem outside of range of a good bakery.
This bread looks damned good.....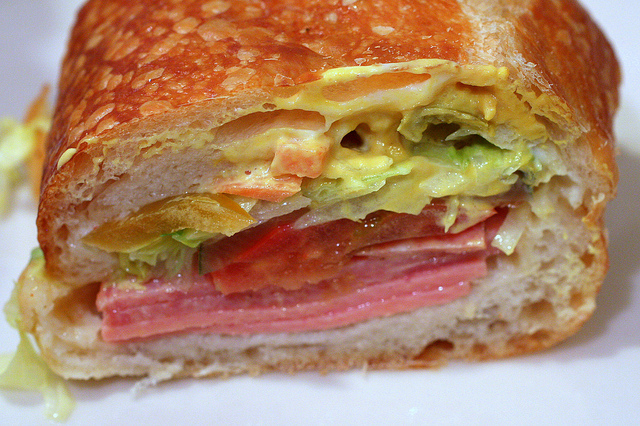 And it seems to have been gutted before the sandwich was built, and that is a vital part of the process. Too much bread is a sin. Gut the damned loaf, and you are left with the crunchy goodness of the crust, a bit of the inside to help with stability and soak up the dressing, but not so much that it becomes a bread sandwich with meat and cheese on the side.
Here is a deceptively simple sandwich...possibly the highest expression of the sandwich technician's art: prosciutto and mozzarella on a crusty loaf.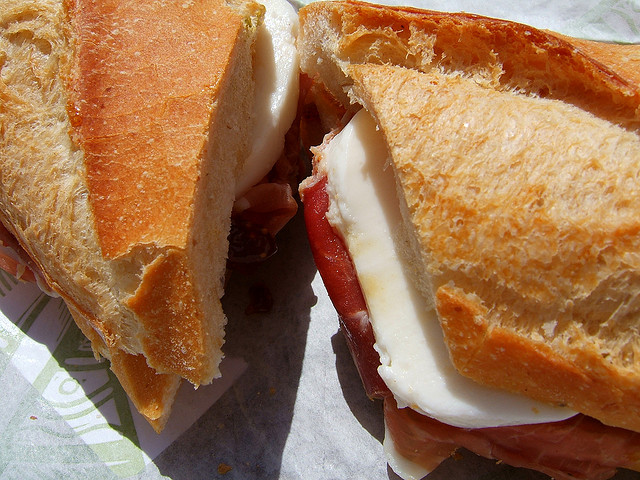 And notice that mutz (yes, I am from the Northeast) is relatively thick. That's important, because it's a mild cheese, and its texture is important. Fresh mozzarella is a wonderful thing, and the difference it makes in a sandwich is astounding.
Here is a sandwich from Vito's Deli in Hoboken NJ. Unless you are 23 and want to get drunk, there are few reasons to go to Hoboken, but one of them is Vito's (another is the NY/NJ Moron Meet-ups). They make their mozzarella fresh, use excellent bread, and their deli meats are also top notch. This sandwich wasn't gutted, which is almost unforgivable, but everything else looks good. Notice how the meat was folded into the bread? That gives loft without making it dense and unbalanced. That's a pro move.....


Photo courtesy of tommy:eats
As much pleasure as there can be in good prosciutto or other fine meats, the most important part of the sandwich is the mozzarella. And while Vito's mutz is excellent, there is none better than at
Casa Della Mozzarella
in The Bronx; the Arthur Ave. neighborhood to be precise. I don't even know if their sandwiches are any good (I'll bet they are).... all I get is the cheese, which I eat plain. Yes...plain. It is an incredible culinary experience.
******
Peanut brittle is good stuff, and a relatively easy candy to make. This recipe is from People Magazine (shut up), and chef Gesine Bullock-Prado, Sandra Bullock's sister.
One warning...it calls for a lot of cayenne. If you are unsure, back it off to 1/2 teaspoon.
Oh....I just made some of this about five minutes ago (still too hot to eat). If anyone can explain to me why there is an admonition against stirring the mixture I would appreciate it. Is it some weird candy-making tradition? Maybe stirring adds too much air, or releases too much air and the resulting mixture is too dense?
Cayenne Peanut Brittle
Ingredients:
• Non-stick cooking spray
• 2 cups sugar
• 1/2 cup corn syrup
• 1/4 cup unsalted butter
• 1 tsp salt
• 1 tsp cayenne pepper
• 1 tsp baking soda
• 3 cups salted dry-roasted peanuts
Preparation:
Spray your spatula and a large baking sheet with the non-stick spray and set aside for later.
With your burner set to medium-high heat, in your large pot combine the sugar, corn syrup, unsalted butter, salt, and pepper. Mix all of the ingredients as they come to temperature and sugar fully dissolves.
Bring the contents of your pot to a consistent and gentle boil. Once boiling, insert your candy thermometer and allow the pot to boil until it reaches 300 degrees. Do not stir the mixture during this time.
It will take a little while to reach 300 degrees, but pay close attention as you'll want to remove it from the heat promptly when it reaches full temperature. Burned sugar = no fun.
Remove the pot from the heat and immediately sprinkle the baking soda over the mixture. The syrup mixture is very hot, so be careful in these steps as it will bubble vigorously. Using the wooden spoon, stir the peanuts into the mixture until they are evenly distributed.
Carefully pour the mixture into your baking sheet, and using your spatula spread the brittle out evenly over the surface of the pan. Let it cool for about 10 minutes.
Once cooled, break the brittle into pieces that suit your preference and enjoy.

posted by Open Blogger at
04:00 PM
|
Access Comments