« Food Thread: A Structural Analysis of Deli Sandwiches [CBD]
|
Main
|
My Memorial Day [Weirddave] »
May 24, 2015
Food Thread: Memorial Day Beer [Beerslinger]
This Memorial Day weekend we are free to drink and brew great beers thanks to all of those who made the big sacrifice.
Here's a feel good story about a WWII soldier, his helmet, and beer in Belgium.
Vincent Speranza, a former infantryman machine gunner with the 501st Parachute Infantry Regiment during WWII, inspects an M249 machine gun weapon system during an installation visit Oct. 6, 2013, at Joint Base Elmendorf-Richardson, Alaska. Speranza was at the base to visit paratroopers with the 1st Battalion, 501st Infantry Regiment, and to be a special guest at their regimental ball. Jeffrey Smith/U.S. Army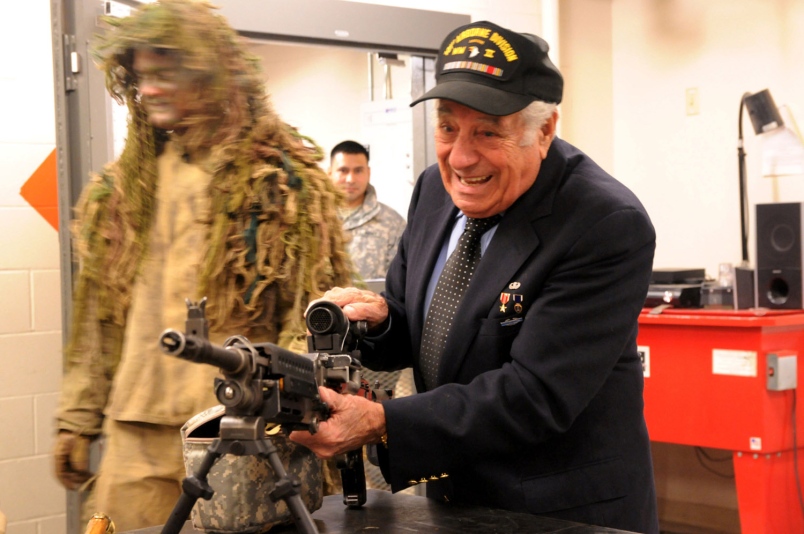 For those here who don't like beer, there's always kittehs and turntables....

Craft beer is now so widely available that most morons can find either a micro brewery or taproom within a 30-mile radius of wherever they may be.
BeerMenus.com.
tells you what good beers are currently on tap in your neighborhood. Here are some of the good beers I've found locally and would recommend...
Green Flash East Village Pilsner is a full bodied and somewhat hoppy Czech style pilsner, 5.3%, CA.
Downeast Cider House's 'Hard Honey' may well be the best cider I've ever had. 5.1% They're out of Massachusetts.
Stone scrapped its Ruination recipe and have come back with a bigger, better imperial IPA with their Ruination 2.0 series. It's divine. CA, 8.5%
Grapefruit Sculpin by Ballast Point in CA is ridiculously good. If you like IPAs, and you like Sculpin, then you really need to try this beer. 7%
Sometimes it takes a beer to face the press...Hillary Clinton answers questions at Smuttynose Brewery in New Hampshire...
For more beer news check out Ale Street News.
Anyone else around here had any good beers recently?


posted by Open Blogger at
05:45 PM
|
Access Comments