« Did SNL Rip Off a Canadian Show's Mohammad Sketch?
|
Main
|
Morning Thread (5-12-2105) »
May 11, 2015
Overnight Open Thread (5-11-2015)
It'll be a long time before you see "Washington Post Offers No Apology for Attacking Target of Thwarted Attack" or "AP Says It Has No Regrets After Blaming The Victim". The respectable class in the American media share the same goal as the Islamic fanatics: They want to silence Pam Geller. To be sure, they have a mild disagreement about the means to that end - although even then you get the feeling, as with Garry Trudeau and those dozens of PEN novelists' reaction to Charlie Hebdo, that the "narrative" wouldn't change very much if the jihad boys had got luckier and Pam, Geert Wilders, Robert Spencer and a dozen others were all piled up in the Garland morgue.

If the American press were not so lazy and parochial, they would understand that this was the third Islamic attack on free speech this year - first, Charlie Hebdo in Paris; second, the Lars Vilks event in Copenhagen; and now Texas. The difference in the corpse count is easily explained by a look at the video of the Paris gunmen, or the bullet holes they put in the police car. The French and Texan attackers supposedly had the same kind of weapons, although one should always treat American media reports with a high degree of skepticism when it comes to early identification of "assault weapons" and "AK47s". Nonetheless, from this reconstruction, it seems clear that the key distinction between the two attacks is that in Paris they knew how to use their guns and in Garland they didn't. So a very cool 60-year-old local cop with nothing but his service pistol advanced under fire and took down two guys whose heavier firepower managed only to put a bullet in an unarmed security guard's foot.

The Charlie Hebdo killers had received effective training overseas - as thousands of ISIS recruits with western passports are getting right now. What if the Garland gunmen had been as good as the Paris gunmen? Surely that would be a more interesting question for the somnolent American media than whether some lippy Jewess was asking for it.

-- Mark Steyn in 'Stay Quiet and You'll be Okay'.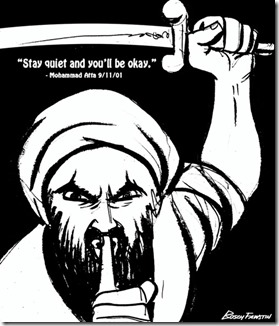 "I don't know about you, but I've always thought that what professional wrestling needs is a foundation of story-telling based on progressive identity politics. Fortunately, Billy Corgan is here to help."

-- Jonathon Last, tongue firmly in cheek
Quote of the Day III - On The Wisdom of Phil Zimbardo
And pornography? "The relative proportions are hard to come by. But for girls, it's just boring. In general, sex has always been linked with romance for girls - much more than for boys. For boys it's always been much more visual and physical."

"With the old pornography there were typically stories. There was a movie, like Deep Throat, and in the course of some interesting theme people were having sex. Now it's only about physical sexual contact."

Oh my God! The washing machine has broken in the cheerleaders' apartment. Now they'll never get to the game. [Ding Dong] Wait, who could this be?

"It's always been difficult for boys to talk to girls because you are never sure what they want or what their agenda is. And now without trying or practice it becomes more and more difficult. So it's a reason to retreat into this virtual world."

Phil, I know their agenda. They want quality plumbing without having to pay in cash.
Detective Tim Blair is on the Case of 'Radicalism'
Following last week's terrorism raids, AFP deputy commissioner Mike Phelan claimed radicalism was a problem for all Australians.

"We've got to do something about this problem. All of us. All in the community. It's got nothing to do with faith," he said. "This is about all the community, all families getting together, having a greater understanding of what your children are doing."

Acting on the deputy commissioner's instructions, I immediately launched a detailed alphabetical investigation that would expose radicalism wherever it lurked.

A - After tracking an Anglican cell for more than 50 years, I called their ringleader and demanded information on the radical younger members of her sinister clan. "Oh, hello Tim," my mother answered. "It's nice to hear from you."

She signed off with a mysterious request: "Don't forget your sister's birthday this year." Was this code? Maybe even a threat? I made a mental note to change my phone number. Again.

B - Buddhists are known for silent contemplation. But so is that bloke in the pub who seethes quietly all night until he finally snaps and tosses a chair through the window.

A detailed search of local Buddhist websites failed to turn up any terrorist "chatter". I did find an excellent recipe for vegetarian Thai curry, however, which actually works better if you replace the coriander with flat leaf parsley.
Follow his further adventures here where it turns out that non-faith-related 'radicalism' tends to be rather hard on bar windows.
RIP Tex Logan, Fiddler, Engineer
His Wikipedia entry tells us that "Benjamin Franklin 'Tex' Logan, Jr. (1927) was an American electrical engineer and bluegrass music fiddler. He died April 24, 2015 in the arms of his daughter, Jody."

...But before I ever heard Tex Logan play the fiddle, I knew him as a member of the Mathematics Research Department at Bell Labs in Murray Hill, where he worked from 1956 to 1993, and as the co-inventor of "'Colorless' artificial reverberation" and the author of an important theorem about "Information in the zero crossings of bandpass signals".

Here's an description of a party at his house in 1966. Unfortunately he stopped having those parties in 1970, which was before I started work at Bell Labs in 1975.
Here he is playing a song he wrote, 'Christmas Time's A-Coming', with Bill Monroe and his band.
Bud Light makes a shitty watered down beer which doesn't seem to bother people nearly as much as their advertising campaigns designed to deflect attention from their shitty watered down beer. They've been running this campaign about Bud Light being "the perfect beer for whatever happens" for about two years. If you've ever drank Bud Light you know whatever happens is excessive trips to the bathroom to whizz then pounding five more cold ones hoping your liver stops processing the alcohol out faster than you can drink Bud Light. Among the quips printed on their bottle labels is "The perfect beer for removing 'No' from your vocabulary for the night". It's neither funny, pithy, or catchy. But according to people with moral compasses set to outrage mode, removing 'no' from your vocabulary by way of alcoholic beverages implies men getting chicks loaded and raping them full of babies.
Yes because all men are but a few drinks and a beer label command from going on a rape rampage. That's why you see so many men drinking from paper bags - the high-fiber paper blocks the evil beer label rape-rays from exciting their rapal cortexes.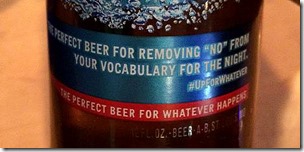 Le Shock: Mental Health Calls #1 Drain on Berkeley Police Resources
Ebola Lurked In a Cured Patient's Eye
During the Ebola outbreak last year, Dr. Ian Crozier was infected. He was eventually airlifted to Emory University for treatment, and a couple months later he was cured of the disease - or so physicians thought. Not long after he was released, his left eye began bothering him. His sight faded, and he felt intense pressure and pain in his eye. Examination of the eye found it teeming with Ebola. His doctors were surprised. Cured patients frequently deal with health issues long after the virus is gone, but this adds a new dimension to the course of the disease.

Doctors say Crozier posed no threat to others through casual contact; the virus did not exist in his tears or on the surface of his eye. But in addition to the new symptoms, his eye turned from blue to green.
If You Just Ask a Bank Teller For Some Money And She Gives It To You, Is It Really a Bank Robbery?
News Women Can Use:  Why Men Won't Marry You
Well one big reason for the historically low rates of marriage among younger men is that the benefits of marriage for them are also at a historical low. Personally I'm a big fan of men getting married but this is mostly based on sentimental reasons and the emotional and psychological benefits. But viewed as a purely economic transaction modern marriage is a loser with a negative expected ROI for most men.

And then you have the lack of respect from women and society in general for married men which I think is far more damaging than any economic costs. Men crave both respect and being viewed by others as being worthy of this respect. And when the opportunity for this is denied them, it's simply unrealistic to expect them to only bear the burdens that used come along with the benefits.
What exactly does marriage offer men today? "Men know there's a good chance they'll lose their friends, their respect, their space, their sex life, their money and - if it all goes wrong - their family," says Helen Smith, Ph.D., author of "Men on Strike." "They don't want to enter into a legal contract with someone who could effectively take half their savings, pension and property when the honeymoon period is over. Men aren't wimping out by staying unmarried or being commitment phobes. They're being smart."

Unlike women, men lose all power after they say "I do." Their masculinity dies, too.

What's left of it, that is. In the span of just a few decades, America has demoted men from respected providers and protectors of the family to superfluous buffoons. Today's sitcoms and commercials routinely paint a portrait of the idiot husband whose wife is smarter and more capable than he.
Also see rapey beer labels that hold men in thrall.
Planes Don't Carry Tanks Of Oxygen.  So What Feeds Your Emergency Oxygen Mask?
Answer: Likely weed-killer or gummy-bear killer. Or perhaps pure nitrogen to put you down quietly and peacefully like.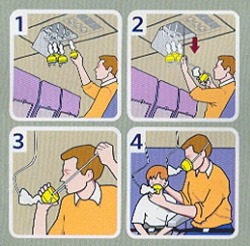 There are 6 ways to get rejected from PLOS: (1) theft, (2) sexual harassment, (3) running an experiment without a control group, (4) keeping a gambling addict away from the casino, (5) chapter 11 bankruptcy proceedings, and (6) having no male co-authors
So guess which one a recent scientific paper ran afoul of.
Is Steven Tyler Also Transitioning?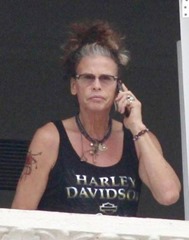 The Yahoo AoSHQ group - it's got electrolytes and shit.
And my twitter thang.
Tonight's post brought to you by the happiness of ice cream:

Notice: Posted by permission of AceCorp-FunBall LLC. Please send overnight open thread tips to maetenloch at gmail. Otherwise send your 'stuff' to Ace IYKWIMAITYD.

posted by Maetenloch at
10:39 PM
|
Access Comments