« Early Morning Thread 5/10/15 [krakatoa]
|
Main
|
Dispatch From The IDF Field Hospital, Nepal [CBD] »
May 10, 2015
Sunday Morning Book Thread 05-10-2015: Don't They Know There's A War On? [OregonMuse]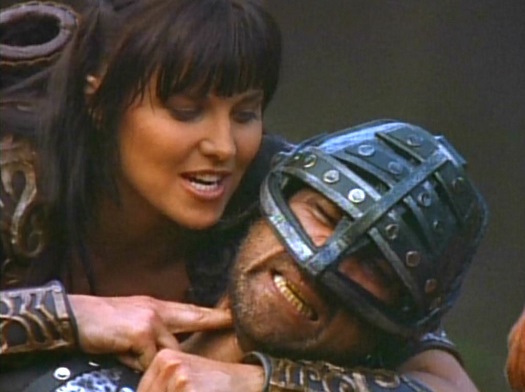 "All of you ISIS nancy-boys are weak and cowardly - how does it feel to be pwned by a little Jewish girl armed with a blog and a pen?"

Good morning to all of you morons and moronettes and bartenders everywhere and all the ships at sea. Welcome to AoSHQ's stately, prestigious, internationally acclaimed and high-class Sunday Morning Book Thread. The only AoSHQ thread that is so hoity-toity, pants are required. Or kilts. Kilts are OK, too. But not tutus. Unless you're a girl.

Book Quote
One always has a better book in one's mind than one can manage to get onto paper.
-Michael Cunningham
I'd guess that many, if not all, of you moron authors understand that quote all too well.

Pamela Geller, Warrior Princess
I suppose if we had some sort of "person of the week" feature on this here smart military blog, obviously this week it would be Ms. Geller. I've never paid much attention to her previously, but now, the more I hear her, the more I like her. And the reason I like her is the same reason I like Sarah Palin: they fight. Despite any problems or defects they might have, they are willing to fight. They are willing to take it to the enemy, as too few on our side are. Big Jihad has declared war on Western Civilization, so we're going to have to fight, and if we wait, we're going to be fighting on their terms rather than ours. Ms. Geller is playing offense and so the fight last week was one she was prepared for, snd was on her terms, and, as a result, Big Jihad got punched in the face.
And what's not to like about that?
Ms. Geller is an author who has written several books, and this being the book thread and all, let's take a look at them.
Her first book, co-written with Robert Spencer, The Post-American Presidency: The Obama Administration's War on America, which also contains a foreward by John Bolton, sounds like a depressing read:
In this timely and urgent battle cry, Pamela Geller...and New York Times bestselling author Robert Spencer team up to expose the Obama administration's destructive agenda..and rally Americans to protect the sovereignty of a country that is under siege by the highest levels of its own government...Obama ignores our forefathers' founding principle: individual rights. Instead, he...seeks to transform both the global and national landscape in favor of our enemies - even if it means cutting America off at the knees. He envisions himself as...a shaper of the new world order, an internationalist energetically laying the groundwork for global government: the president of the world.
That's OK, the LIVs elected him twice, so it's all good.
Next year she wrote Stop the Islamization of America: A Practical Guide to the Resistance, which is an expose' of the Muslim Brotherhood's ongoing campaign to Islamicize America on the down low. It is currently listed as an Amazon best-seller.
Finally, there's Freedom or Submission: On the Dangers of Islamic Extremism & American Complacency. From her introduction:
Islamic supremacists are more assertive in the United States than they ever have been before. They're building large mega-mosques in communities where the local Muslims can neither fill nor afford them. They're demanding - and receiving - special privileges for Muslims in workplaces and special installations...

They're shutting down the national debate that we urgently need to have about Islam and Islamization. They are demonizing as "bigots," "racists," and "Islamophobes" anyone who suggests any anti-terror measure or who asks the Muslim community in the U.S. to do something effective about the jihadists and Islamic supremacists in their midst.

I see this a lot in the news coming out of Great Britain, the "shari'a only" zones, the Muslim enclaves, the out-and-out aggressive push to establish some sort of Islamicized culture (with the assistance of loathsome tools such as George Galloway) and the leaders of that country, hamstrung by the canons of political correctness, all seem to be just standing around with their hands in their pockets, watching it all happen. What's it going to take for them to wake up?

Ha.
From the sidebar of a week or so ago, here are some romance novel covers, as recreated by real people. Not sure if this is NSFW or not. But some of those guys in the romance novel cover art appear to be buck naked. I never noticed that before. I mean, isn't that a little ridiculous: the woman is decked out in full, flowing period attire, but the guy is running around in his birthday suit.

Repeating History
"No country was ever saved by good men," Horace Walpole once observed, "because good men will not go to the length that may be necessary."
This is the opening sentence of Roger Kimball's review of the newly released The Death of Caesar: The Story of History's Most Famous Assassination by Barry Strauss
I sometimes feel that the reason we keep losing is that we're consistently being out-ruthlessed. We feel constrained, at some level. The other side does not. I would hate to think that in order to win against an evil and ruthless foe, we have to be even more evil and ruthless.
Because maybe the results will be worse:
One of the great ironies surrounding the assassination of Julius Caesar is that, for all of the upheaval it occasioned, it failed utterly in its stated purpose. The conspirators sought to overthrow a dictator and restore the Republic....But the Roman Republic, devised to govern a city state, was overwhelmed by the cosmopolitan responsibilities of empire...By killing Caesar, the conspirators merely hastened the Republic's collapse.
I have to resist the urge to simply cut and paste the entire review, so I'll stop there. The entire review is well worth reading if you're at all into history. Kimball compares Strauss to Victor Davis Hanson as an author who has the ability to take an ofttimes boring and dry subject like history and turn it into something fresh and exciting -- and very readable.
I have no idea what Barry Strauss' political views are, but I thought this quote from an article he wrote on the birthday of Rome is interesting:
The Catholic Church, with 1.2 billion members worldwide...has its seat in Rome. And Christianity is by far the main Western religion. The Islamic State militants of ISIS paid a backhanded compliment to that fact. In February they announced plans to conquer Rome. This may seem ridiculous, but so did the idea of a new caliphate conquering Mosul, or Iran getting the bomb or Russia lopping off parts of Ukraine. The threat to Rome displays a sure grip of public relations on ISIS's part, as in their powerful, videotaped beheadings. A successful attack on EU or NATO headquarters in Brussels would shock the world with the glass and steel debris. But blowing up the marble of the Vatican and ISIS would put the will of the West on trial.

How would the West respond? Would we pass the test? On the birthday of our civilization, the answer is unclear.

Things You've Always Wanted To Know
Books didn't used to have dust jackets:
Prior to the 1820s, most books were issued as unbound sheets or with disposable board covers. Customers would buy the text-blocks and commission bindings themselves - often to match the other titles in their library. For this reason, dust jackets were neither needed nor desired. Instead of a dust jacket, some printers would protect the exterior with a blank page (called by some a "bastard title").
I saw the Bastard Titles open for Frumious Bandersnatch at the Avalon Ballroom in 1969...
Thanks to moron "Grey Fox" for the tip.

One Weird Stress-Reducing Trick That Is So Effective, You'll Want To Walk Right Up To Hillary! And Give Her A Big Wet Lingering Kiss Right On The Lips
Look, I'm sorry for the click-bait headline, but I didn't see ace's thread covering this on Friday until it was way too late, and I felt left out.
Anyway, the "weird stress-reducing trick" is real, and it's something I didn't know, namely, that there is a big market for coloring books written for adults:
Perhaps you already know about the coloring books craze; you might be one of the 1.4 million people who's bought Johanna Basford's "Secret Garden." Published in 2013, it continues to float among Amazon's bestselling books -- currently it's at No. 10, two spots ahead of Kim Kardashian's "Selfish" -- and is the online retailer's most-wished-for book. Basford's followup, "Enchanted Forest," is almost as popular.
Because
The books feature intricate patterns and designs that are far too sophisticated for a child's hand. But for adults, they're a way to engage creatively with a relatively low barrier of entry: Coloring is easier than most crafts like, say, learning to knit.
So, as mentioned, Johanna Basford is the "big dog" in this genre, and her coloring book Secret Garden: An Inky Treasure Hunt and Coloring Book is a huge best-seller. The sequel Enchanted Forest: An Inky Quest & Coloring Book
There are others, such as Balance (Angie's Extreme Stress Menders Volume 1) by Angie Grace, another big seller, as is Adult Coloring Book: Stress Relieving Patterns which features drawings by a variety of artists.
I like Simply Pen Tangled: A Coloring Book of Patterned Pictures as the author was an overnight guest in my home a few weeks ago while her family attended a wedding at my church. She drew an amazingly intricate pattern on the thank-you card she left for us.

Books By Morons
Author Mark Haugen e-mailed me requesting me to pimp his just-released 4th novel on the book thread, and I will endeavor to do so. Runaway Trane is about a priest who goes off the rails, off the grid, and perhaps even off his rocker:
Bobby Trane surprises his Montana church one Sunday by not showing up. That's usually not a big deal, except when you're the priest. Tired of blank faces, complainers and cell phones ringing during his sermons, Bobby follows the lead of a mysterious letter he receives and takes off to save the world.
The novel contains lots of stuff that makes it plenty Moron friendly:
We're talking Sturgis Rally, midgets, Satanists, outlaw bikers, booze, drugs, pretty women and a loyal dog named Stanley. All the things that make life worth living.
Amazon - paperback (no Kindle edition as of yet)
B&N Ebook (preorder)
It also contains one of Mark's previous novels, 'Zoo Falls' (mentioned in this previous book thread).
Mark's previous novels are Joshua's Ladder and its sequel, Amy's Ladder.

___________

Author James Cambias is a long-time AoSHQ lurker. His latest novel, Corsair, has just been published.
In the early 2020s, two young, genius computer hackers, Elizabeth Santiago and David Schwartz, meet at MIT...Nearly ten years later, David is...working in the shadows under a multiplicity of names for international thieves, and Elizabeth works in intelligence preventing international space piracy...David and Elizabeth fight for dominance of the computer systems controlling ore drop placement in international waters...But international piracy has very high stakes and some very evil players. And both Elizabeth and David end up in a world of trouble.
Jim says:
It's a science fiction thriller about space pirates, and the whole book is kind of infused with the Moron Lifestyle sensibility.
Also, trigger warning for action, violence, and gratuitous use of the word "tranny".
Audio version available here.
Mr. Cambias' previous novel is A Darkling Sea.

___________
So that's all for this week. As always, book thread tips, suggestions, bribes, rumors, threats, and insults may be sent to OregonMuse, Proprietor, AoSHQ Book Thread, at the book thread e-mail address: aoshqbookthread, followed by the 'at' sign, and then 'G' mail, and then dot cee oh emm.
What have you all been reading this week? Hopefully something good, because, as you all know, life is too short to be reading lousy books.


posted by Open Blogger at
09:03 AM
|
Access Comments