« Emergency Backup Gun Thread [Weirddave]
|
Main
|
Morning Thread (3-30-2015) »
March 29, 2015
Overnight Open Thread (3-29-2015)
And since wealthy people don't spend nearly as high a percentage of their incomes as poor people do, much wealth is sitting around not doing its job.

-- NYT reporter Mark Bittman proving he has no clue about modern economics.
This should be fun to watch. Admittedly, this should also be a gutter war without rules or mercy, but I can't imagine that Freedom Watch didn't know that, going in. Sometimes you just have to expect that it's all going to end in tears, recriminations, and blood on the floor.

-- Moe Lane on Freedom Watch's racketeering lawsuit against Hillary Clinton
Go to Google News and search for "teacher + arrest + sex." How many times a week are public school teachers in America charged with illegally having sex with their underage students? My guess is that it happens more commonly than college students getting raped. So why aren't feminists marching into your local Board of Education meeting and demanding that something be done about the "rape epidemic" in public schools?

Think about that.

-- RSM on The 'Rape Epidemic' That Isn't
The primary purpose of race-talk in America today is to allow elite whites to silence and shame non-elite whites. Thus, it's not surprising that the people pushing it are...a bunch of elite whites.

-- Insty on Starbuck's lame race talk campaign
But I find it inconceivable that The New Yorker would have run this piece if it didn't have Lena Dunham or some other bold-face-name in the byline. Titled, "Dog or Jewish Boyfriend?" it's a pop-quiz for the reader to guess whether she's talking about her dog or, that's right, her Jewish boyfriend.

...Still, I don't think she was going for anti-Semitism, though she'll happily pocket the edginess that accusation brings. Rather, like so much of what Dunham does, it reeks of self-indulgence. She clearly think it's very clever. But as a piece of writing it's remarkably un-clever. It's not terrible. It's more like a solid B in a college-writing seminar. And, I suppose it is a sharp way for her to do what she loves: over-share the various details of her life, most of which, like this piece, are incredibly boring if ascribed to a person you're not fascinated by.

But that's just it. For some unfathomable reason, there are people who find Dunham fascinating. She clearly has a gift for convincing late-middle-aged white urban liberals that she's on to something big and important. I'm just amazed she's pulled off the con for this long. And I'm disappointed that even The New Yorker fell for it.
Iranian Defector: US Team 'Mainly There to Speak on Iran's Behalf'
There's A Crazy Man in the Country's Cockpit Who's Locked Out Congress and the Courts
Obama and his minions are huddled wherever they're huddled, busy destroying the Western World with their bizarre policies and eagerness to make a deal with Iran that is so desperate it makes the word pathetic seem pathetic. The results of this desperation have been wretched, a fascistic new Persian Empire emerging from Libya to Yemen with Obama auditioning for the role of Cyrus the Great - or is it Ahmadinejad Junior? Whatever the case, it's horrible  Even those same Democrats know it.  They're embarrassed - and they should be.  But for the most part they don't have the guts to say anything. This is the kind of administration that exchanges a creepy sociopath like Bergdahl for five Islamic homicidal maniacs and expects praise for being humanitarian.  And everyone walks away shaking their heads.

It's hard to know why Obama is doing it all.  I know it sounds like a rude overstatement but in a way he reminds me of that crazy German pilot flying that plane into that alpine cliff, only the plane is us (America and the West).  Does he hate us all that much - or is it just Netanyahu?  Whatever the explanation, it's mighty peculiar.  At this point almost no one  in the Congress appears to be backing him up - and yet he continues.  Who knows what will happen next?
Heh.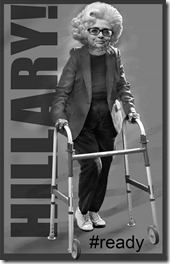 This is Why I Don't Generally Link to Gateway Pundit
Virginia State Bar: "We Are A State Agency That Strives For Maximum Inclusion And Equality, So BOYCOTTT ISRAEL!"
Because FDA. Although the FDA declined to point out the exact rule that forbids this.
A USDA official contacted them shortly after the Feb. 26 incident, saying they needed a license to showcase their llamas or even allow people to snap photos of them, the couple said. Neither was aware of such a policy. The husband and wife, who are both retired Phoenix police officers, had planned to continue offering the llamas for therapy and educational purposes.
Indiana Lawmaker Declares Colleague's 18 Month Old Toddler a Racist
Japan Launches Its Biggest Warship Since WWII
And this is why.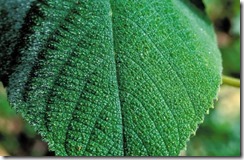 Also Top 10 Toxic Foods We Love To Eat
China's Most Gorgeous (and Popular) Teacher
Cute but I've probably seen better in almost any Chinese supermarket in California.
Weekly Commenter Standings
Top 10 commenters:
1 [533 comments] 'Mike Hammer, etc., etc.' [74.86 posts/day]
2 [493 comments] 'Ricardo Kill'
3 [448 comments] 'Misanthropic Humanitarian '
4 [444 comments] 'Vic  We Have No Party'
5 [439 comments] 'AllenG (DedicatedTenther) - TrueCon'
6 [417 comments] 'Zap Rowsdower'
7 [389 comments] 'ThunderB, Shapeshifter'
8 [346 comments] 'Anna Puma (+SmuD)'
9 [329 comments] 'Nevergiveup'
10 [319 comments] 'Nip Sip'
Top 10 sockpuppeteers:
1 [54 names] 'Doctor Fish' [7.58 unique names/day]
2 [35 names] 'Prince Ludwig the Indestructible'
3 [34 names] 'Blue Hen'
4 [33 names] 'steveegg'
5 [33 names] 'SCOAMF'
6 [32 names] 'The Political Hat'
7 [31 names] 'wth'
8 [30 names] 'Cloyd Freud, Unemployed'
9 [30 names] 'ManWithNoParty, unperson from Free Market Jesus Paradise '
10 [29 names] 'Thomas Jefferson'
The group. Never heard of it.
Where it's at - the Twitter
Tonight's post brought to you by fuck your flowers: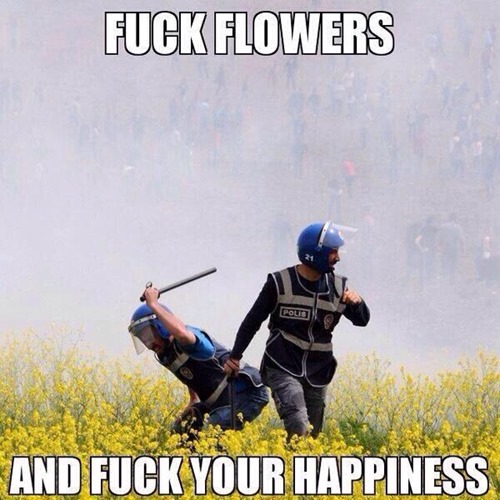 Notice: Posted by permission of AceCorp SA de CV. Please e-mail overnight open thread tips to maetenloch at gmail. Otherwise send tips to Ace. Also fuck your lawn and your bucket list too.

posted by Maetenloch at
10:47 PM
|
Access Comments