« The Gaming Thread
|
Main
|
The Brzezinski Doctrine [Weirddave] »
March 01, 2015
Food Thread: Burger, Burger, or Burger [CBD]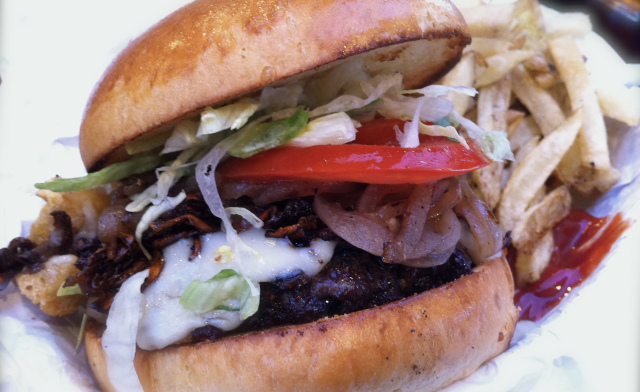 I divide serious burgers into two groups. The first is the gourmet burger; made with great beef cuts on an excellent bun (brioche usually), with good cheese...and nothing else. The second is sort of a fast-food burger, but a step up from McDonald's (although I love those burgers too). This burger is made with a wider and thinner patty, and has all the bells and whistles. Lettuce and tomato and pickles and onions and bacon (duh) and anything and everything else one can imagine. There is however one absolute; there must be sufficient sauce or dressing or juice to make it messy. Really, what's the fun of eating a big sloppy burger if it isn't sloppy?
What say you Horde? What is your perfect burger? Gourmet? high-end fast food? Luncheonette griddled?
*****
I found this recipe
for pasta with lemon-chile pesto with grated egg in an irritating article called, "How to Make Pasta in 2015: The New Rules of Pasta." The "rules have changed?" Really? Whose rules? Not mine? I have one rule: If it tastes good I'll cook it and eat it. That being said, the recipe looks great and combines some classic pasta ingredients.
*****
Crab vs. Octopus
*****
The classic Manhattan and Old-Fashioned recipes call for a Maraschino cherry. But I have always preferred a twist of lemon over the chemically sweetness of mass market cherries. Here is one more example of the
the inferiority of maraschino cherries.
*****
Not that we need another example of the lunacy and terminal strangeness of the Japanese, but here is a three second dumpling process....or an ad for 4G....
*****
Fried Onion Dip.
Oh, man! I love this kind of stuff, and I love that it is an unabashedly fatty, unctuous joy!
*****
This is a recipe from
Barbara Lynch
who is a one woman restaurant juggernaut in Boston, and a great chef to boot. I have eaten in two of her restaurant's, and they were impressive indeed.
She knows what she is doing.
This recipe is a good example of a chef who recognizes that ingredients and conditions and tools are not consistent...that some adjustment is necessary. The recipe is a fair amount of work, but it is fun, and the end result is a very satisfying meal.
Poulet au Pain
(Barbara Lynch)
Ingredients
3 cups all-purpose flour, plus more as needed
1 1/2 teaspoons kosher salt, plus more as needed
1/2 teaspoon sugar
12 tablespoons (1 1/2 sticks) unsalted butter, cut into pieces
1 tablespoon olive oil
2 celery stalks, peeled and chopped
1 medium carrot, peeled and chopped
1 medium onion, chopped
1 tablespoon chopped fresh rosemary
1 3-to 3 1/2-pound chicken, giblets and excess fat and skin removed, bird patted dry
freshly ground black pepper
1 large egg, beaten
Instructions
To make the bread dough, combine the flour, salt, and sugar in the bowl of a stand mixer fitted with the paddle attachment. Add the butter and mix with the paddle, stopping the mixer occasionally to break up bigger chunks of butter with your hand. Add 1/2 cup water and continue mixing until the dough begins to come together. At this point, turn off the mixer and switch to the dough hook (scraping all the dough off the paddle first, of course). Knead the dough with the hook until it comes together in one mass, 1 to 2 minutes.
Turn the dough out onto a lightly floured surface and continue to knead it by hand, pushing it away from you with the heel of your hand, folding it over, giving it a quarter turn, and pushing it away again until it feels nice and elastic. If the dough is very sticky, add a little more flour to it as you knead. Wrap the dough in plastic wrap and refrigerate it for at least 30 minutes.
Meanwhile, heat the olive oil in a medium skillet over medium heat. Add the celery, carrot, onion, rosemary, and a pinch of salt and cook, stirring occasionally, until the vegetables are just tender but not colored, 8 minutes. Let cool.
Clip the chicken wings off at the body and save for making stock or discard. Season the chicken liberally inside and out with salt and pepper. Stuff the bird with the cooled vegetables and tie the legs together with kitchen twine.
Heat the oven to 400F. On a very lightly floured surface, roll the dough out to 1/8-inch thick; this will take some muscle. If the dough is very stubborn, let it rest for a few minutes before trying to roll it some more. Put the chicken on the dough breast side down and wrap the dough up and around the bird, encompassing it completely and overlapping the dough. (If there is a lot of overlap, trim the dough.) Pinch the seams together to keep them closed. Turn the bird over and put the bird seam side down on a baking sheet.
Brush the dough all over with the egg and sprinkle it lightly all over with salt. Bake until the chicken is cooked through and the bread is a lovely golden brown, 1 to 1 1/2 hours, depending on the size of the chicken (an instant-read thermometer inserted through the crust into the breast should read 170F).
Let cool for at least an hour, preferably 2, before tearing it apart and serving.

posted by Open Blogger at
04:00 PM
|
Access Comments