« The $100 Steak of Gaming Posts
|
Main
|
Palate cleanser-Feel good story of the day [Weirddave] »
February 22, 2015
Food Thread: Sicilian Pizza [CBD]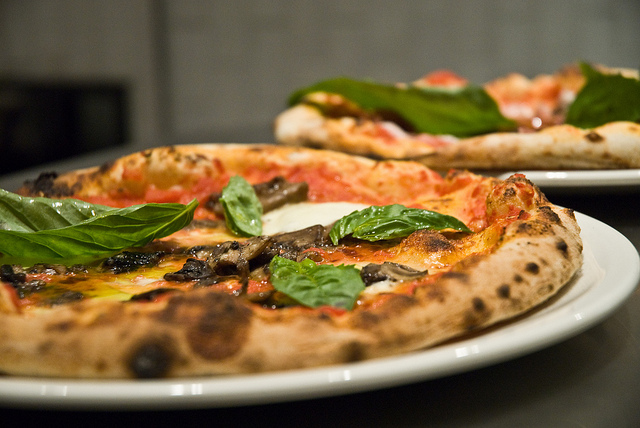 America has gone mad for artisanal, authentic, free-range, locally sourced pizza made by certified Neapolitan pizzaiolos. But I grew up on standard NY pies (with the occasional Sicilian slice thrown in when I was really hungry). They are the archetypal pizza, and still the standard for many people, in spite of what the NY Times food editors might think.
I love a classic Neapolitan pizza, but they are tough to find, tough to make, and they are simply another style...no better or worse than a well executed NY pie. When I make pizza at home, it's sort of an amalgam of the two styles, but they certainly lean towards the American. It's not tough to make with a little practice, a few special tools, and some good ingredients. But that's true of most foods!
A pizza peel, a pizza stone, and a hot oven are pretty much all the hardware that is needed. Good canned tomatoes are a must, and while fresh mozzarella is certainly great, I have found that high quality packaged mozzarella works extremely well, because it is lower moisture and melts perfectly. I use a KitchenAid stand mixer to make the dough, because it is easy, and I am lazy. But it can certainly be made by hand.
There are lots of places on the intertubes to look for help, but this site was recommended by Tommy, of the world famous tommy:eats. I have eaten his homemade pizza and can vouch for his skills.
This is my standard dough recipe. The original called for some olive oil added to the water, but I have found that it handles more easily without it.
Pizza Dough
1 1/2 teaspoons active dry yeast
1 1/2 tablespoons Kosher salt
1 tablespoon sugar
5 cups bread flour.
1. Put approximately 1 3/4 cups warm water in a mixing bowl, add yeast and stir until it dissolves. Add salt and sugar, and mix well. Stir in flour. Knead either in mixer using dough hook or by hand on a floured surface, until dough comes together. Cover, and let rest 20 minutes.
2. Knead dough for about 5 minutes in mixer or 10 minutes by hand. Form into a ball, lightly coat with olive oil and place in a large bowl. Cover with plastic, and refrigerate overnight.
3. Several hours before you need the dough, cut into four equal portions, place in plastic containers large enough to accommodate a doubling in size, and allow to rise until needed. Dough may be refrigerated before the final rise for a few days.

*******
I have a hankering for the Sicilian style, and I have never made it. Oh, I've got some ideas, but I just know that my first few attempts will be suboptimal. Any suggestions?
This is what I am looking for: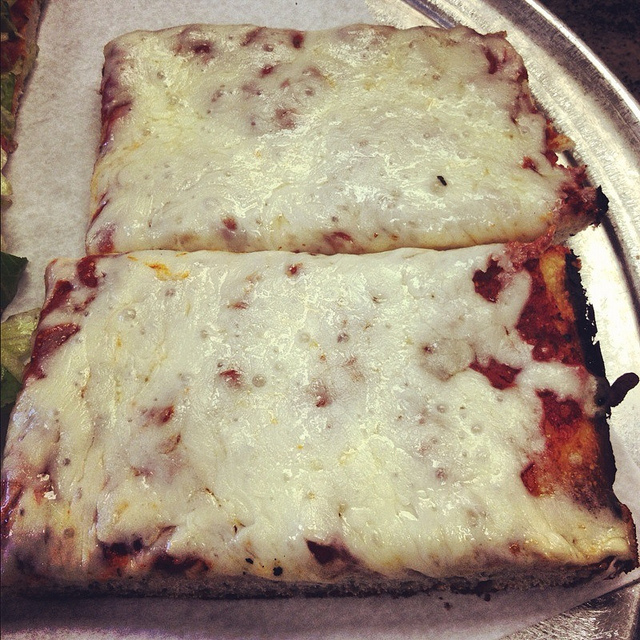 *******
These are classic macaroons. Nothing fancy....just good. Ina Garten is at her best when she does simple, classic dishes like this.
Coconut Macaroons

14 ounces sweetened shredded coconut
14 ounces sweetened condensed milk
1 teaspoon pure vanilla extract
2 extra-large egg whites, at room temperature
1/4 teaspoon kosher salt
Preheat the oven to 325 degrees F.
Combine the coconut, condensed milk, and vanilla in a large bowl. Whip the egg whites and salt on high speed in the bowl of an electric mixer fitted with the whisk attachment until they make medium-firm peaks. Carefully fold the egg whites into the coconut mixture.
Drop the batter onto sheet pans lined with parchment paper using either a 1 3/4-inch diameter ice cream scoop, or two teaspoons. Bake for 25 to 30 minutes, until golden brown. Cool and serve.

*******
Any NY/NJ Morons reading this screed? We are in the final planning stage for a Moron Meet-up in Hoboken for Friday, March 6th, 6pm-9pm. Please e-mail nynjmeet at optimum dot net to express your interest or disgust.

posted by Open Blogger at
04:00 PM
|
Access Comments