« Early Morning Thread, 1/11/15 - May I borrow a cactus? [krakatoa]
|
Main
|
Weekend Time-Waster: Moose in a Tree [Y-not] »
January 11, 2015
Sunday Morning Book Thread 01-11-2015: Men Without Chests [OregonMuse]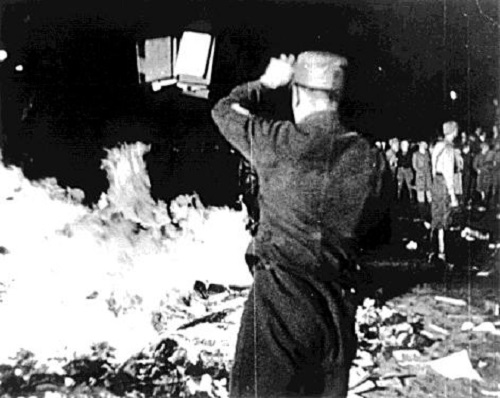 Coming Soon

Good morning morons and moronettes and welcome to AoSHQ's stately, prestigious, and high-class Sunday Morning Book Thread. The only AoSHQ thread that is so hoity-toity, pants are required. Or kilts. Kilts are OK, too. But not tutus. Unless you're a girl.

Quote Of The Week
There is more than one way to burn a book. And the world is full of people running about with lit matches.

-Ray Bradbury

Lessons From France
So, it seems clear that the massacre in Paris this week most likely wasn't a suicide mission, but rather, the terrorists intended to do their murdering and then get away clean to continue the jihad for Allah. But fortunately, that's not happening. And the reason it didn't happen is because the terrorists violated Rule #1, which is: Whatever you do, you never, ever, EVER mess with the French police. Despite France's "surrender monkey" reputation, her police, especially at the national level, are nasty, surly bastards who take no sh* from anyone, and if you cross them, they will track you down like a dog and make sure you die ugly. Like this guy. I think the last thing this terrorist a-hole anticipated when he got up that morning was collapsing in front of a kosher supermarket while being pumped full of lead.
Now, the jihadis would have known this would be their fate if they only had taken the time to read Frederick Forsyth's novel The Day of the Jackal (which, despite having first been printed in the early 70s, still sells for a whopping $12.50 for the Kindle edition). The plot concerns a daring assassination attempt on French President Charles de Gaulle and thwarting the plans of the bad guys is up to the SDECE (I forget if this agency is roughly equivalent to the FBI or the CIA) and there's very little they won't do, up to and including kidnapping and torture, in order to stop the threat. This is a very entertaining page-turner and the 1973 movie version is probably one of the most exact, down-the-line adaptations of a book I have ever seen.
So, the terrorists have learned their lesson about violating rule #1. They'll never do it again.
Lesson #2 is that once again, we're reminded that the "elites" in the media and in the governing classes are poltroons, moral derelicts, or at the very least, have a completely different view of what constitutes good and evil than normal people.
I mean, are any of you morons surprised that Christian Amanapour referred to the Charlie Hebdo terrorists as "activists"? I didn't think so. She just couldn't bring herself to use the word "terrorist". Instead, she used a word that more apppropriately describes someone who makes phone calls on behalf of a political candidate, or who goes door to door soliciting donations to UNICEF. That's how absurd it is. It's a jaw-dropping excursion into la-la land where up is down and black is white.
You know who predicted this, don't you?
He wrote a book. Actually, he wrote a ton of books, but this one book he wrote, The Abolition of Man, tells about the corrosions that result when the possibility of objective truth is cast aside. Taking an English textbook as his starting point, Lewis traces out, with relentless logic, the corrupt and poisonous results that arise from the subjective approach taken by the textbook's authors, who reduce all of human experience to mere "sentiment":
In a sort of ghastly simplicity, we remove the organ and demand the function. We make men without chests and expect of them virtue and enterprise. We laugh at honour and are shocked to find traitors in our midst. We castrate and bid the geldings be fruitful.
What you get, Lewis describes, is empty men, "men without chests", as he calls them, men who know not virtue and would not be interested in it if they did. So it shouldn't surprise us that a CNN infobabe can be confronted with pure evil and yet refuse to publicly recognize it as such. She's been fed this postmodern swill her entire life, so she probably doesn't really know any better.
Although it must be said, if there ever was a Christian group that torched a falafel stand in Dearborn, few of us here would doubt that Ms. Amanapour would have any difficulty saying the 'T' word.
Oh, and another good C.S. Lewis book to read, and one of my favorites, is his God In The Dock collection of essays.
You can tell from many of the writings in this volume that Lewis was coming up against something odd and dangerous, and that with the benefit of hindsight, we know that what he was seeing, what he was criticizing, was the first glimmerings of postmodernism and deconstruction. He hung out all his adult life in academia, so naturally he'd be in a position to see the first stages of the corruption, before almost anybody else did. And since he died just before 1964, he mercifully missed out on seeing everything go completely to hell.
Meanwhile, in related news, Muslim leaders worldwide are rushing to condemn the Paris terror murders.

Fallout
The French novelist Michel Houellebecq, whose latest book featured on the cover of the satirical magazine Charlie Hebdo on the day of the massacre at its offices, has stopped its promotion as the victims were being mourned.

Houellebecq, a friend of economist Bernard Maris, who was among the 12 people shot dead on Wednesday, was "deeply affected" and had decided to leave Paris for an unspecified rural retreat, his agent said on Thursday.
And why might he do this?
Houellebecq's topical new novel Soumission (Submission), which imagines France being ruled by a radical Muslim president after France and Europe "submit" to Islam, came out on Wednesday.

His publisher's offices were evacuated shortly after the shootings at Charlie Hebdo and placed under police protection amid fears that France's enfant terrible may be on a terrorist hitlist. Houellebecq has in the past described Islam as the "stupidest" religion.
Oh, that's why.
"Submission" won't be published in English until September, but one of Houellebecq's earlier novels, The Map and the Territory, which sarirized the modern art world, is available in an English edition.
And there's this:
The writer is pictured on the cover of this week's Nouvel Observateur magazine, which went to press before the attack, saying: "I've survived every attack."
Way to paint a big ol' target on yourself, there, buddy. I'd bug out of Paris, too, if I had taunted a bunch of psychopathic murderers.
And of course, this story wouldn't be complete without the men without chests showing up and crapping all over everything:
After the attack, the French prime minister, Manuel Valls, told reporters: "France is not Houellebecq. It's not intolerance, hatred and fear."
See, because the evil here is not a group of murdering terrorists, but rather "islamophobia".

Off With Their Heads!
And for the times ahead of us, we might do well to bone up on the history of decapitation, and perhaps this would be a good starting point: Severed: A History of Heads Lost and Heads Found by Frances Larson. She starts out discussing the head of Oliver Cromwell, "Lord Protector" of England during the Interregnum.
It was sliced off in 1661, three years after his death, "impaled on a twenty-foot pole and mounted on the roof of Westminster Hall for the whole of London to see,"found its way "into private circulation," then was "transformed into a curiosity, a precious relic and a business opportunity." Finally, "in 1960, during a small, private ceremony, Cromwell's head was buried in its old oak box somewhere beneath the floor of the ante-chapel at Sidney Sussex College, Cambridge."
Me,I hope they freeze my head so I can be revived in the year 3000, like in Futurama.

That "Bilious Bore of Baltimore"
Fans of H.L. Mencken might be interested to know that the Library of America has come out with a new, single-volume edition of his three memoirs, Happy Days, Newspaper Days, and Heathen Days, which comes with nearly 200 pages of previously unpublished commentary, compiled in the form of footnotes or annotations by Mencken in the late 1940s and embargoed for some years after his death.
The Big Story of Mencken's early newspaper career was the Great Baltimore Fire of 1904 which reduced much of the city to rubble. How could such a huge fire not be quickly contained?
A major revelation was the hideous discovery, when fire companies from neighboring counties and states arrived, that hosepipes and hydrant couplings weren't standardized.
Oops.

Ruh Roh
Looks like Thomas Piketty (or as ace calls him, Thomas Pinketty) and his book Capital In The 21st Century, the book by Thomas Piketty (or as ace calls him, Thomas Pinketty) that gave Paul Krugman a thrill up his pant leg that lasted more than four hours, is in trouble:
One new study found more than 10 errors in Piketty's book, and says the errors suggest a strong partisan bias.
Ya think? Actually, both studies accuse Pinketty of cherry-picking his data. He defended his work in response to to an earlier critique published by the Financial Times, and so he'll probably do the same here.
And actually, if you look for Pinketty's book on Amazon, you'll see that critiques of it have become a veritable cottage industry.

What I'm Reading
I'm about half way through The Revolution From Rosinante, which was recommended by some of you a few weeks ago. I'm enjoying, the author has an interesting writing style that's difficult to describe. This is the first of the "Rosinante" trilogy. It's a "hard" SF story about a political revolution that slowly emerges on an asteroid colony set up by a Japanese corporation in 2039 AD. The main character is the company's main project manager who becomes the de facto leader of the colony.
___________
So that's all for this week. As always, book thread tips, suggestions, bribes, rumors, threats, and insults may be sent to OregonMuse, Proprietor, AoSHQ Book Thread, at the book thread e-mail address: aoshqbookthread, followed by the 'at' sign, and then 'G' mail, and then dot cee oh emm.
What have you all been reading this week? Hopefully something good, because, as you all know, life is too short to be reading lousy books.

posted by Open Blogger at
09:18 AM
|
Access Comments