« Ted Nugent Explains How An Electric Guitar Works (CBD)
|
Main
|
Overnight Open Thread (12-21-2014) »
December 21, 2014
Winter Sky Wonders For Your Christmas Telescope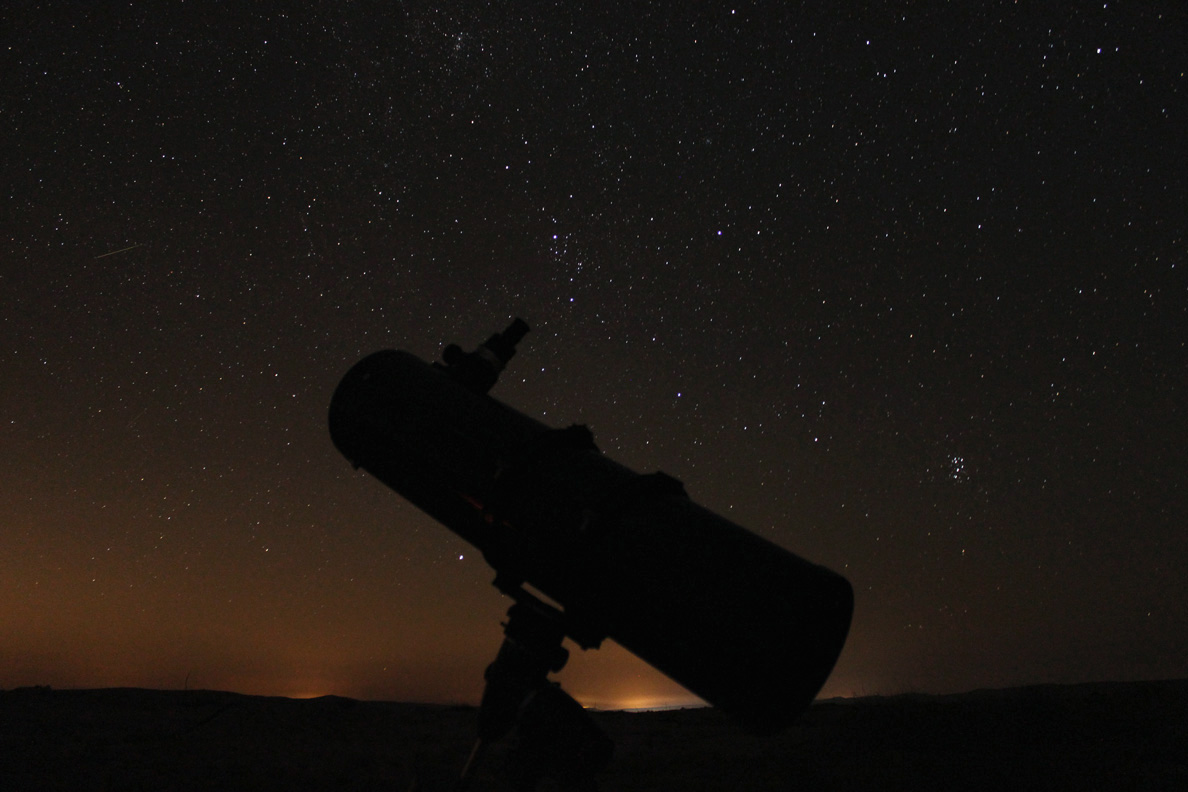 The universe is waiting
Greetings everyone! It has been a long time since I've posted the astronomy thread, but I wasn't going to let Christmas come and go without a quick guide for you amateurs just getting your first telescope this week.
I've kept the targets simple and spectacular. For those of you still thinking about getting a scope, you're in luck: I review the upsides and downsides of three great scopes ranging from just $99 to $380 you still have time to grab before Thursday.
Let's dive in!
So, you've unpacked your scope, read the instruction manual, collimated your optics/adjusted your mount, and are about to head outside. Here are the targets I suggest you aim for to start your hobby with a bang. Note: all images that appear in the target section are sketches. Photographs are far more sensitive than the human eye and can give a false sense of what is-and what isn't- visible.
Early Evening: M31 (the Andromeda Galaxy)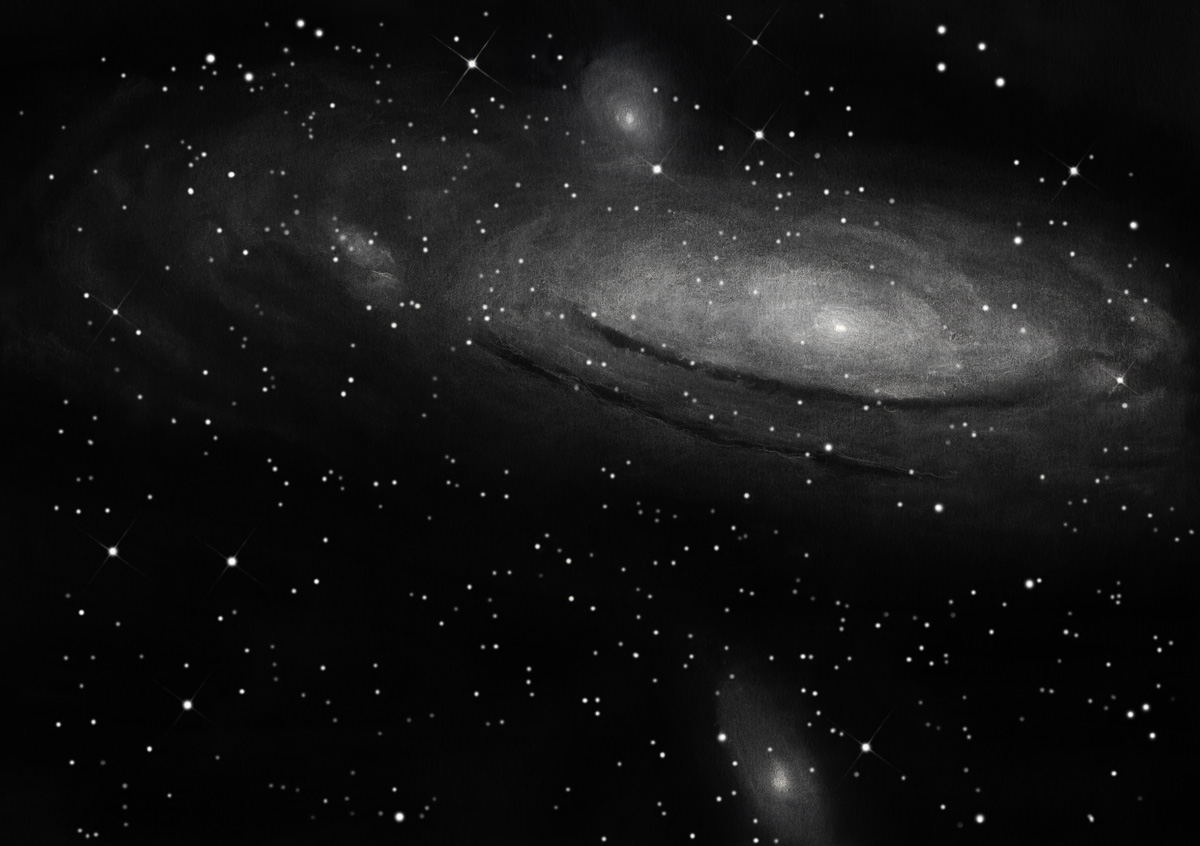 Sketch by Serge Vieillard through a 16" telescope
The Andromeda Galaxy is the largest in our Local Group, at over twice the mass and nearly twice as large as our own Milky Way. It's apparent magnitude is around 3.5, bright enough to eye directly or with averted vision in all but the most light polluted skies: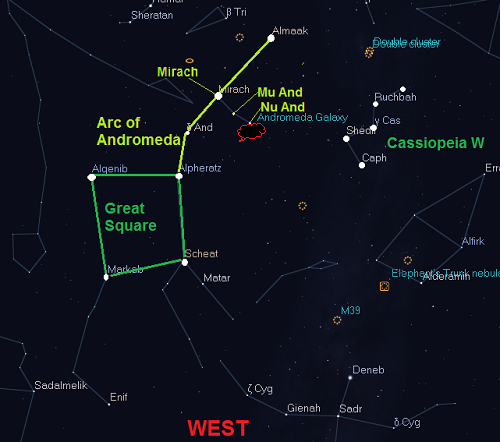 While easier to catch in the Fall when overhead because Pegasus and Andromeda dominate your overhead view, it's still plainly visible if you orient yourself properly and keep the W and Andromeda Arc in mind. As the Summer Triangle sets towards the West, the Great Square follows suit but not for a few hours after sunset.
Covering an area many times the size of the full moon, the galactic core is the bright patch we can eye, with the outer arms and dust revealing itself through binoculars and telescopes.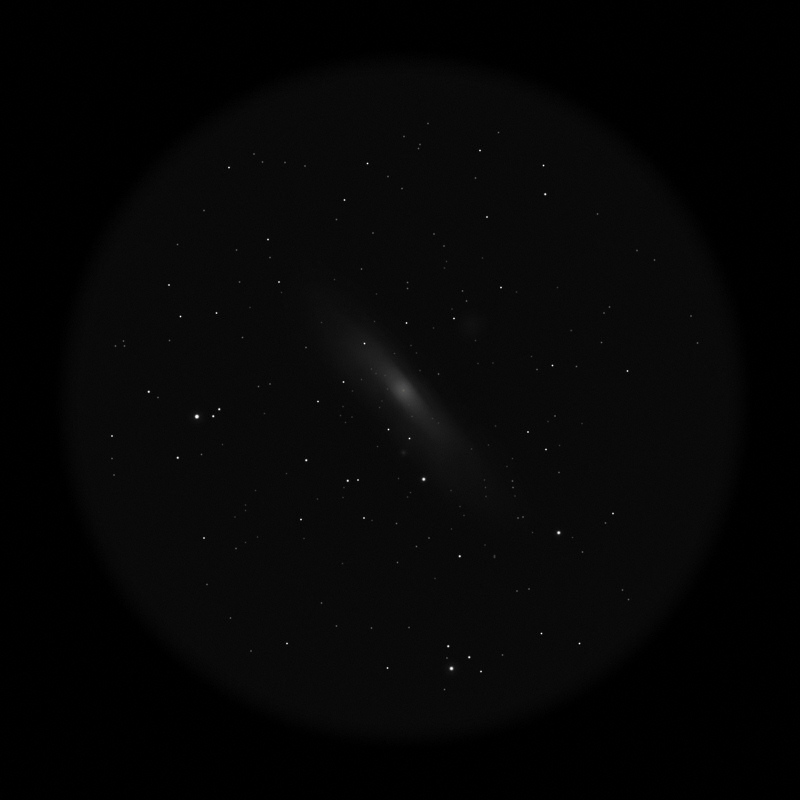 Sketch by Rony De Laet
French amateur De Laet created this wonderful sketch and posted some detailed observational notes on his ETX site. While the galaxy appears smaller and fuzzier through his binoculars, the view still wowed him. Pay attention to several of his suggestions for pulling out detail:
In general, binoculars are not the preferred instrument to study galaxies. But what an amazing view has the Andromeda Galaxy to offer in a pair of binoculars! The large central bulge of M31 can be seen with direct vision. The nucleus appears star like. The elongated halo fades slowly away in the background. With averted vision, the halo can be followed for 1 ˝° on each side of the central bulge. While nucleus, central bulge and halo are visible as distinct features, they happen to be merged together as one solid body. The NW side of the galaxy is tilted towards us. Here is where multiple dust lanes absorb the soft glowing light of the galaxy in our line of sight. That is why the NW side of the galaxy appears 'bordered', while the SE side shows a softer edge. I did have the impression that another dust lane could be seen on the SE side of the galaxy, or just behind the central bulge. If the dust lanes don't look obvious to you at first, try to gently rock the binoculars. The motion will stimulate your night vision. As if the Andromeda Galaxy isn't interesting enough to observe, there is more to go after: satellite galaxies! One of M31's satellites is M32. It can be found just S of the central bulge. It appears like a small star that is put out of focus. The other satellite galaxy, M110, can be found at ˝° NW of the central bulge. M110 looks like a faint isolated cloud when seen with averted vision.
Through a modest telescope, the satellites and dust lanes come into better focus than with binoculars; with a scope of at least 4" aperture, starfield NGC 206 becomes visible; and if you are lucky enough to own a scope of at least 8" aperture, globular cluster G1 can be teased out about 2.5 degrees away. G1 is the brightest, largest globular known in the Local Group of galaxies, putting Omega Centauri to shame by several orders of magnitude. Below is a guide for the brightest features visible in most amateur scopes:
Evening: The Pleiades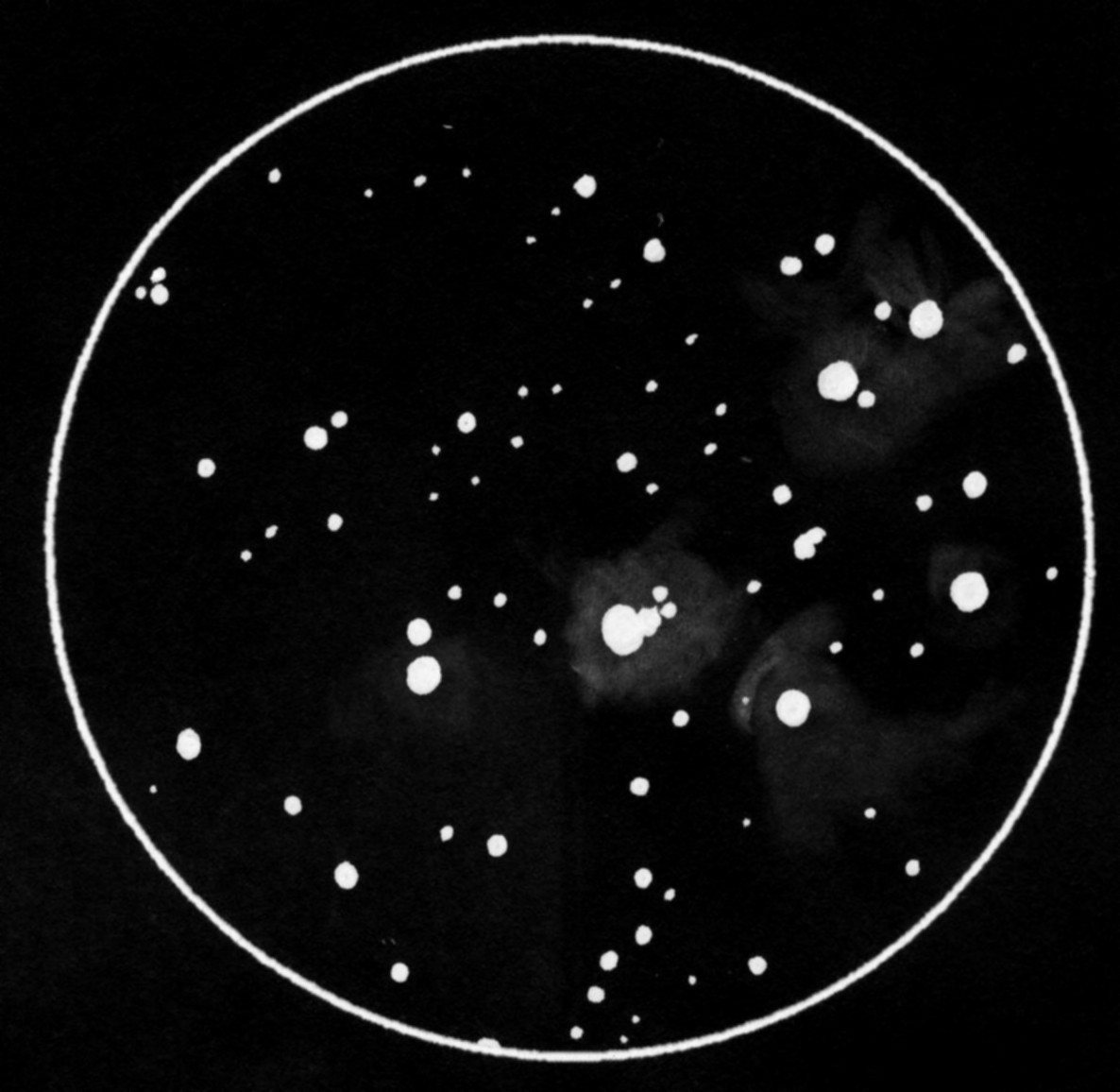 Arguably the most beautiful open cluster in the sky, the Pleiades is visible from all but the most light polluted spots on the planet (think Times Square or the Luxor in Vegas). The Seven Sisters are protected from lustful Orion by Taurus the Bull, his raging red eye (Aldebaran) glaring at the hunter: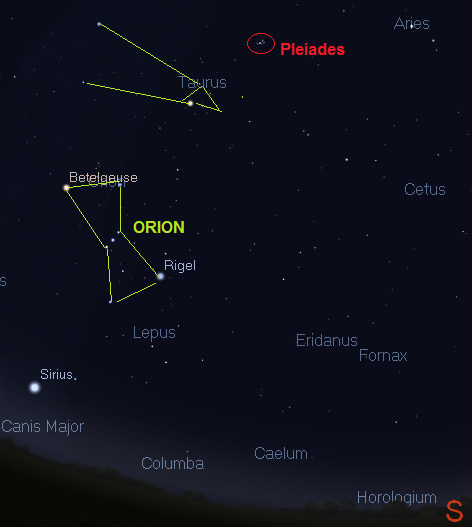 High overhead later in the evening, it is one of the few objects best seen in smaller telescopes or binoculars due to its large size.
Evening: The Great Nebula in Orion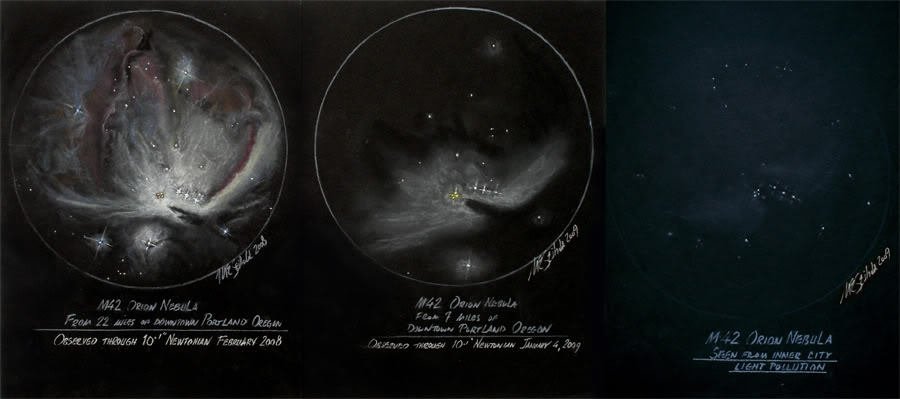 Comparison sketches from (R-L) inner city, suburban, and dark skies of the Orion Nebula by the unsurpassed artist Mark Seibold
The Great Nebula in Orion has been photographed more than any other deep sky object, and it's not hard to see why: bright, expansive, and colorful, it has been observed for over four hundred years yet reveals surprises at a constant pace. The beautiful Trapezium stars, which illuminate much of the nebula, are found at it's heart. This quadruplet actually has two fainter members that can be picked out with larger telescopes, and was first documented by Galileo. At only 100,000 years old, these stars are some of the youngest objects we can spot in the sky. Theta 2 is a nearby double that also helps to illuminate the billowy cloud.
The nebula is impressive from even the worst sky, and leaves you at a loss of words from a dark one. Color is absolutely visible with adapted eyes from a dark site. I've noticed traces of purple, blue and green through my 8" XT8.
Astronomer Bob King has a fantastic write up over at Sky and Telescope documenting how you can perceive three-dimensional features in this distant object, and the always great David Fuller outlines pulling out color (including red!) using a flashlight. Do not be surprised if you find yourself lost in its billowy cloud- this is the highlight of the Winter sky.
Finding it doesn't even require a chart: the parent constellation is impossible to miss: a seven-star giant, two atop, three belt stars, and two below, with a dangling sword of three stars under the belt. The Great Nebula is the middle "star" in said sword.
Late Evening: Jupiter, King of the Planets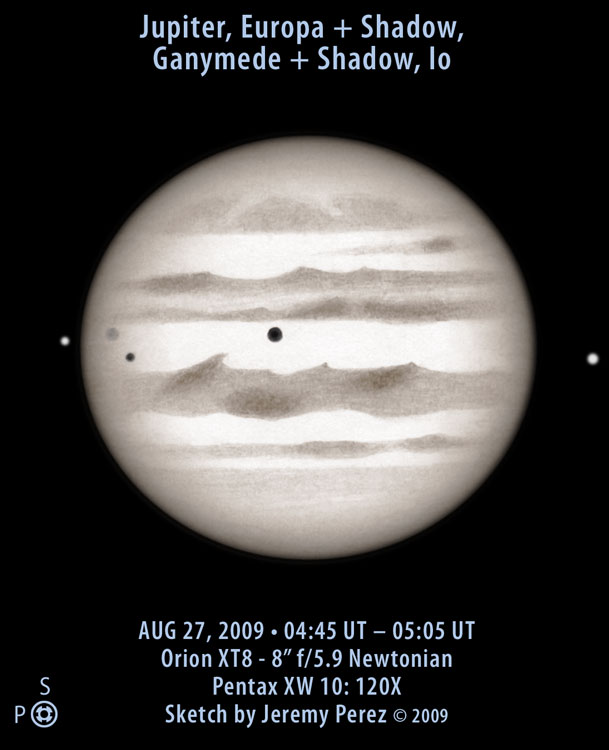 Jupiter as seen through an XT8, by Jeremy Perez
Pulling things back to just a few hundred million miles away, the largest planet in our solar system rises late in the evening and outshines everything else until Venus peeps in before sunrise. Its four moons are clearly visible in even a small telescope, while it's Great Red Spot, when you can catch it, is always a fun hunt.
Last-Minute Telescope Buyer's Guide
If you've read the astronomy threads and have kicked around the idea of getting a scope all year long, you still have time to make an impulse buy you won't regret. The buyer's guide from 2013 is linked at the bottom of this thread outlining accessories. Oh and those night vision-preserving goggles from the light pollution thread? Orion is selling them right now for only $1.99, and you can buy them through ">Ace's Amazon Store. That all out of the way, onto the scopes.
The $99 Option: VIXEN OPTICS SPACE EYE 70 - 70mm refractor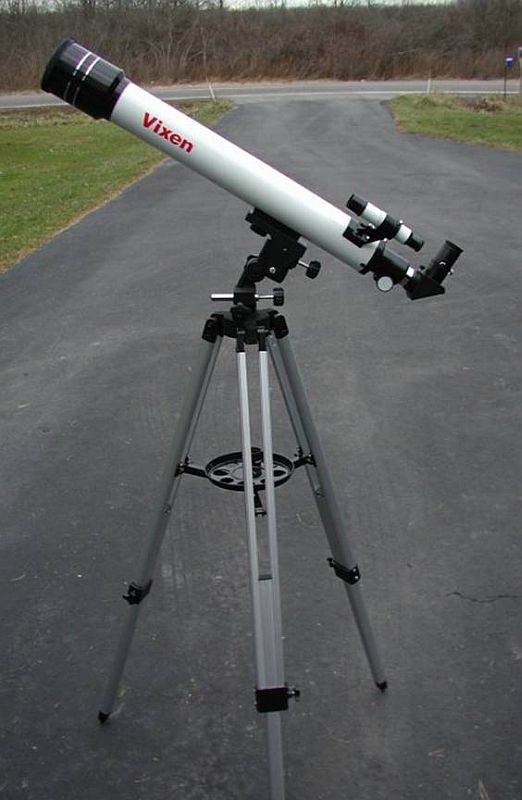 from Adorama
Hands down, the best telescope you can get for under a hundred bucks. Light weight, great optics for the price, and not-half-bad eyepieces. You get what you pay for- the mount is wobbly with windy conditions, the finderscope is sub-par, and you should definitely upgrade on the eyepieces. But right out of the box, the Vixen gives surprisingly crisp views of Jupiter, Saturn's rings, lunar features, and brighter deep sky objects like the Pleiades. Adorama is the only company selling it for this cheap, and I don't know if it's just for Christmas or they are clearing them out. So if you're cheap but still waiting, why?
The $200 Option: the "Costco" Celestron: C102GT Nexstar Refractor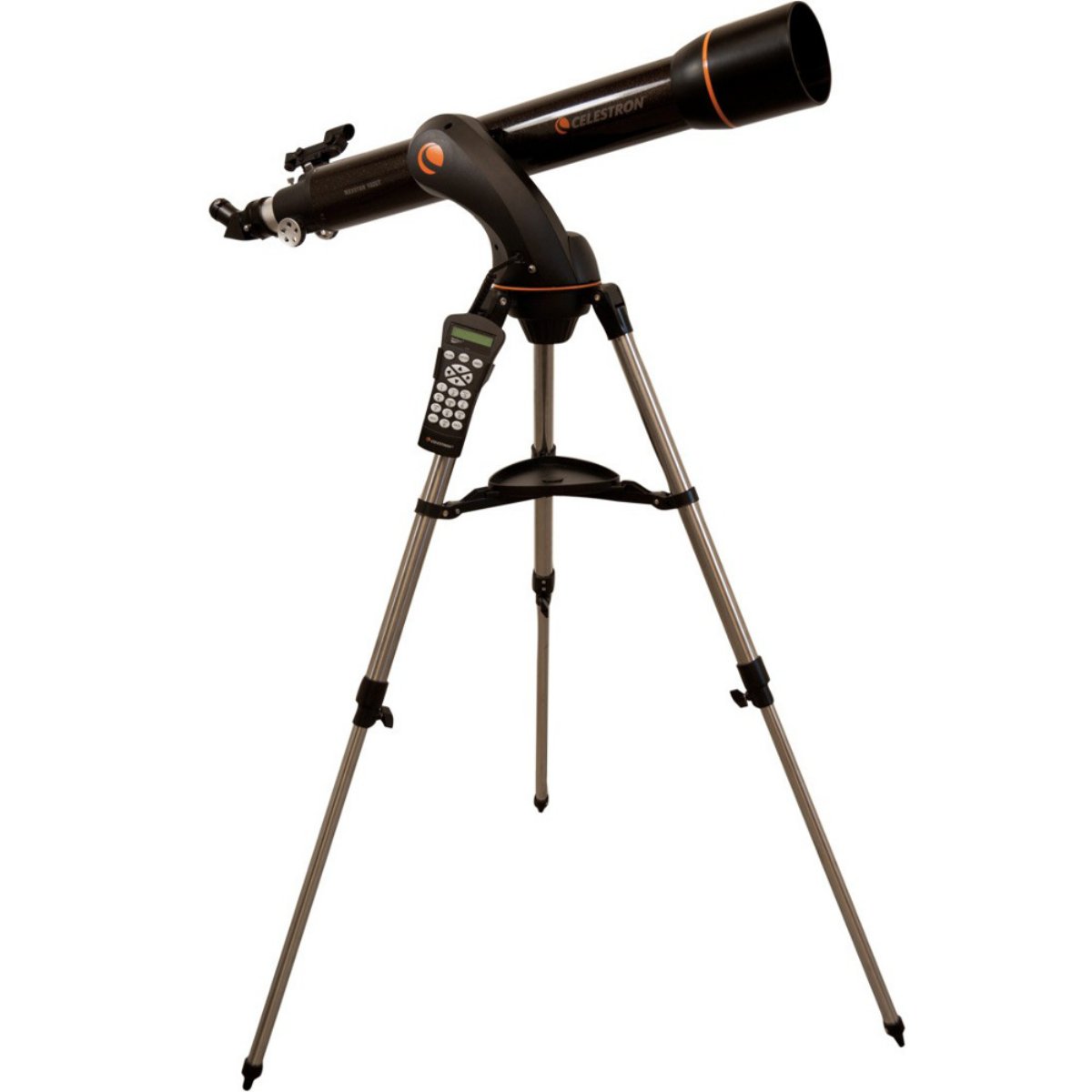 The C102GT may seem familiar to readers of the Spaced Out Challenge, and that's because the optical tube itself was being sold for $60 by OPT a little over a year ago. The Go-To mount is decent for a beginner, a with a bit of give that makes high power viewing slightly frustrating. But the package comes with five eyepieces, three of which aren't half-bad, not to mention a computerized mount, very good optics for the price of the tube (rivaling many that sell for hundreds more). B&H is currently the only vendor selling this new, and at the $200 price (shipped!) If you have a bit more scratch lying around and want a better view of deep sky targets and double stars than what the Vixen can provide, here's your scope.
CAC's Personal Choice: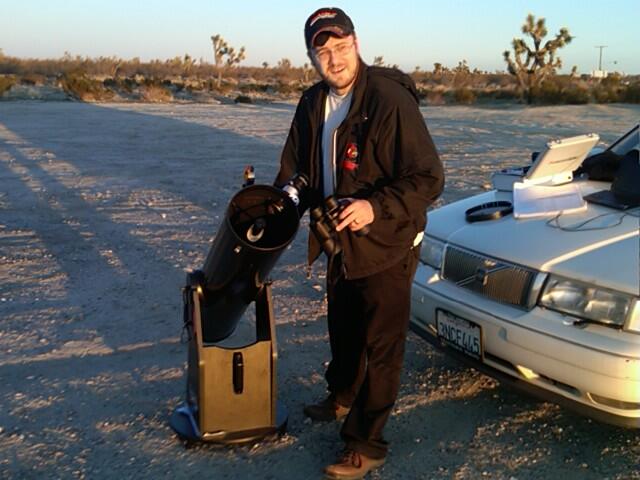 the author and his beloved
The Orion SkyQuest XT8 Classic
$380 shipped.
The best introductory amateur telescope sold in the last hundred years, period. Tough. Large. Extremely easy to assemble and use. Highly adaptable. Intimidating to your neighbors. Make that guy in building D with his spotting scope feel small and inadequate.
Joe Ricci snapped this sequence of the ISS with his XT8
The upsides? Too many to count: incredible views for the price, just $380. I've glimpsed the Pillars of Creation, Saturn's fainter rings, too many galaxies and planetary nebulae to count, all for $380. The telescope offers incredibly great optics for just $380. Did I mention it is only $380? The customer service and warranty from Orion are just cherries on top. For residents of suburban and urban areas, it cuts through some of the worst light pollution and delivers. Take it out to a dark sky site with decent eyepieces
and it will change you.
The downsides? Like all reflectors, it will require occasional collimation (aligning of the mirrors). It is the largest of all the scopes discussed, weighing in at 40lbs assembled, breaking down into two 20 pound pieces (the optical tube and mount). Deep sky astrophotography requires serious DIY motorization. Tracking objects is all on you. The red-dot finder should be upgraded. It takes up about 48x24x24 in your closet. But it's also only $380. Of the three telescopes, if the weight and occasional adjustments don't scare you, you are insane to pass over it. Here's how I imagine the conversation goes in your house if you do:
Extremely excited 10-year-old-child-of-reader: OMG did you get the big telescope daddy/mommy?
You: no
Devastated child who will hate you forever: WHY?
You: because I'm a terrible person.

My wife calls it the other woman, and for good reason. If it were possible to love an inanimate object, well, here you go.
Orion recently released an upgraded version, the SkyQuest XT8 PLUS, with better collimation knobs, an adjustable altitude clutch, better included eyepieces, an eyepiece rack, a shorty barlow lens, solar filter, and a striking finish:

At $500 shipped, it's up to you whether that seductive blue is worth the extra coin. I'd stick with the original black beauty myself.
***
The full Beginner's Buyer's Guide, our Comet Guide (featuring additional grab-and-go telescopes), and any other edition you're looking for can be found in the master index of all Spaced-Out Challenge threads
here
, but of course you can always inquire about binoculars, telescopes, and all the rest in the comments. As always, if you have astrophotography, product recommendations, or astronomy news you'd like to see on a future Spaced-Out Challenge, email me at theoneandonlyfinn (at) gmail.com, or tweet me
@conartcritic
.
With all of that said, clear skies to you, and keep looking up!

posted by CAC at
07:00 PM
|
Access Comments