« Hopefully no one was dumb enough to sit through the Game Awards
|
Main
|
Open Thread In Preparation For a Glorious ONT [CBD] »
December 07, 2014
Food Thread: Fly-over Food [CBD]
Unlike The award-winning Sunday Morning Book Thread, we at the decidedly down-scale Food Thread have no delusions of grandeur. We don't wear pants, our chef's toque is actually a tutu, and yes, we cruise the Pillsbury Bake-off contest website for fun recipes.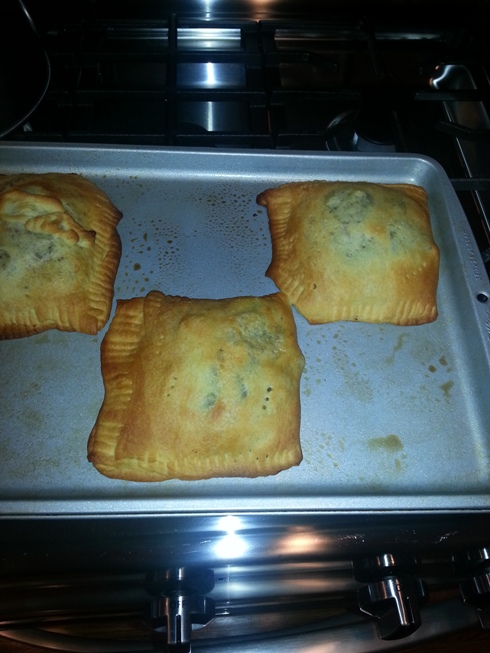 Cuban style sandwich pockets is a very good idea! They're easy to make and taste pretty good. I added extra ham and cheese, because the AoSHQ bylaws require it, and next time I will probably spice them a bit more. But hell, they tasted good and took about five minutes to prepare.
Lest you think I am a one-trick pony, try the ultimate in guilty pleasures: Velveeta Queso Dip. It has two ingredients, both straight out of packages, and is far, far better than it should be.

Minimum wage fast-food workers fight furiously to lose their jobs
It's hard to argue with their unassailable illogic: that because they need more money, their employers should pay them more, in spite of the economic reality that they are not worth more money.

I am suspicious of any government activity being touted as a net positive. Restaurant inspections sound like a fine idea, but I wonder whether tort law and social media would do a better job? And the logical flaws in this article are painful.

I am a huge fan of quality chicken, and find the supermarket version to be a pale reflection of what can be a grand food. hunter-angler-gardner-cook feels the same way. Although I think he is overpaying for his chicken. $5/pound is steep. I pay about $3/pound for birds that are just fantastic.

There are several nice and hundreds of crappy drinks made with Benedictine. I will leave it to you to decide which this is.
Vieux Carre
3/4 oz Brandy
3/4 oz Rye whiskey
3/4 oz Sweet vermouth
1/4 oz Benedictine
Dash Peychaud's Bitters
Dash Angostura Bitters
Stir with ice
Strain into Old Fashioned glass
Garnish: lemon twist
Caramelized Onion Toasts
[Originally from Tyler Florence , but I have changed it slightly. And....have I posted this before? Probably]
1 stick (4oz) of unsalted butter
4 big Vidalia or yellow onions, sliced
4 anchovy halves, chopped (This is very optional)
3 teaspoons chopped fresh thyme leaves
Kosher salt and freshly ground black pepper
1 baguette
Extra-virgin olive oil
Shaved Parmigiano-Reggiano
Heat 1/2 stick of butter in a large skillet over medium heat. Add the onions, chopped anchovies, thyme, salt and pepper and cook until the onions are golden brown, about 20-30 minutes, but it could take longer. Be careful not to burn the onions. If necessary, turn the heat down. The onions will eventually caramelize at the lower temperature; it will just take longer.
Preheat the oven to 400 degrees F.
Meanwhile, holding a large bread knife parallel to the cutting board, shave off the rounded top and bottom of the baguette with a serrated knife so that it lies flat. Don't cut too much; just enough so that the baguette doesn't roll around. Then cut the baguette in half lengthwise and then each long slice into 3 equal pieces to make 6 slices of bread so that it fits easily on the baking sheet. Melt the remaining butter and brush both sides of the bread.
When the onions are cooked, put the bread slices on a baking sheet and spread with the onions. Drizzle with olive oil, but not too much; there is plenty of fat in this dish!. Place in the oven and bake until the bread is crispy, about 10-15 minutes. Sprinkle with Parmigiano-Reggiano shavings. Cut into pieces on the diagonal and serve hot.


posted by Open Blogger at
04:10 PM
|
Access Comments