« Early Morning Thread 12/7/14: Six and Three is Nine edition [krakatoa]
|
Main
|
Dec 7 1941 »
December 07, 2014
Sunday Morning Book Thread 12-07-2014 [OregonMuse]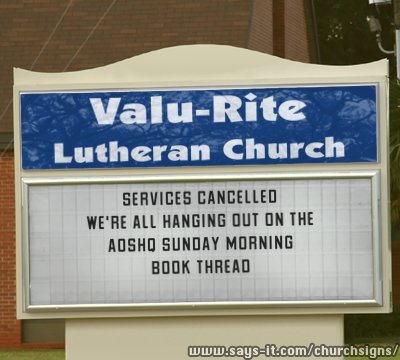 Good morning morons and moronettes and welcome to AoSHQ's stately, prestigious, and high-class Sunday Morning Book Thread. The only AoSHQ thread that is so hoity-toity, pants are required. Or kilts. Kilts are OK, too. But not tutus.

P.D. James 1920-2014
The prolific British novelist who became known as the 'Queen of Crime' has passed away:
Phyllis Dorothy James White, who became Baroness James of Holland Park in 1991 but who was better known as "the Queen of Crime" for the multilayered mystery novels she wrote as P. D. James, died on Thursday at her home in Oxford, England. She was 94
I was somewhat surprised to learn that the creator of Adam Dalgliesh didn't much care for some of her predecessors:
Ms. James bristled at the frequent comparisons to genre authors who wrote in the golden age of the English mystery novel, in the 1930s. "That kind of crime writing was...unrealistic, prettifying and romanticizing murder, but having little to do with real blood-and-guts tragedy. One simply cannot take these as realistic books about murder, about the horror of murder, the tragedy of murder, the harm that murder does."
And, in my view, the character of Dalgliesh was her reaction to this. She deliberately set out to be the anti-Christie (or the anti-Sayers):
Her intention with Dalgliesh, she told the British critic and writer Julian Symons in 1986, was to create a detective "quite unlike the Lord Peter Wimsey kind of gentlemanly amateur" popularized by Dorothy L. Sayers. Ms. James envisioned a realistic cop as her protagonist, a dedicated and skilled professional, and yet "something more than just a policeman, you see, a complex and sensitive human being," she said.
Rest in peace.

Recommendations by Famous Men
There's some interesting choices in this article, The Libraries of Famous Men: Thomas Jefferson's Recommended Reading over on the Art of Manliness blog. Some will be familiar, and some won't. Probably most won't be familiar with:
The Horse Hoeing Husbandry Jethro Tull
I take it this came out before the invention of the aqualung
Making Stuff Up
This may be a repeat, and I apologize if it is.
Sometimes, if an author can't quite find the exact word to express what he wants to say, he'll make one up. Kind of like what one of my math profs once said to me, "mathematicians need to prove things, and if they can't prove something, they'll define it." So here is a list of 10 words invented by authors, or 'authorisms' as they're called. I thought the history behind 'catch-22' (which started out in life as 'catch-18') was interesting. The author of the Guardian piece has written a book on the subject, Authorisms: Words Wrought by Writers.
And speaking of lists, here is the Hollywood Reporter's list of the 25 most influential writers in Hollywood. I think you'll find few, if any, surprises here.

Best Sellers
In case you're interested, Here is a list of the top 10 Kindle best-sellers for 2014 (so far).

1. The Fault In Our Stars by John Green
2. Gone Girl by Gillian Flynn
3. Divergent by Veronica Roth
4. The Goldfinch by Donna Tartt
5. Insurgent by Veronica Roth
6. Allegiant by Veronica Roth
7. The Husband's Secret by Liane Moriarty
8. If I Stay by Gayle Forman
9. Orphan Train by Christina Baker Kline
10. Gray Mountain by John Grisham
The entire list is here.
Also, Laura Hillenbrand's Unbroken has been priced at $2.99 for several days now, perhaps because of the upcoming movie release.

Some Cookbooks
Pie. Doesn't everyone like pie? Here's a cookbook that looks like it might have some good recipes in it, Me, Myself and Pie, which is a collection of pie recipies from Amish kitchens. Also available in hardback so you can throw a few pennies into ace's cookie jar.
Alternately, if you're Amanda Marcotte, Melissa McEwan, or otherwise a soldier in the ASA (Army of Shrieking Accusers), then something from Bitter: A Taste of the World's Most Dangerous Flavor, With Recipes ought to go down sweet.
And then, for us morons and moronettes who enjoy life and love to eat hearty, there's meat. Big, steaming, roasted chunks of meat. And for that you need The Cook's Illustrated Meat Book: The Game-Changing Guide that Teaches You How to Cook Meat and Poultry with 425 Bulletproof Recipes and great googly moogly, the Kindle version is almost as expensive as the dead tree edition. The OM household has always gotten a lot out of the Cooks publication and we've found that many of their "America's Test Kitchen" recipes simply can't be beat.

We Wish You A Harry Christmas
Attention Harry Potter fans: J.K. Rowling announced that she will be releasing twelve HP short stories to coincide with the 2 days of Christmas:
The bestselling author will be contributing new content as part of Pottermore's festive celebrations. Starting on Friday, December 12, a new "surprise" will be released on the site every day at 1pm GMT.

A newsletter to Pottermore members promises "brand new writing by JK Rowling and even a new potion or two".
And:
Rowling says at least one of the stories will focus on Potter's rival, Draco Malfoy. Back on Halloween, Rowling wrote 5,000 words for Pottermore about another auxiliary Potter character, Dolores Umbridge.

Books By Morons
A lurking moronette (hello Suzanne!) recommends her son's novels, which are set in the world of professional auto racing.
I like the way he speaks of his books. From his Amazon page:
I wrote these books to entertain. I call it an airplane novel. As in you start it in..say Boston and finish it in San Fran. Six solid hours of page turning action adventure. Will you learn anything life altering? Nah...but you might learn a few things about racing and cars in general. Think of it as a public service. As in you are talking to a bunch of gear heads and you remember what PDK or understeer or Kevlar is and you can speak to it. Mission done...
I think I would disagree with his point about learning. Your values get built into whatever you're writing whether you're conscious of them or not, and even when you're deliberately going against them. Without having read them, I believe these books teach more about what you should properly value and properly disdain and avoid than the author realizes.
The Driver Book-I Decision and The Driver Book II Training, both full-length novels available on Kindle for the low price of 99 cents.
___________

Another lurking moron would like you to consider purchasing his novel John Donnelly's Gold, and for 99 cents (Kindle), what have you got to lose? This is a comic heist novel, featuring a cast of IT nerds:
Robert Davies, Web developer. Daryl Simon, tech support. Michele Isbert, failing novelist. Kevin Horton, marketing assistant...one autumn day, they found themselves out of work, part of the new CEO's new plans for the company. The same new CEO who personally bought a gold bar at auction and put it on the company's Web site as a symbol for the company's prosperity...Stealing that gold bar is the principled thing to do, but only if they can do it the right way, without too much risk to themselves.
Sounds like a story someone should snap up the film rights to.

___________
So that's all for this week. As always, book thread tips, suggestions, bribes, rumors, threats, and insults may be sent to OregonMuse, Proprietor, AoSHQ Book Thread, at the book thread e-mail address: aoshqbookthread, followed by the 'at' sign, and then 'G' mail, and then dot cee oh emm.
What have you all been reading this week? Hopefully something good, because, as you all know, life is too short to be reading lousy books.


posted by Open Blogger at
09:21 AM
|
Access Comments