« Gaming Thread 11/30/2014
|
Main
|
Cognitive Dissonance: The Moron's Dilemma [CBD] »
November 30, 2014
Food Thread: Stuffing Waffles: Yes, I Went There [CBD]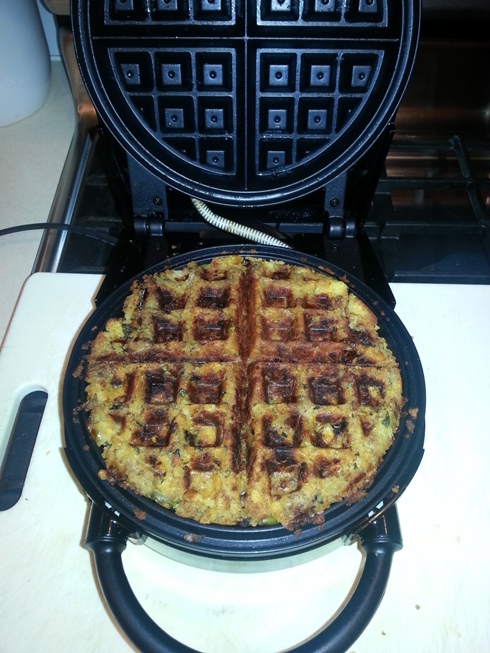 And it was good and true and pure, and there was much rejoicing.
I used my standard corn bread and sausage stuffing, which presents a bit of a challenge because it is crumbly. Regular bread stuffing might be easier. For the last one I tossed the stuffing in a bit of whipped egg, and that seemed to hold it together nicely.
Obviously this isn't a batter that expands when heated, so it is important to pack every nook and cranny of the iron with stuffing. And don't be afraid to compress it!
I mentioned this website recently -- DadCooksDinner -- mostly for the dry-brined turkey recipe. I used it last week, and it was excellent. Much easier than wet-brine, and the icing of the turkey breast before roasting seems to have made a big difference.
His recipes are not overly complicated, but don't be fooled by the name....he is a real cook, with the added benefit of being able to write clear instructions.
Here is a Moron's (speedster1) rather nice looking turkey, from a DadsCookDinner recipe.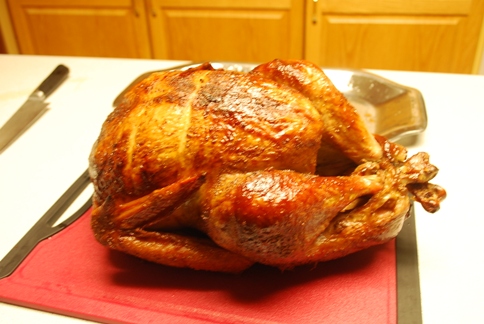 Some of you live in California because of this. Although with the current destruction of the Central Valley, courtesy of the rabid environmentalists, we may have to find another place to grow a lot of our food. Victor Davis Hanson grew up in the Central Valley, and is a wise observer of the lunacy that is California.

Tyler Florence is one of my favorite mass-market chefs. His recipes may not be ethereal, but they are always solid and obviously tested and proofread before being published. His recipe for Pulled Pork Barbecue is sort of a generic "American Barbecue," but that is by no means a criticism. It tastes good, so standing on some mythical regional standard will leave you angry and hungry and sulking on the porch while everyone else eats well.

This is similar, although not identical to Emeril Lagasse's recipe.
Linguine with Clam Sauce
1 pound linguine
2 tablespoons olive oil
4 ounces chorizo or prosciutto, diced
1/2 cup finely chopped yellow onions
2 tablespoons thinly sliced garlic
1/2 teaspoon dry oregano
1/2 teaspoon salt
1/8 teaspoon red pepper flakes
2 cans of whole or rough chopped clams
1 cup dry white wine
1/2 cup clam juice (from canned clams above)
1/2 cup half&half
1 oz. butter
1 tablespoon fresh lemon juice
1/4 cup chopped fresh parsley leaves
Grated Parmesan to taste
Bring a large pot of salted water to a boil. Add the linguine and cook until 1 minute before al dente. Drain the pasta in a colander, reserving 1/2 cup of the cooking liquid. Rinse the pasta in cold water to stop cooking, drain and return to pot. Cover and set aside.

In a large, heavy saute pan or medium pot, heat the oil over medium heat. Add the chorizo and cook, stirring, for 2 minutes (If using prosciutto, remove and set aside).
Add the onions and cook, stirring, until soft, 3 minutes.
Add the garlic, oregano, salt, and red pepper flakes, and cook, stirring, for 1 minute.
Add the wine and clam juice and cook for 1 minute.
Add the half&half, butter and lemon juice, stir well, and simmer for 1 minute.
Add the clams (and prosciutto), cover, and cook for about 2 minutes.
Add the cooked pasta and toss to coat.
Add the parsley, and toss to coat. Adjust the thickness with reserved pasta cooking water if necessary.
Serve immediately with parmesan to taste.

posted by Open Blogger at
04:00 PM
|
Access Comments