« Early Morning Thread 11/23/14: Something Borrowed, Something Blue edition [krakatoa]
|
Main
|
Sunday Travel Thread: Over the River and Through the Woods [Y-not] »
November 23, 2014
Sunday Morning Book Thread 11-23-2014: Politics As Usual [OregonMuse]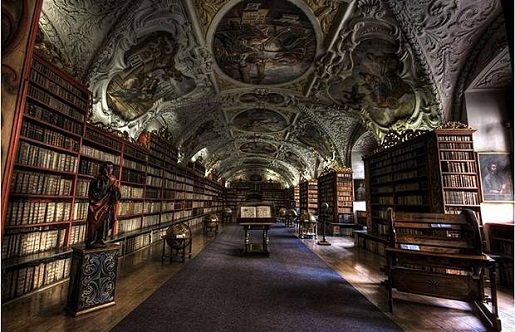 Strahov Theological Hall - Prague, Czech Republic

Some Political Books
I could have sworn I had posted this 11 best political books of all time list in some eaflier book thread, but I couldn't find where, so I apologize if it's a repeat. Anyway, it's a mix of fiction and non-fiction, there's a few interesting entries here (All The King's Men, Master of the Senate) and one clunker (The Handmaid's Tale? Really?).
One of the books on the list is This Town: Two Parties and a Funeral - Plus, Plenty of Valet Parking! - in America's Gilded Capital by Mark Leibovich. It's an insider's "tell all" book and according to the Amazon blub, it lays bare
How political reporters are fetishized for their ability to get their names into the predawn e-mail sent out by the city's most powerful and puzzled-over journalist. How a disgraced Hill aide can overcome ignominy and maybe emerge with a more potent "brand" than many elected members of Congress. And how an administration bent on "changing Washington" can be sucked into the ways of This Town with the same ease with which Tea Party insurgents can, once elected, settle into it like a warm bath.
This last bit is why I'm not very optimistic about the latest election results. Even if we did successfully elect a number of Our Guys and sent them to Washington to clean house, they'll just get corrupted like everyone else, and become part of the problem. I think that's basically what happened with the guys we elected in the Republican rout of 1994. They're soaking in warm bathwater.

Look Out, It's E-Fairness, the Burning Issue of the Age
Local, brick-and-mortar bookstores want online retailers to have to collect state and local sales taxes, just like they do, and are petitioning Congress to make it so:
The Marketplace Fairness Act was passed 69-27 by the Senate in May 2013, requiring "remote" retailers with out-of-state sales of at least $1 million to collect applicable state and local sales tax on all purchases. President Obama has said he would sign the bill into law; many House Republicans and most online retailers, but not Amazon, have fought the bill.
I think I can guess why Amazon isn't fighting this: it's big enough to absorb the regulatory burden the new law would impose on online booksellers, and might put a few of its smaller competitors at a disadvantage.
But Boehner and the GOP leadership have already given the royal razzberry to this proposed legislation:
John Boehner said Monday he would block any attempt to pass e-fairness legislation in the lame-duck session of Congress...[and] it's unlikely that such a bill would pass either chamber when the new Congress, with its Republican majorities, convenes in the new year. Presumed Senate Majority Leader Mitch McConnell voted against the Marketplace Fairness Act.
The "e-fairness" proposal does sound like "let's eat the rich" type of legislation so typical of progressive policy ideas. I think it's silly that somebody in New York would be forced to collect taxes for the state of California, or any other state.
How To Link To The AosHQ Amazon Store: A Primer
There have been several comments in the last couple of weeks from morons wanting to know how they can purchase books from ace's amazon store, so he'll get a few coins thrown his way. Some of this is my fault, I used to provide direct links to ace's store, but lately I've been too damn lazy to do the link conversion. Also, I usually link to the Kindle version, and for whatever reason, the potentates of Amazon have decreed that these sub-stores (or at least ace's) will not be not allowed to sell digital media.
But if it's a dead-tree edition of a book, an ace-friendly link is easy to put together.
Let's say I want to find a link to the Michael Koryta novel 'The Prophet'. Fromm the Amazon main page, I search on the terms Koryta prophet and the book I'm looking for comes up in the search results. The link looks like this:
http://www.amazon.com/Prophet-Michael-Koryta-ebook/dp/B0076DFIRE/ref=sr_1_1?ie=UTF8&qid=1416676840&sr=8-1&keywords=koryta+prophet
Copy and paste this entire link into a text editor such as Notepad. I'm assuming a Windows environment here, if you're using a Mac, or a tablet, you're on your own.
That big, long link is quite a mouthful, but fortunately, most of it is fluff. First, you can discard everything starting with '/ref', which will leave you with
http://www.amazon.com/Prophet-Michael-Koryta-ebook/dp/B0076DFIRE/
That's a pretty reasonable link, and I sometimes use it in book thread links, but you can make it even shorter, like this:
http://www.amazon.com/dp/B0076DFIRE/
The really important part is the Amazon Information Number (AIN) which comes after the 'dp' and here it's 'B0076DFIRE'.
So, to make an ace-friendly link, first start out with:
http://astore.amazon.com/aoshq-20/detail/
...and simply add the AIN to it:
http://astore.amazon.com/aoshq-20/detail/B0076DFIRE/
The final '/' is optional. What you have now is the final, ace-friendly link. Copy and paste it into your browser address bar (not the search bar, it there's a separate one) and you'll get the AoSHQ Amazon store page, with this message:
Digital media products such as Amazon MP3s, Amazon Instant Videos, and Kindle content can only be purchased on Amazon.com.
Oops. This is because I chose an AIN that was for the Kindle version of the Koryta novel. The AIN for the paperback is 0316122599, so the AoSHQ store link is this:
http://astore.amazon.com/aoshq-20/detail/0316122599
So if you buy the paperback from this link, ace will get a few farthings for his Valu-Rite fund.
And I wish we could do this with Kindle books.

Timeline
From the sidebar earlier this week, I pulled this clever Visual Timeline of the Future Based on Famous Fiction.
It only goes to 802701. What a bunch of pikers. They should have included Olaf Stapledon's Last and First Men, which would have blown it wide open.
Here is a direct link to a larger version of the chart.

Winter Books
"For a long time, I used to go to bed early."
This is the opening sentence of Swann's Way, the first book of Marcel Proust's Remembrance of Things Past, and I think it goes for something like 7 volumes. Anyway, when MuseDaughter was 11 or 12, she told me that due to her excited anticipation, she was going to have trouble getting to sleep on Christmas Eve and would I please give her a book to read? So I thought Proust would be suitably soporific and her reading skills were advanced enough that I knew she could handle it. But later on she complained that it was the most boring book she had ever read, and by "read" she meant "threw away after struggling though a couple of chapters." Oh, long was her complaint and bitter her lament about Swann's Way, the most boringist boring book ever written to bore unwitting readers to a boring death. And this from someone who, later on, read The Trial by Franz Kafka and actually liked it.
I reminded of this old family story because The Trial is on this list of 50 Great Dark Books for the Dark Days of Winter. Lots of unfamiliar books here, but some you will recognize, and I think that any one of them should be enough to smack the happiness right out of you.
I'm surprised that Lord of the Flies didn't make this list. If story of a bunch of savage, murderous schoolboys isn't dark, I don't know what is.
It's such an obvious choice.
As is Huxley's Brave New World.
Also, I never knew Trainspotting was a book adaptation. Really.

Where The Wild Things Are
So I guess most of us have probably seen the movie Into the Wild (an adaptation of the book of the same name by Jon Krakauer), and when the kid died, we thought "what an idiot". We're not supposed to think that, the movie tried to show the life and death of new college grad Chris McCandless as some kind of tragically beautiful thing, but those of us h8rs who could see what he was doing, i.e. trekking off to the wilderness, all by himself, with little or no woodcraft experience, with no backup plan, could see his bizarre and pointless death coming a mile off.
How could he do such a thing? How could anyone be so stupefyingly clueless?
McCandless had seven brothers and sisters, and one of his sisters has just published her own memoir. As you might guess, it puts a different light on things:
In The Wild Truth, Carine McCandless comes forward to set the record straight, revealing the much darker reality of Chris' family life: a violent home in which their father beat and belittled their mother and where both parents manipulated the details of a second family.
Of course, the parents are having none of it:
They released a blanket statement to ABC stating, "After a brief review of its contents and intention, we concluded that this fictionalized writing has absolutely nothing to do with our beloved son, Chris, his journey, or his character. The whole unfortunate event in Chris' life 22 years ago is about Chris and his dreams, not a spiteful, hyped-up, attention-getting story about his family."
I don't know who's right; like most dysfunctional families, it's probably a big, simmering mess of smoldering grudges, hurts, and resentments that have been going on for years. I know and have seen how imperfect and selfish parents can be pretty much oblivious to the damage they've inflicted on the lives of their children, and are genuinely bewildered when confronted by it. So you see a lot of denial, denial, and more denial, and the parents' statement is about what you'd expect.
I still don't think much of the son, however. No matter how many books they write about him.

Books By Morons
A few weeks ago, I mentioned moron WannabeAnglican and his new novel Pilot Point, and he informs me that his gun show/book tour was so successful, he's going to keep it up. So here is his schedule, if any of these are local to you and you want to get in on the fun:
November 22-23: (tentative) Burnet Gun Show - VFW Hall, Burnet, Texas

December 13: Aransas Pass Gun Show – Aransas Pass Civic Center, A.P., Texas

February 28 – March 1, 2015: (tentative) Saxet Gun Show – Robstown Fairgrounds, near Corpus Christi, Texas
___________
So that's all for this week. As always, book thread tips, suggestions, bribes, rumors, threats, and insults may be sent to OregonMuse, Proprietor, AoSHQ Book Thread, at the book thread e-mail address: aoshqbookthread, followed by the 'at' sign, and then 'G' mail, and then dot cee oh emm.
What have you all been reading this week? Hopefully something good, because, as you all know, life is too short to be reading lousy books.

posted by Open Blogger at
09:20 AM
|
Access Comments