« Early Morning Open Thread - [Niedermeyer's Dead Horse]
|
Main
|
Sunday Football Thread »
November 09, 2014
Sunday Morning Book Thread 11-09-2014: Meet the New Boss... [OregonMuse]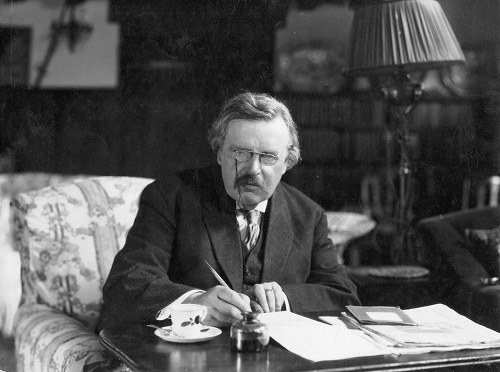 Not Just Another Pretty Face
A good novel tells us the truth about its hero; but a bad novel tells us the truth about its author.

G. K. Chesterton, Heretics, (1905)
Ol' G.K. looks mighty annoyed, doesn't he? Like "get out of my study" annoyed.
Good morning morons and moronettes and welcome to AoSHQ's stately, prestigious, and high-class Sunday Morning Book Thread. The only AoSHQ thread that is so hoity-toity, pants are required. Or kilts. Kilts are OK, too. But not tutus.

Tom Sawyer, Call Your Office
First you write your novel, then you have to edit it. Or at least, someone has to. But author Keith Raffel had a unique idea about how to do this:
A bestselling author via traditional publishers, he invited readers to join him in self-publishing his fifth book, Temple Mount, a thriller in which a Silicon Valley executive finds himself heir to the secret of the lost Ark of the Covenant. Unlike the other 6,149 publishing projects launched via the crowd-funding site in 2013, the Temple Mount initiative offered an "Editor Bundle" to readers willing to invest $80 or more. It included the chance to review the manuscript before publication and make suggestions and edits.
So instead of paying someone to edit his book, he gets others to pay him for the privilege. Looks like he took the "don't work harder, work smarter" advice to heart in a big way.
Of the 57 backers with editing rights, 25 "took advantage," as Raffel puts it, turning in manuscripts marked with two to 3,500 notes. Among those readers were lawyers, venture capitalists, academics, software engineers, a hospital chaplain and a documentary film-maker--but no one who'd edited a novel before.
So how'd it work out?
Crowd-editing proved distinctly advantageous in making choices: "I had two alternate openings, and the readers helped me choose the one used in the book. It's much better when it's not one person's opinion, but fifty people's opinions."
In many counselors, there is wisdom. On the other hand, just because large numbers of people are involved doesn't mean the outcome is going to be good; after all, look who we have as president.

Meow
Here's an amusing article about famous writers and their cats, including:
Dorothy Parker is credited with inventing the phrase 'scaredy-cat', in a short story called 'The Waltz' from 1933 - the Oxford English Dictionary gives her use as the earliest known instance of this feline-themed term.
I did not know that. Also:
Names for Mark Twain's many pet cats included Beelzebub, Blatherskite, Buffalo Bill, Satan, Sour Mash, and Zoroaster.
Heh. I, too, would like to have a cat named "Sour Mash". Most of them drive me to drink, anyway, so, yeah, that'd work.

8 Ways To Thrill
Thanks to moron "CBD" for tipping me to the StoryBundle site that offers a package deal wherein you get eight (count 'em) 8 exhilarating thrillers:
Not sure what kind of thriller you like? This bundle has it all: Conspiracy, legal, military, political, psychological, supernatural and techno. Plus, we've got an extra 9th book that's free for all our newsletter subscribers. Not yet a subscriber? You can sign up here!
So, what's the price? That's the interesting part: it's determined by you, the reader. No, you can't get them for free, but on the checkout page, you can set the slider bar from $3 all the way up to some very large number. So if you want to pay $2 per book, put down $16 and there you go. Or more, if you're feeling generous. And what's more, there is another slider bar that allows you, the reader, to determine what percentage of your purchase goes to the authors and what goes to StoryBundle.
The bundle changes periodically, and features primarily indie authors. However, I see the current bundle, which ends in a little over two weeks contains the classic political thriller Advise and Consent by Allen Drury.
More info about the Storybundle offers here.

A Little Bit of Irony in Your Morning Coffee
Via Bookbub, I see where you can get a book called Fake! for 99 cents. First published in 1969, it's a true account of some extremely successful art forgers. But what's funny is that it's written by Clifford Irving. Yes, that guy, the guy who faked an autobiography of reclusive billionaire Howard Hughes, got caught, and wound up doing serious jail time for it.
And this "autobiography" of Hughes is also available on Kindle, which surprised me, and actually I think it's kind of weird. I mean, how much of it can you trust? Especially the parts where Irving says Hughes wrote to him or he met and interviewed him, we know those are lies, right? Because Hughes claimed never to have met Irving.
But apparently it's a good story and a great read, as are his other novels, and Irving is a very good writer, a skillful craftsman at his trade. Kind of like the Hungarian art forger Elmyr de Hory whom he wrote about in Fake!

Books Of Note
Moronette "Niedermeyer's Dead Horse" mentioned this yesterday already, but the excerpt from George W. Bush's new book, 41: A Portrait of My Father on Drudge is well worth reading. It is very heart-warming to see that W. has a very good and healthy relationship with his father. This is normal life, the way it ought to be. I've had occasion this week to think about what's normal and what isn't (thanks, Lena Dunham!) and how important normal life is to our well-being, not only of ourselves personally, but our civilization in general. Like air, it's not something you think about until you suddenly no longer have it.
And I am becoming more aware of just how much our institutions and culture are in the hands of the amoral, abnormal, and perverse. No, this is not going to end well.

___________
Shigeru Mizuki, the Japanese manga artist, now 92 years old, has written a graphic novel about the history of Japan in the 20th century, 1926-1989, which corresponds to the reign of the emperor Hirohito. According to custom, he was posthumously renamed "Showa":
Like Art Spiegelman's "Maus," the first (and so far only) graphic novel to win the Pulitzer Prize, "Showa" combines history and memoir. The narrative is sweeping, ferrying us through the second Sino-Japanese War, World War II, the Korean War and the Cold War. Yet it's also surprisingly intimate: Mizuki intersperses scenes from history (the careering fighter planes and craggy politicians so finely drawn that they bring to mind etchings) with snapshots of his own life, in a cartoonish style that belies their weight.
The complete work 'Showa' is divided up into one, two, three, four volumes.
also the author of Onward Towards Our Noble Deaths, a story of a futile suicide charge by a unit of the Imperial Japanese Army in Papua New Guinea during the latter part of WWII. It sounds horrific:
[A] group of Japanese soldiers have been ordered to perform a blatant suicide charge, but through the fog of war are inexplicably not killed. In the meantime however, their superiors have already announced their deaths 'for the glory of Japan'. Upon learning of the survival of the men, they are not rescued or cared for, but are ordered to attack again for no strategic purpose so as to not bring "dishonor" upon all involved. The message: get it right this time and die. Can't you do anything right? And do the officers who order them back to die join in the suicide charge? No.
Yeesh.

What I'm Reading
I'm getting my first taste of John Ringo, namely his first "Troy Rising" novel Live Free Or Die. An alien race sets up a transport gate in the solar system and so now Earth can be a trading partner, except we don't have anything any other world wants but precious metals, which we don't produce enough of to bother with. And then the main character discovers that at least some aliens can get drunk on maple syrup, which no one has but us, and then the fun begins. Ringo's conservative leanings are on display in certain passages, but they're not suffocating, and in fact they add to the fun. Note: the bad aliens who show up to incinerate Earth cities unless we give them all of our precious metals (and maple syrup) are known as the Horvath, and isn't 'Horvath' the name of Lena Dunham's character in that Girls TV show that nobody watches? Hmmm... what an interesting coincidence.

___________
So that's all for this week. As always, book thread tips, suggestions, bribes, rumors, threats, and insults may be sent to OregonMuse, Proprietor, AoSHQ Book Thread, at the book thread e-mail address: aoshqbookthread, followed by the 'at' sign, and then 'G' mail, and then dot cee oh emm.
What have you all been reading this week? Hopefully something good, because, as you all know, life is too short to be reading lousy books.

posted by Open Blogger at
09:38 AM
|
Access Comments