ę Food Thread: A Curmudgeon's Guide To Planning Thanksgiving [CBD]
|
Main
|
Overnight Open Thread (10-26-2014) Ľ
October 26, 2014
Baseball....Game Five! [BCochran81]
Hello again, baseball Rons and Ettes. Apparently I didn't screw up too badly last night, as CBD asked me to do another World Series post.
This one will be a bit shorter than the previous one as we don't need to catch up on all the previous games.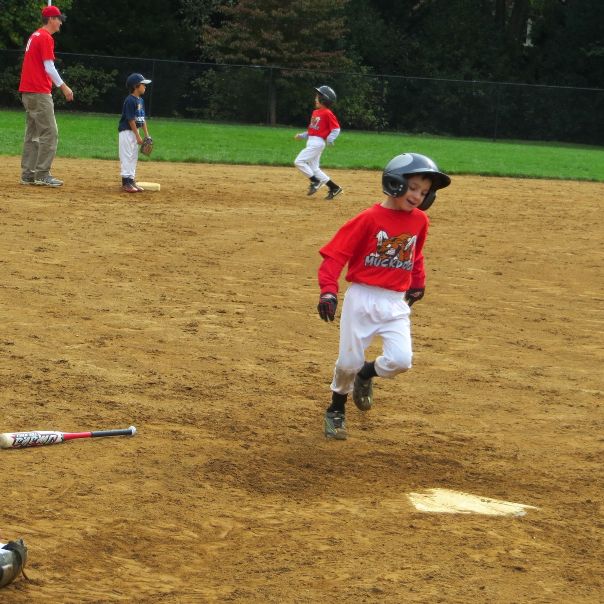 [That's not BCochran....it's just a cute Little League photo I found....CBD]
Game 4 was not what I expected, but was an excellent game.
Vogelsong picked up for the Giants right where he left off unfortunately. Gave up four runs and was knocked out by the 3rd inning. Very disappointing. He looked uncomfortable from the start. He couldn't locate any of his pitches and, as is typically the case, paid the price for it.
Vargas wasn't much better for the Royals. His line read 4 innings, 6 hits and 3 runs. That's simply not going to get it done.
What we did see from the game was quality at bats. Guys being both patient and aggressive. Patient enough to make the struggling pitchers come to them, but aggressive enough to jump on the pitch when it came.
Both teams were grinding out runs. Legging out infield singles, drawing walks, stealing bases, advancing on pitches in the dirt. It was an excellent showcase for how to score plenty of runs without trying to drop bombs all the time. Single after single, some of them soft line drives dropping into just the right spot. It was a glorious, at least for me, thing to see.
There were two stars to the night in my opinion, one was the Giants' hitters and the job they did churning out runs through good solid hitting and base running. The other was the Giants' bullpen.
The Royals scored all 4 runs off of Vogelsong in the 3rd. Jean Machi was brought in to get the final out in the 3rd and then the Giants turned to the fiery Venezuelan Yusmeiro Petit.
Petit shut the Royals down. 3 innings, no runs and 2 hits. Following in his steps, the rest of the Giants' pen continued to roll through the Royals.
They had plenty of help from their teammates as San Francisco continued to pour on the runs and really blew the game open in the bottom of the 7th.
The Royals' pen, which had been a strength, was badly exposed and got absolutely hammered.
The Giants racked up 2 runs in the 5th, 3 in the 6th and 4 in the 7th on their way to an 11-4 victory and tying the series at 2 games apiece, thus ensuring a return to Kansas City for at least Game 6.
Looking ahead to tonight, we'll see a rematch from Game 1. The Royals will send James Shields back to the mound, while the Giants will send Madison Bumgarner.
Other than in the 2008 postseason with the Tampa Bay (Devil) Rays, Shields has not lived up to his nickname of "Big Game." Incidentally, he didnít get that nickname because of his play. He got it because he grew up in the same area as NBA legend "Big Game" James Worthy. A couple minor league teammates realized that and stuck him with the moniker, mostly as a joke. As the 1 for the Royals, he needs to be much better than he showed in his last outing.
Bumgarner was excellent in Game 1 and looks to repeat that success in Game 5. Bumgarner has been sensational in the postseason to date. He's started 5 games and he's averaged pitching into the 8th inning in those games. An ERA of 1.40, an opponent batting average of .162 and a WHIP of 0.72. Those numbers are just insanely good.
If the Giants' bats stay hot and Bumgarner puts in a performance anywhere near what he did in Game 1, it's going to be a deep hole the Royals are going to be climbing out of. But if Shields can give the Royals a quality start and the Royals vaunted bullpen can rebound, we could be in for another excellent game.
A couple of guys to keep your eyes on...
San Francicsco's Pablo "Kung Fu Panda" Sandoval.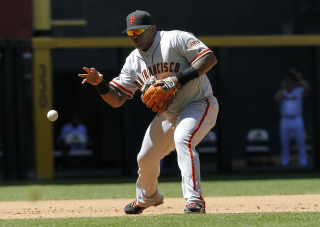 At the young age of 28, the Venezualan is a two time all star and was on the team for the Giants' World Series victories in 2010 and 2012. His bat is his biggest contribution to the team. He's hitting .321 in the postseason and 1/3 of his hits have been extra base hits. But don't discount his glove. Despite his size, he's shown himself to be a very good third baseman with plenty of range and quickness. If you're wondering how he got the nickname of "Kung Fu Panda," Barry Zito dubbed him with it during his rookie season of 2008 after Sandoval scored by jumping over the catcher's attempted tag.
Kansas City's Eric Hosmer.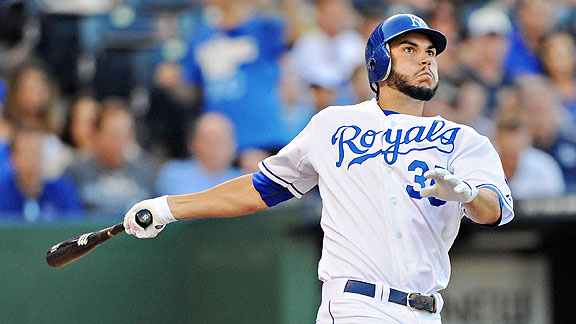 Hosmer is arguably the offensive leader for the Royals with an average of .359 and 9 runs batted in during this postseason. Look for him to try and spark the Royals offense and give a little breathing room to Shields. Hosmer gained notoriety not just for his play on the field, but for what happened off the field after sweeping the Angels in the ALDS. Hosmer went to twitter and told fans to come meet him at a bar downtown and celebrate. As you can imagine, a rather large crowd showed up. But so did Hosmer. Hosmer and several teammates actually paid for an open bar for an hour that night and doused the crowd with champagne.
I wanted to thank you Rons and Ettes for the warm welcome last night. I hope you enjoy the post and I hope you enjoy the game even more.

posted by Open Blogger at
07:00 PM
|
Access Comments