« Gun Thread (10-26-2014)
|
Main
|
Baseball....Game Five! [BCochran81] »
October 26, 2014
Food Thread: A Curmudgeon's Guide To Planning Thanksgiving [CBD]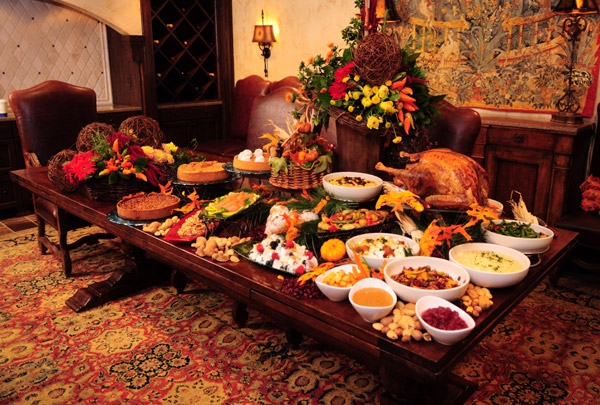 Short answer: Don't do this.
Thanksgiving is tense enough, with idiotic family dynamics and drunken uncles, without having to plan a 15 course extravaganza. I am a dedicated minimalist when it comes to large gatherings, and Thanksgiving may be the biggest of them all. Why torture yourself with more pots and pans, more serving dishes and implements, more shuffling of the oven and stove-top, and more chance to forget something or get your entire family sick with some awful malady.
So....here is Dildo's Foolproof Thanksgiving Menu:
1. Booze, and lots of it. But don't cater to everyone's whim. Simple stuff like beer and wine and a large pitcher of something that you can make ahead is fine. Margaritas work wonderfully.
2. Soup. It's easy to serve, doesn't require timing, and is a one-pot cooking process. I love squash soup, and have posted the recipe (probably more than once).
3. Turkey. Duh. But don't stuff it. Just roast it. It's better and safer that way.
4. Starch. Two of them. Good mashed potatoes (I had chipotle mashed a few days ago that were great) and a simple stuffing that you can make the day before and simply reheat.
5. Vegetable. One of them. Nobody likes vegetables anyway, and if you say you do you are lying, or trying to get laid.
6. Cranberry anything. I must plead ignorance here, because I think cranberry sauce is disgusting. But it is expected, so get your crazy aunt to make it.
7. Salad. Yeah...I'm a freak. I like salad, and it's easy and a great palate cleanser.
8. Pie. Absolutely. It's actually not an option. Check the AOSHQ Lifestyle guide.
Play around with the specifics, but the point is to keep it as simple as possible. And don't be lulled into a false sense of security when people say that they will bring stuff. You still have to serve them and do the dishes. Or redo them after everyone has left and you find greasy smudges of turkey and cranberry on the silverware.
I am not trying to discount the undeniable pleasure of cooking for a large group. I do it almost every year, and it is a joy. But I do it on my own terms. I get up early, have a large cup of good coffee, listen to music, and enjoy the process, knowing that it is manageable.
Simple food is often the best, and a meal that isn't overwhelming in its complexity can be memorable. And, after all, the real purpose of Thanksgiving is to watch football enjoy the company of family and friends and recognize the bounty we have been blessed with.

So....it's true what they say about vegetarians.

This recipe is from Cooking Light, so I edited the silly stuff out (reduced-fat sour cream? Spare me). Feel free to add some fat to this, but it is an undeniably tasty dish no matter what.
Chicken Verde Stew with Hominy
2 Anaheim chiles
Cooking spray
1 1/2 pounds tomatillos
1/4 cup finely chopped fresh cilantro
1 1/2 teaspoons ground cumin
1 teaspoon dried oregano
2 cups chicken broth, divided
2 tablespoons olive oil, divided
1 1/2 cups finely chopped onion
1/2 cup chopped carrot
1/2 cup chopped celery
1/2 cup chopped red bell pepper
3 tablespoons flour
4 teaspoons finely chopped garlic
1 pound skinless, boneless chicken thighs, cut into 1 1/2-inch pieces
3/4 teaspoon kosher salt, divided
1/2 teaspoon black pepper, divided
1 (29-ounce) can golden hominy, rinsed and drained
6 tablespoons sour cream
Cilantro leaves (optional)
1. Preheat broiler to high.
2. Halve, stem, and seed chiles. Place chiles, skin side up, on a foil-lined baking sheet coated with cooking spray; broil for 5 minutes or until charred. Place chiles in a paper bag; seal. Let stand for 15 minutes. Peel and discard skins. Arrange tomatillos on prepared baking sheet, and broil 14 minutes or until blackened, turning once. Combine the chiles, tomatillos, 1/4 cup cilantro, cumin, and oregano in a blender. Add 1 cup broth; process until smooth.
3. Heat a large Dutch oven over medium-high heat. Add 2 teaspoons olive oil; swirl to coat. Add onion, carrot, celery, and bell pepper; saute for 2 minutes, stirring occasionally. Stir in flour; saute for 2 minutes, stirring frequently. Add garlic; saute for 30 seconds, stirring constantly. Place onion mixture in a large bowl.
4. Sprinkle chicken with 1/2 teaspoon salt and 1/4 teaspoon black pepper. Add 2 teaspoons oil to pan; swirl to coat. Add half of chicken; saute 3 minutes. Add browned chicken to onion mixture. Repeat procedure with remaining chicken and 2 teaspoons oil. Combine remaining 1 cup broth, tomatillo mixture, onion mixture, and hominy in pan over medium-high heat, and bring to a boil. Cover, reduce heat, and simmer for 45 minutes, stirring occasionally.
5. Stir in 1/2 teaspoon salt and 1/4 teaspoon black pepper. Ladle 1 2/3 cups stew into each of 6 bowls, and top each with 1 tablespoon sour cream. Garnish with cilantro, if desired.

posted by Open Blogger at
05:00 PM
|
Access Comments