« So How About That Bobby Jindal Fella? [Y-not]
|
Main
|
Top Headline Comments 10-20-14 »
October 19, 2014
Overnight Open Thread (10-19-2014)
With productivity continuing to rise, the United States has a chance to become the single biggest producer of crude oil sometime in the near future. If you had said that a decade ago, you would've been laughed at and called a fool. What a difference fracking makes.
Ah RIP Peak Oil - we barely knew ye.
Bobby Jindal Has Got Obama's Number
And now we're clearly in stage 2 of Obama's well known crisis management by-running-out-the-clock-while-doing-fuck-all style.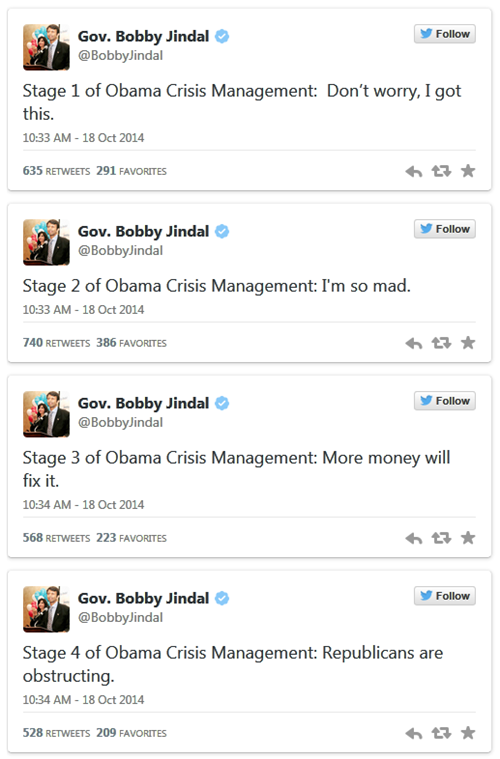 Ten Things the Ebola Crisis Tells Us About the Obola Administration
The announcement of Ron Klain as the new Ebola "czar" checks all the boxes: Harvard Law, longtime Democrat party op, veteran of the Clinton, Al Gore and John Kerry campaigns. The problem is, it checks all the wrong boxes. The Progressive myth is that we ought to have a government of experts - top men! - to handle the nation's problems in a calm, deliberative manner. The reality is that we have a nation of unscrupulous lawyers, amoral apparatchiks and political hacks whose only area of expertise is manipulating the electoral and governmental systems and getting rich by doing so.
So don't worry - the Obama administrator has got Top. Fixers. on the problem so they can move on to stage 3 and 4 faster.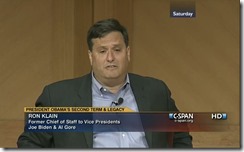 From Tolerance to Compulsory Backed by Criminal Penalties
Don't worry - allowing gay marriage will never mean that pastors must perform gay marriages or face prison. Oh wait never mind.
Is Immunity to Ebola More Common Than We Think?
This may explain why none of the Liberians in the US that Duncan had contact with has gotten the disease.
Experts in the US say a study into a past Ebola outbreak found 71% of people who had close contact with a victim and tested positive never fell ill

Another showed 46% who came into close contact and did not get sick had evidence of infection with the Ebola virus

Team at universities of Texas and Florida believe the virus is silently immunising a significant portion of the West African population
What It's Like Being an Ebola Survivor
Not as wonderful as you might think.
Many of the survivors have lost whole families-spouses and children-and contracted ebola while caring for them. And yet many report being shunned now, as though they were still contagious, even though they are not. No wonder so many have eyes that look so sad. They have lived through a horrific experience, and the pain continues.

Some, however, are working at the hospitals, counseling and supporting other patients who are ill with ebola, and giving them hope that they might live through the experience.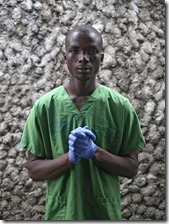 Then you have the question of how well their immunity works across strains - plus you have the big damper on their sex lives:
However, the Ebola virus can survive in semen for months after a man recovers from the infection, posing an ongoing threat to sexual partners long after he is well. At a time when a man's bloodstream is swimming with antibodies, and he is immune to the disease, he still may be able to infect others. . . .
Ed Driscoll: 'Your Dad is Not Hitler'
Christopher Caldwell:
For these people, liberalism is not a belief at all. No, it's something more important: a badge of certain social aspirations. That is why the laments of the small-town leftists get voiced with such intemperance and desperation. As if those who voice them are fighting off the nagging thought: If the Republicans aren't particularly evil, then maybe I'm not particularly special.
Theodore Dalrymple:
There is another reason why people like to compare their current situation with the catastrophic past, however absurd or demeaning to past sufferings that comparison might be. It gives them license to behave badly within their own little compass. Why should anyone concern himself with my peccadilloes when we are in the midst of a moral catastrophe equivalent to Nazism? To do so is to display moral triviality; it is to fiddle while Rome burns. Therefore, I can behave badly and still think myself a moral man, because I concern myself with the important things, true morality being to have the right opinions about the big questions of the day and not to immerse oneself in the trivia of one's own individual conduct.
Liberal vs Conservative Marriages, The Moral Fall of Britain, Kangaroo Courts, and Ebola Oh My
There must be as many reasons for the decline in marriage as their are non-married people. A female University of Washington professor thinks the decline in marriage is a good thing because men just aren't very nice people to marry.

In keeping with her attack on men, I'd like pick up on a theme I touched upon years ago, when I first started blogging. Looking at the people I know, the couples I know, and the blogs I've read, I've concluded that liberal and conservative men are very different in their approach to women.

Liberal men applaud women in the abstract - calling them equal or superior, bowing before their right to do anything they damn well please, and feeling the need to apologize all the time for being men. Given all this, perhaps it's not surprising that, except for the sex part, liberal men don't seem to like actual women very much. If you constantly have to abase yourself before someone, it's kind of going to kill the fun. Certainly, in my world, the harder Left men are politically, the meaner they are to the real women in their real lives.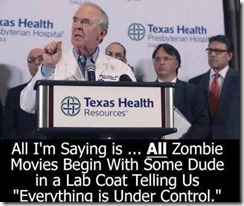 Why I'm a Skeptic When It Comes to Fusion Breakthrough Announcements
So for once I can intelligently comment on a Marginal Revolution article. (I have a Ph.D. in applied plasma physics and fusion energy; I worked on the "conventional" fusion reactor design, the tokamak). Lockheed hasn't released many details of their concept (at least, not enough details that it can actually be evaluated in technical detail), but it looks like it's a combination of a magnetic mirror and a levitated dipole. The magnetic mirror was studied in detail in the 1960s and 1970s and didn't work out (due to [detailed plasma physics reasons]) and the levitated dipole has a fundamental flaw as a power-producing reactor in that the superconducting magnets are inside the neutron shielding - neutrons destroy the magnets.

It's tough as a scientist to be able to comment on things like this, because it's "science by press release", i.e. there's a big media hype but the actual researchers don't release enough technical details to actually evaluate it. One wants to remain cautiously optimistic, but with fusion in particular, we've been down this road many, many times. Thus I predict that the most likely outcome is that as they scale their device up, they'll find that the confinement (a measure of how well the device holds a fusion plasma) unexpectedly drops off due to some different types of turbulence turning on at higher temperatures / higher pressures. and it will quietly go away.

I hope that I am proven wrong.
I hope that Lockheed is actually on to something but having watched since 1980 so many grandiose claims made in the field followed by a quiet fizzles a year or three later I'm now firmly in the show-me-and-I'll-believe camp. And the great thing about actual science is that it works whether I believe in it or not.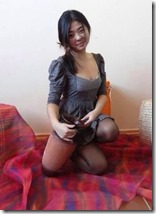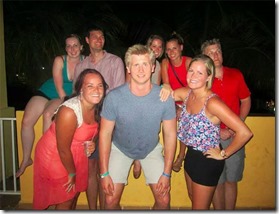 The Poop Bank in Massachusetts Will Pay You $40 to Make a Deposit
"Think of us as a blood bank, but for poop," said Smith, who developed OpenBiome when he saw the gap in the medical structure to provide many patients with the life-saving fecal samples. "You shouldn't have to fly across the country to get poop."
Seems like easy money.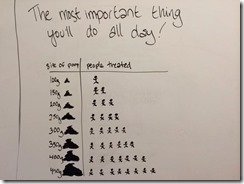 Weekly Commenter Standings
Top 10 commenters:
1 [524 comments] 'Ricardo Kill' [73.61 posts/day]
2 [510 comments] 'Vic'
3 [483 comments] 'Insomniac'
4 [437 comments] 'rickb223'
5 [342 comments] 'Anna Puma (+SmuD)'
6 [333 comments] 'Costanza Defense'
7 [330 comments] 'Your friendly Danube River guide'
8 [319 comments] 'Mike Hammer, etc., etc.'
9 [306 comments] 'EC'
10 [302 comments] 'Nevergiveup'
Top 10 sockpuppeteers:
1 [134 names] 'The Political Hat' [18.82 unique names/day]
2 [53 names] 'Adam'
3 [49 names] 'Doctor Fish'
4 [43 names] 'wth'
5 [38 names] 'Do Not Fear, Leg-biter Is Sheathed'
6 [37 names] 'Slow Uncle Joe'
7 [33 names] 'andycanuck'
8 [32 names] 'davidt'
9 [30 names] 'Thin veneer of civility'
10 [30 names] 'Islamic Rage Boy'
The group. Never heard of it.
Where it's at - the Twitter
Tonight's post brought to you by Groucho's take on Hollywood (from a 1940 Variety):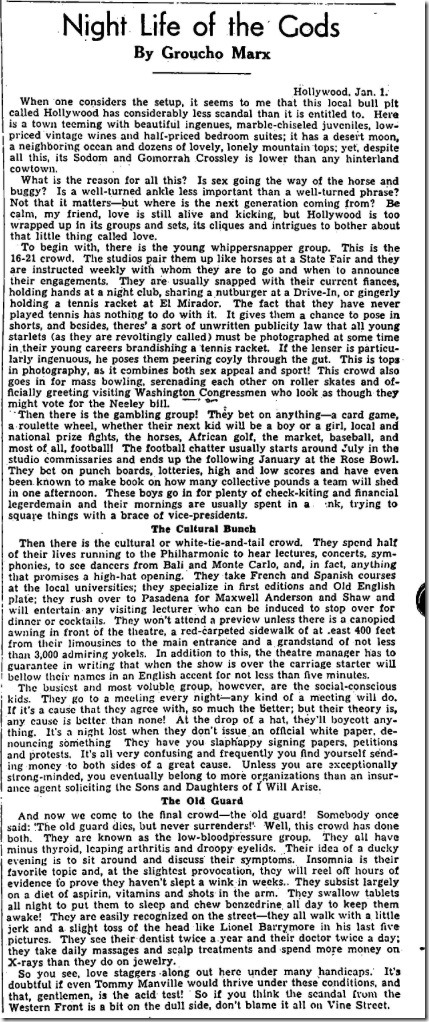 Notice: Posted by permission of AceCorp LLC. Please e-mail overnight open thread tips to maetenloch at gmail. Otherwise send tips to Ace.

posted by Maetenloch at
10:08 PM
|
Access Comments