« CNN and Fox News Polls Both Show Roberts Moving Ahead of the Fake "Independent" Democrat Orman in Kansas
|
Main
|
Top Headline Comments 10-9-14 »
October 08, 2014
Overnight Open Thread (10-8-2014) – Ebola Party Edition
Well, to be fair, the Times editorial board is as diverse as an Obama campaign headquarters. But remember: All this talk of tolerance and diversity is basically just a way for one group of white people to pursue power over other groups of white people. It's not about actually helping anyone.

-- Glenn Reynolds
Evil Greedy Corporation Helps Keep Ebola at Bay in Liberia
When it comes to Ebola, the rubber met the road at the Firestone rubber plantation in Harbel, Liberia.

Harbel is a company town not far from the capital city of Monrovia. It was named in 1926 after the founder of the Firestone Tire and Rubber Company, Harvey and his wife, Idabelle. Today, Firestone workers and their families make up a community of 80,000 people across the plantation.

Firestone detected its first Ebola case on March 30, when an employee's wife arrived from northern Liberia. She'd been caring for a disease-stricken woman and was herself diagnosed with the disease. Since then Firestone has done a remarkable job of keeping the virus at bay. It built its own treatment center and set up a comprehensive response that's managed to quickly stop transmission. Dr. Brendan Flannery, the head of the U.S. Centers for Disease Control and Prevention's team in Liberia, has hailed Firestone's efforts as resourceful, innovative and effective.

Currently the only Ebola cases on the sprawling, 185-square-mile plantation are in patients who come from neighboring towns.

When the Ebola case was diagnosed, "we went in to crisis mode," recalls Ed Garcia, the managing director of Firestone Liberia. He redirected his entire management structure toward Ebola.
Note that Firestone's response has been better than any government one to date.
Liberian Woman Saves 3 Family Members From Ebola
It can be exhausting nursing a child through a nasty bout with the flu, so imagine how 22-year-old Fatu Kekula felt nursing her entire family through Ebola.

Her father. Her mother. Her sister. Her cousin. Fatu took care of them all, single-handedly feeding them, cleaning them and giving them medications.
Instead Fatu, who's in her final year of nursing school, invented her own equipment. International aid workers heard about Fatu's "trash bag method" and are now teaching it to other West Africans who can't get into hospitals and don't have protective gear of their own. ...It was an arduous and time-consuming process, but Fatu was religious about it, never cutting corners.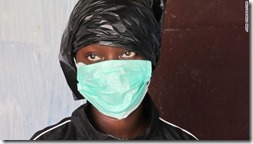 Did Thomas Eric Duncan Know He Had Ebola When He Came to the US?
Neo-Neocon makes a good case that he probably didn't know until he started getting sick in Dallas.
I've dealt before, briefly, with the question of whether Duncan was guilty of lying to authorities about his Ebola exposure, as has been claimed by Liberian authorities. I have notes for a longer piece on the subject, which I may or may not ever write. But the gist of it is that, the more I researched the question, the more convinced I became that the answer to it was "no." Without going into a lot of detail in this post, I'll just add that it's based on things such as when he applied for his visa and purchased his plane ticket (way before his Ebola exposure), and that no one in his hometown knew that the woman they'd helped had actually died of Ebola until many days after Duncan had already left the country and come here. In addition, unless he was suicidal when he visited that Dallas ER room that first time, why would he not have shouted out to them that he'd been exposed to the disease, if in fact he knew it at the time?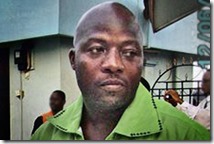 The Politicized Life, Ebola Edition
You're dying of ebola and have the choice between bleeding out in the street unloved by anyone or being cared for by a Christian missionary. What do you do? What do you do?

If you're Slate's Brian Palmer, that's apparently a tougher question than you might think.
Racist Jimmy Carter Racistly Criticizes Obama Like a Racist
Well Jimmy is from the South and of a certain age which means that any of his criticism of our first black president must be driven by racism. At least according to former president Jimmy Carter.
The Congressman Who Spied for the Soviet Union
And no it's not the one who you're probably thinking of.
Have We Already Reached Peak Walrus?
I double-checked these figures with [Philip] Cook, just to make sure I wasn't reading them wrong. "I agree that it's hard to imagine consuming 10 drinks a day," he told me. But, "there are a remarkable number of people who drink a couple of six packs a day, or a pint of whiskey."

As Cook notes in his book, the top 10 percent of drinkers account for well over half of the alcohol consumed in any given year. On the other hand, people in the bottom three deciles don't drink at all, and even the median consumption among those who do drink is just three beverages per week.
The Classic White Van Speaker Scam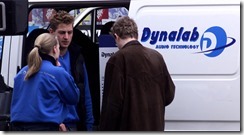 Whoopi to Rosie: "I'm really sick of your s***!"
Some hot moonbat on moonbat action. Advantage: Whoopie.
Rosie thought Whoopi cut to commercial too quick. Rosie doesn't wear an earpiece that would let producers talk to her during the show.

Rosie was like: you "hurt my feelings," and I'm "very upset by it," and I "didn't appreciate" it.

And Whoopi was all: "This isn't the time for this, Rosie."

And Rosie kept going back to it: "Well I just don't appreciate you saying that you were going to do something and not doing it. It makes me upset and I just don't want to have to go through this."

And Whoopi said: "I said this was not the time Rosie."

But Rosie wouldn't let it go, so Whoopi laid it on her: "F*** it, I told you to leave it alone and you just don't want to listen. If you want to go there Rosie, I will dammit. I'm really sick of your s***!"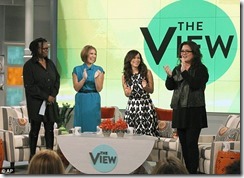 MRI Scanner Disarms Officer And Fires His Weapon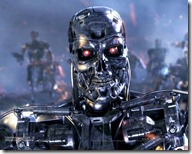 The Group knows what you did.
Tonight's post brought to you by the Batman: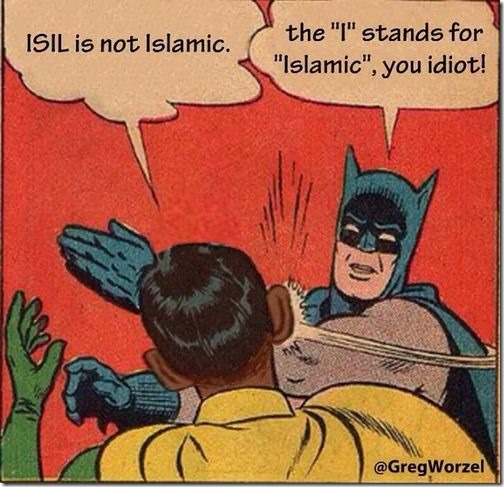 Notice: Posted by implicit permission of AceCorp LLC. Please e-mail overnight open thread tips to maetenloch at gmail. Otherwise send tips to Ace.

posted by Maetenloch at
10:43 PM
|
Access Comments