« Neil DeGrasse Tyson's Storytelling Makes the WaPo, via the Volokh Conspiracy
|
Main
|
Hero: Reporter Exposes Her Own Bias In Reporting Story, Then Quits and Walks Off News Set »
September 22, 2014
Group Linked to IS Kidnaps A French Hostage and Says It Will Execute Him Unless France Stops Its Airstrikes in Iraq
Translated from La Liberation:
A group linked to the jihadists of the Islamic State (IS) claimed Monday in a video the kidnapping of a Frenchman in Algeria and threatened to execute him in 24 hours if France does not stop its strikes against IS in Iraq.

In this video, the Algerian jihadist group "Jund al-Kilafa" (Soldiers of the Caliphate), who had declared allegiance to IS, showed the hostage, showd the hostate, Herve Pierre Gourdel, asking that the French President exit the conflict (in Iraq). He (Gourdel) sat on the earth flanked by two masked men armed with Kalichnikovs.

...

The declaration of this kidnapping had taken place some hours after a call by IS to kill the citizens -- notably Americans and French -- of countries participating in the international coalition assembled to fight the jihadist group in Iraq and Syria.
Then one of the two masked men threatened to kill him:
"I leave to Hollande, the president of the criminal French state, the task of stopping the attacks against the Islamic State in 24 hours following the publication of this comminique or its citizen Herve Gourdel will have his throat slit."
The man was kidnapped in the mountainous region of Tizi Ouzou, about 110 km east of Algiers. He had come just a few days ago on a tourist visa, to hike in the mountains.
A shorter English language article here, from which this screencap from the video was copied: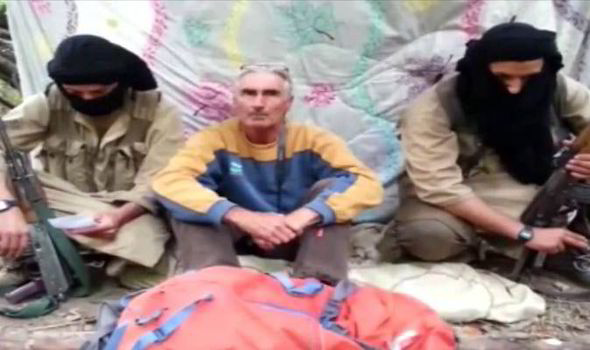 That link is no longer working, but Gateway Pundit has the story (and the actual demand video as well).
Europeans typically pay ransom for kidnapped hostages -- a practice much criticized by the US for encouraging the practice.
Whether the French will tough this out -- and it will be tough to tough out indeed -- is anyone's guess.
Fixed: Glitched part of the translation. The jihadists made Gourdel deliver the demand, as usual.
Sanctions: Not directly related to this kidnapping, of course. But the US and France will propose UN sanctions against jihadist fighters, for whatever good that might do.
Update: Another account quotes the group as threatening to "execute" the man -- no mention of slitting his throat, specifically.
This is being translated from Arabic to French so I don't know what the original Arabic says, or if the same word can be used for both "execute" and "slit throat."

posted by Ace at
03:56 PM
|
Access Comments