« College Football Thread
|
Main
|
Saturday Car Thread 9/20/14 - [Niedermeyer's Dead Horse and KBDaBear] »
September 20, 2014
Saturday Gardening Thread [Y-not and WeirdDave]
Here's your content: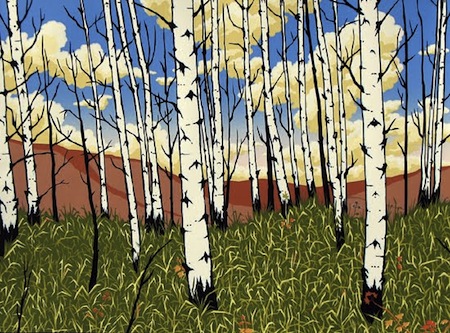 This is a print we have in our sitting room at Casa Y-not, "Edge of the Aspens," original serigraph by Steve Harmston.
OK, just kidding. This is the Weekend Edition of AoSHQ so you guys actually have come to expect content.

First up, we have these contributions from long-time moron author and sometime contributor, Michael Rittenhouse:
My wife acquired some heirloom tomato plants from a fellow homeschooler here in the Salt Lake Valley. She had to promise to return seeds to the grower so the lines can continue.

We're getting a wide variety of fruit from these. (Left) Here are some medium-sized Green Doctors Frosted, which are supposedly "green when ripe" although some have turned reddish.

Another strain called (Center) Cannonball is living up to its name. You're looking at two tomatoes here, not five or six. I suggested renaming this plan J-Lo. Was not successful.

And, Utah's short growing season probably means doom for the (Right) Neptune, which hasn't shown any fruit yet in late September. Or maybe a very selective and tidy squirrel has been working on it.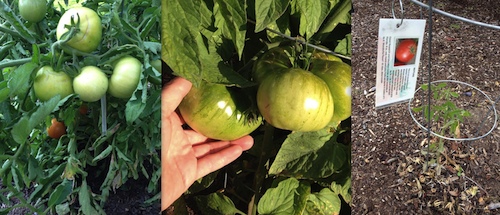 Green Doctors Frosted, Cannonball, and Neptune varieties
Meanwhile, here at Casa Y-not we have harvested TWO MORE TOMATOES, one each of the Black Krims and Black Carbons. Woot, woot! Good thing I wasn't planning on making twenty gallons of tomato sauce this Fall, huh?!

I'm in the Fall mood, especially after putting together last week's Travel thread, so this week I thought we could talk about our favorite fall plants.
Many of my neighbors are already loading up their front gardens with mums, which are certainly a sign of Autumn. This blogger has a nice page devoted to these common, but perhaps under-appreciated, flowers:
Chrysanthemum season is nearly here, but aside from those hormone drenched, growth-retardant treated perfect mounds that we see at every garden center, our current love/hate relationship with this autumnal standby goes much further back in horticultural history than this current mumification of North America - the Chrysanthemum may very will be the most cultivate flower on our planet, yet few of us ever see the sheer beauty this genus can produce. To truly appreciate the Chrysanthemum, we must first look backwards more than 3000 years ago, for in China and Japan hundreds of varieties were grown to perfection for autumnal celebrations and winter holidays.
Go to his blog to learn more and to be treated to some really spectacular pictures of mums. I was gob-smacked by the photos in his "The Secret to Growing Chrysanthemums" and "Fancy Mums" blog posts. (I want you to go to his blog so I'm not reproducing the pictures here.)
Who knew mums could be so gorgeous?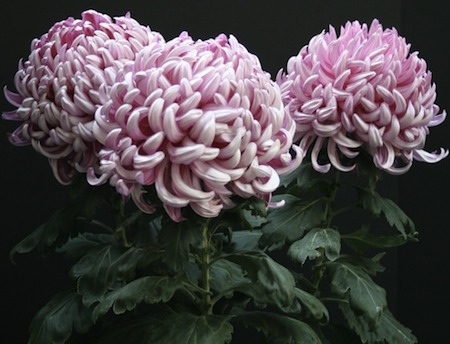 Hagoromo mum
Anyway, if you are interested in getting serious about growing mums, the Growing With Plants blogger recommends the National Chrysanthemum Society, who has this Beginner's Guide video to help you get started.

Of course, many of us think of woody plants, especially trees but even some shrubs, as the iconic plants for bringing interest into our gardens each Fall. Lists of recommended trees and shrubs abound. Here are a few of my favorites courtesy of This Old House and a very nice gardening blog, A Way to Garden. Definitely follow the link to that blog, she's put together a really nice website chock-a-block full of goodies.
In my neighborhood there are some trees that do a pretty cool thing. As they change color, each branch has its own shade of leaf. Some are shades of yellow, some orange, some red, and some purple. It's quite the sight. I've done a little digging and I think it's a Black Gum Tree. Here's some more about these cool trees:
Also in fall come the berries which are so important to wildlife. The blue black, oval, 1/2" fruit is eaten by a long list of eastern birds which migrate within the trees range. American Robin, Blue Jay, Brown Thrasher, Cedar Waxwing, Eastern Bluebird, Eastern Phoebe, Gray Catbird, Gray-cheeked Thrush, Hermit Thrush, Northern Cardinal, Northern Flicker, Northern Mockingbird, Pileated Woodpecker, Red-bellied Woodpecker, Scarlet Tanager, Swainson's Thrush, Wood Thrush and Yellow-bellied Sapsucker are a few. The berries are eaten quickly and are small enough not to make a mess under the tree.
The ones in our neighborhood often attract Cedar Waxwings as they pass through the area on migration.
Aside from maples (we have a few in our neighborhood, but not many), aspens, and burning bushes, the other trees nearby that make a stunning display each Fall are these:
Cherry trees in April are also impressive in the Fall.
Yep, those are cherry trees. I'm not sure what type and I've never managed to catch the homeowners in their yard to ask them. In any event, their leaves provide a spectacular sight each year. They haven't quite started turning yet, but I'll try to catch a picture of them when I do.
What are your favorite Autumn plants?

And now, without further ado here's WeirdDave:
Moron Dedicated Tenther posted the following question in the Yahoo group:
I have a nice 40yr old Red Oak out in front of my house. Sometime before I bought the house, said tree was struck by lightning.

I've been told by several people that the tree can be saved, but we have one problem to which I'm seeking a solution which does not require an expensive exterminator: tree borers, which, I'm told, are a kind of beetle which (not surprisingly) bores into trees.

Does anyone have a relatively inexpensive remedy for these nasties, so I can save my tree?
I'm reposting the question here, does anyone know anything about tree borers?

I don't have much for the gardening thread today, but the tomato harvest is in full swing here at Casa de Weirddave, so I thought I'd talk about that. Here's what I picked today: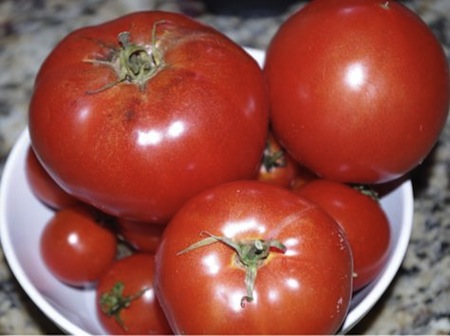 Those are Big Boys on the top and a whole lot of Cherry and Campari tomatoes underneath. In a few days I'll pick another bowl full. And a few days after that. And so on until the blessed frost descends upon Baltimore.
Sometimes I wonder if I should be doing this thread. I'm not really a very good gardener, I'm lazy. I start off with good intentions, and then I slack off. This usually carries me through the prep stages of the garden, and the initial planting, but then I run out of steam. Remember the post I did on the Florida Weave to support the tomatoes? Yea, I started that, and I meant to finish it, I really did, but I didn't. This is what the garden looks like now: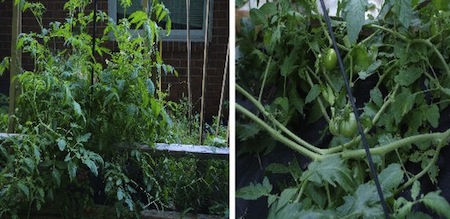 Not exactly model gardening material, is it? Still, the harvest is good, and for all my bitching about the quantity, I love having all of those fresh bite sized tomatoes around to snack on. I eat them like popcorn this time of year. I'll leave you with some more tomato pron: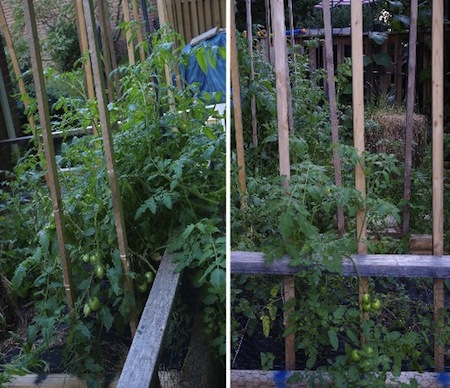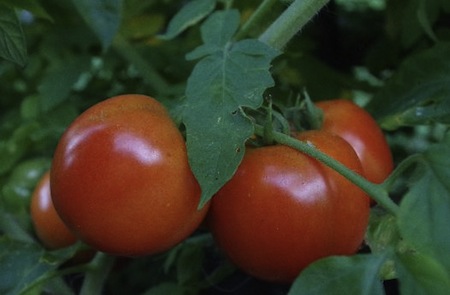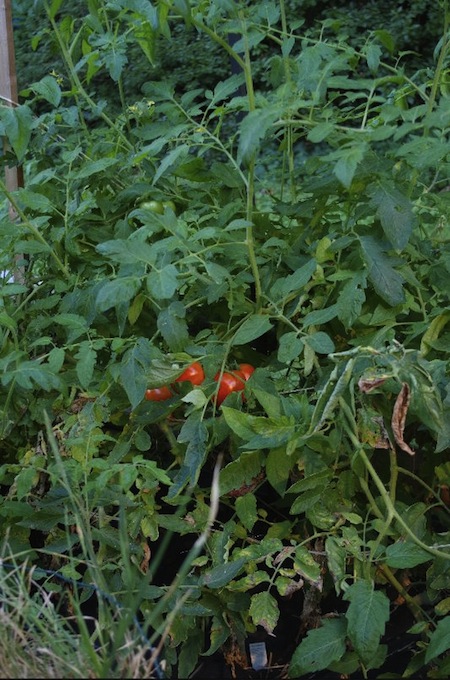 So, that's my tomatoes. What are y'all harvesting now?
Y-not: To wrap things up, here's an appropriate poem...
(I found the reading and the music distracting, but the images are nice so you might want to hit the mute button and read the poem yourself.)
The Road Not Taken
by Robert Frost
Two roads diverged in a yellow wood,
And sorry I could not travel both
And be one traveler, long I stood
And looked down one as far as I could
To where it bent in the undergrowth;
Then took the other, as just as fair,
And having perhaps the better claim,
Because it was grassy and wanted wear;
Though as for that the passing there
Had worn them really about the same,
And both that morning equally lay
In leaves no step had trodden black.
Oh, I kept the first for another day!
Yet knowing how way leads on to way,
I doubted if I should ever come back.
I shall be telling this with a sigh
Somewhere ages and ages hence:
Two roads diverged in a wood, and I --
I took the one less traveled by,
And that has made all the difference.

Send questions, comments, pictures, suggestions, and large unmarked bills to me on Twitter at moxiemom or to my gee ma il account, bailesworth.


posted by Open Blogger at
04:18 PM
|
Access Comments