« OT Thread - Schadenfreude Edition [WeirdDave]
|
Main
|
Open Thread - Another Victory for Walker [Y-not] »
September 13, 2014
Saturday Gardening Thread: Prune It and Beet It! [Y-not and WeirdDave]
Good afternoon, morons and moronettes, and welcome to your Saturday Gardening thread.
It's a beautiful September day here. In honor of the day, how about a little Frank Sinatra?

Take it away, WeirdDave:
Well, like it or not, we're getting into fall now, and it's time to prune your plants. Honestly, I've never done any pruning, my bushes tend to be more unkempt that Miley Cyrus' pubic hair, so I had to go looking for some information on how the process works.
I started with the dictionary. I gathered this helpful nugget:
prune noun \ˈprün\
: a dried plum that is often cooked before it is eaten
Interesting. A GIS yielded this: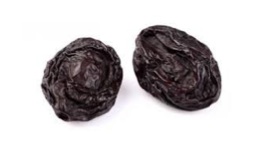 Hmm. Looks like my nuts after imagining Miley Cyrus in her glory in the previous paragraph. Anyhow, now we know what a prune is, so the question is where do we get them? Fortunately, it turns out you can grow them yourself, although when you grow them they are called plums. Weird, but OK. You can also buy them at the local grocery store. Now we're getting somewhere. Armed with the knowledge of what prunes are and where to get them, I turned to Wikipedia to figure out how they could be used on bushes. I learned a lot of stuff about prunes (did you know that prunes "are used frequently in Tzimmes, a traditional Jewish dish in which the principal ingredient is diced or sliced carrots?"), but nothing that seemed very applicable to gardening. I know that pruning plants helps them grow stronger in the spring, but a Jewish dish doesn't seem like she'd be much help. Actually, I bet she would be a great deal of help, they're the most capable women on the planet, but I'm not sure why she'd want to come help in my garden. And where do the carrots come in?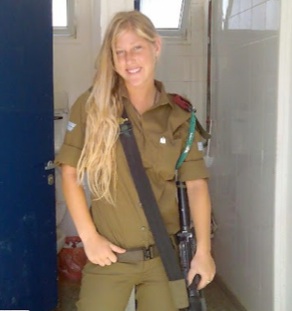 A Jewish dish
Finally however, I did get some information that seemed to put me on the right track At the end of the Wiki article, it revealed that prunes can contain high doses of a chemical called acrylamide. Acrylamide is a neurotoxin that has known negative effects on fertility. AH-HA! If we can retard the plants fertility in the Fall, all of the pent up fertility juices can burst forth in the Spring, helping the plant to grow!
So, here's how I figure it works. Buy a bunch of prunes, one for each cane on the bush you want to prune. As the leaves die in the Fall, carefully push a prune onto the end of each branch. Leave them there over the winter, and when you pull them off in the spring, the plant should positively burst free with wild, exuberant growth! How delightful! I'm going to try pruning my azalea bushes this year and see what happens. I have about 50 of them, I hope I can afford all of the prunes. I might try to shortcut this traditional process using SCIENCE! It came to my attention that you can also buy concentrated essence of prunes.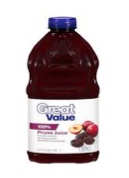 I figure if I sprinkle a little of this stuff around the base of the plant, the roots will absorb it into the trunk, making the laborious process of affixing a prune to each cane unnecessary. The trick is going to be figuring out at what point I should stop watering the plants with the juice for maximum spring growth. I'll do some trial and error testing and report back later this winter. I bought a couple bottles of the essence of prune earlier today. I must confess, I opened one out of curiosity. It actually smelled pretty good, so I took a sip (after carefully reading the label for toxicity information-safety first! I knew about the fertility angle, but that didn't bother me because I'm not planning on any more kids. It turns out that prune juice is safe for human consumption). It was good! Really sweet, I have to confess that I drank the whole bottle. I still have enough left for the plants, and...
Erp.. Glump!
Oh my. ExcusemeIgottarunovertoyouY-not!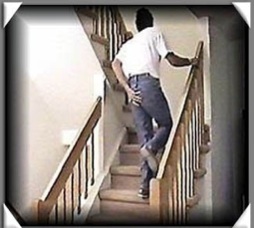 Y-not: Hey, thanks... for... that, WeirdDave. I... think!
Greetings from the Wasatch Front, where we've been enjoying glorious (if a bit cool) weather after quite a bit more rain than we're accustomed to around here.
Thus far, I've harvested three tomatoes. Two Black Krims and one Black Carbon. *pounds head against wall*
Fortunately, some of my beets are ready to harvest as were some of the onions. The latter were getting shaded by the tomatoes and peppers, so they really hadn't been doing much of anything for quite a while and the tops were dying.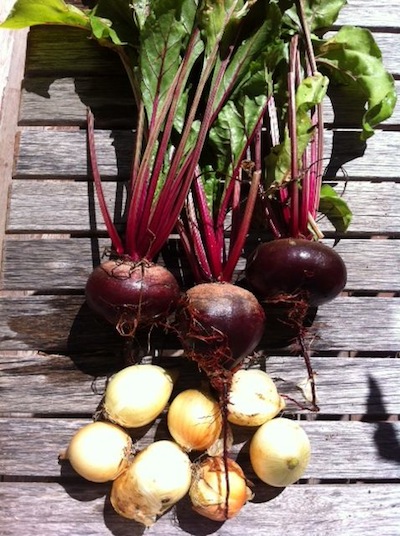 "Detroit Dark Red" beets and "Walla Walla Sweet" onions.
This was my first attempt at beets and onions. The beets were started from seed, way back when, and did well in my raised bed (the middle one that gets moderate afternoon sun) with the exception of being attacked by leaf miners. I have not eaten them yet, but I pulled the three biggest ones. I usually roast my beets and toss them while still warm in a flavorful vinegrette.
Beets have some significance in my neck of the woods because they have been designated as Utah's "Historic Vegetable:"
Utah achieved prominence in nineteenth-century America for its efforts to produce sugar from sugar beets; and the production of beet sugar contributed substantially to Utah's economy for almost one hundred years. A first bold attempt was made in the early 1850s but the factory never quite managed to solve the chemical problems of converting beets grown in alkali soil into granulated sugar. By the 1980s there were no beet sugar factories in Utah.
So sugar beets were a big deal around here. There's even a pretty fun (imho) neighborhood south of downtown Salt Lake City called "Sugarhouse." (Ladies, that's where the Sundance Outlet is if you're ever visiting our fair state.)
While beets may not be at the top of many gardeners' lists of favorite plants, their sweet taste and nutritional punch may make them worth a second look. Health experts emphasize eating a rainbow of colored fruits and vegetables for the best variety of nutrients. Beets, with their different colors and designs, fit that bill perfectly. Beets aren't just the plain, red balls most people picture; growers have developed many different varieties to decorate your plate.
I get golden beets when I can simply because they make less of a mess when I prepare them.
Beets are also "good for you:"
Food expert and cookbook author Dave Lieberman calls beetroot a super-food because they are dense with dietary fiber, antioxidant compounds and a wide variety of vitamins and minerals. Beetroot is the edible root of the plant species Beta vulgaris. Commonly referred to simply as beets, beetroot is available in a number of varieties and can be eaten raw or cooked. Beets are fat-free, cholesterol-free, and low in both protein and calories. Eating a diet that regularly includes the nutrients provided by beetroot may help decrease your risk of certain medical conditions.
So back to Utah and beets. As it turns out, the mighty beet had to "beat out" (SWIDT?) the noble onion for vegetable bragging rights in our state:
There was stiff competition at the Capitol from the Realms of Inquiry School students, supported by Rep. Jackie Biskupski, who backed the sugar beet as Utah's vegetable. A compromise was reached; plans to designate one or the other was merged into a single bill and the sugar beet was declared the historical state vegetable and the Spanish sweet onion the contemporary state vegetable.
Which brings us to the onion...
I planted three onion-y things: "Red Burgundy" onion seeds, "Walla Walla Sweet" onion starts, and shallot starts (I'm too lazy to find the tag right now). Naturally, the one I wanted to produce the best - the shallots - didn't do very well. I tried them (and the Walla Wallas) in all five of my beds, so they had a variety of conditions. But only the ones in the moderately sunny bed did much of anything. They're still not very big, but I'll pull them at some point and see how they taste. It's a shame because I use a lot of shallots in my cooking and they're expensive.
The red onion seeds sprouted, but never took off. So what I have to show for my efforts so far are these Walla Wallas. The onions I got were not amazing in terms of size, but they really are pretty darned good. The flavor was just right and I especially like the tight, crisp texture of the bulbs.
More tourism guide info. If you are visiting Salt Lake, check out The Copper Onion for dinner, especially if you enjoy roasted bone marrow.
In summary, although the growing season isn't really over yet here at Casa Moxie (at least, I sure hope not given how few tomatoes I've harvested thus far), I think it's fair to say that this year the root vegetables were the most successful of our veggies. Radishes were amongst the first harvestable veggies from my garden and that was grown straight from seed sown into the beds. My carrots were nice, too. I only wish I'd planted more. I'll definitely be trying onions and beets again next year based on my results and see if I can make them more productive. I'd really like to try to overcome the leaf miner issue I've had this year so that the tops will be more useful for cooking. (It would also allow me to give kale and Swiss chard another go.) And I plan to try growing garlic next year. I don't know why I didn't give that a go this year. Just an oversight on my part, I guess.

Finally, we have this contribution from moronette "KT:"
JUJUBES - AKA Chinese dates or Japanese apples

This is a branch on our Sherwood Jujube with ripening fruit. The fruit is very sweet, tasting like a somewhat dry, dense apple with a crispy skin. It grows on a pretty, narrow tree with zig-zag twigs (somewhat like the contorted cultivar "So"). The leaves have a weeping habit. We keep ours cut back to about 12 feet. Makes plenty of fruit. It tastes best when the fruit is almost fully brown, but before it starts to dry. It's by our driveway, where it gets reflected heat. Tough tree. They like full sun.

Sherwood is known as a late variety, but I have ripe fruit in early September this year. If the weather holds, there will be new leaves and blossoms, and another crop of (smaller) fruit. The tree is thornless, but is on a wickedly thorny rootstock which suckers. The rootstock blooms on new wood, pollinating the tree. Its fruits are tiny and nasty.

I think other cultivars are probably better dried, as Sherwood has thick skin which I find unpleasant when dried and almost like plastic when candied fresh. "Lang" dries right on the tree. It is one of two cultivars which were available when I first heard of jujubes. If you decide to look into this fruit for your yard, consider flavor and also the usefulness of each cultivar fresh, dried or candied. "Honey Jar" and "Sugar Cane" seem to be favorites for flavor, but "Sugar Cane" is very thorny. Take into consideration thorniness of various cultivars and the probability of a thorny rootstock. The trees will grow in lawns, where you can mow down suckers.

Jujube trees grow from relatively cold-winter climates to the low deserts of the Southwest and are practically pest-free. Some of them get pretty big if you let them. Bees love jujube blossoms, but they probably provide more pollen than nectar.

Check the fruit forum at Gardenweb for up-to-date availability information. Here is the California Rare Fruit Growers fact sheet on Jujubes. It has recipes for candied jujubes and jujube syrup.

Historic note on Jujubes:

Most people who have heard of Jujubes think they are old-time small, chewy, tough candies. Also an approximate description of dried jujubes from a good drying variety. Though the dried fruits keep much longer than the candies.
Here are some photos KT provided of her Jujube tree: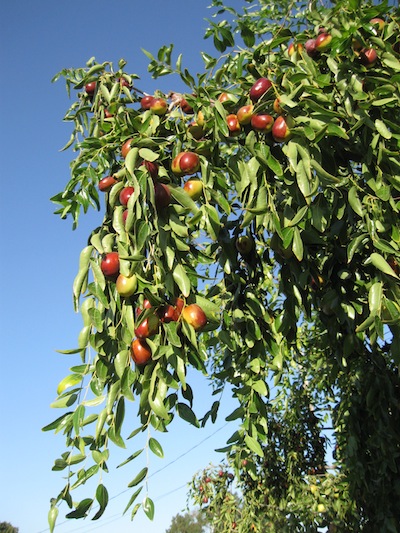 And here's one of her cats: "Jack of Spades is one of the 15 cats who have adopted us. He can always find a patch of weeds to play in, even during a drought. He sleeps on a pillow in the garage. Sometimes, he climbs the jujube tree."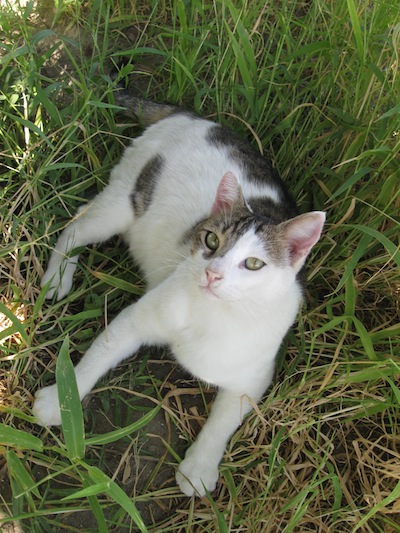 What's happening in YOUR garden this week?

Send tips, photos, questions, etc to Y-not on Twitter at moxiemom or at her g ma il account, "bailesworth."

posted by Open Blogger at
02:35 PM
|
Access Comments