« Weekend Headline Roundup [CBD]
|
Main
|
New Thread [Y-not] »
August 16, 2014
Saturday Car Thread 01/25/14 - [Niedermeyer's Dead Horse & KBDaBear]
Howdy, and welcome to another edition of the new and improved Saturday Car Thread. On the menu for today: Hot legs, something so stupid, and Jeeps. KBDB talks small-blocks Chevys, The Shat, and a Libertarian enthusiast.
And away we go!

Voted one of the 10 Best Engines of the 20th Century by Ward's Auto magazine, the Chevy 90 degree V-8 better known as the Chevy Small Block got it's start in the 1955 model year as the 265 cubic inch with overhead valves and hydraulic lifters. Bored out to the iconic 283 in 1957, the Corvette version of the engine was GM's first assembly line engine to achieve 1 hp per cubic inch. Easily scalable, it quickly became a favorite of dirt track racers and hot rodders who with a relatively small cash outlay and a good mechanical aptitude could easily add 50 to 100 hp to the factory version. Using the basic block design, the small block line would later include the 327, 350, smog motor 400, and mild but dependable 307's and 305's.
In the 1980's, GM would incorporate all their separate divisions engines into a single lineup, the engine officially becoming the GM Small Block. The "smog motors" of the 1970's and early 80's would strangle the output of the small block to anemic outputs but improvements in later in the 80's such as electronic fuel injection and engine control computers would put the small block back on the road to revival. In the 1990's GM introduced the first of the LS generations of engines, built on the foundation of the Chevy Small block and today turning out 400 plus hp off the showroom floor. However, the original generation 350 is still so popular with racers and street rodders that GM still produces crate versions that can be ordered and shipped.
Here's a 327 in a Stingray giving a shout out

While searching for today's elbows pic, I Binged 'hot legs and car" and, I swear, this popped up in the results.

William Shatner's 10 Favorite Cars: A few years ago The Shat tweeted a list of his top 10 cars covered here by Jalopnik, then I did my own analysis of the Shat's choices here.
Shatner's picks in order from 10th to 1st - Citroen 2CV, Jaguar D-Type, Dodge Viper, Jaguar XKE, Packard 426, Willys Army Jeep, Mercedes 300SL, Ferrari Enzo, Chevy Corvair, Bugatti Veyron
I used fiberglass boat, 1 Corvair engine, 1 JC Whitney catalog, 4 cheap chrome wheels from Pep Boys, add 1 Earl Scheib paint job equals a chick magnet for a cruisin' Starfleet captain.
[Ed. Note: How cool is that dude?]

Well, this is stupid: Auto-Inspired Names For Girls
P.J. O'Rourke: Car Enthusiast - Many of us in Moron Nation see P.J. O'Rourke as a legend in the universe of libertarian/conservative philosophy but he's also just as insightful, brilliant, and hilarious as an automotive writer. O'Rourkes love for the car goes back to his childhood in Ohio whose family owned Buick dealerships for 3 generations. He's written for Car and Driver, Automobile magazine, has been a featured expert on cars for NPR, and authored Driving Like Crazy, which of course features his famous article How to Drive Fast on Drugs While Getting Your Wing-Wang Squeezed and Not Spill Your Drink.
Cover of a 1994 Automobile magazine featuring PJ's thoughts on cars and environmentalism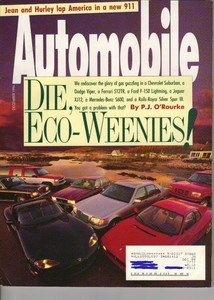 More P.J. O'Rourke: KBDB's O'Rourke bit, above, led me to this article about Jeeps. At the risk of repeating myself for the 100th time, I, too, love my Jeep.

How to exit a car and not expose your lady-parts:

And, of course, what would a post be without a KBDB-approved Car Thread Compliance Pic?

UPDATE!: WOW!
New UPDATE!: WTH is going on in Monterey today?

Yet ANOTHER UPDATE: It's officially bonkers now

posted by Open Blogger at
04:05 PM
|
Access Comments