« Coulter: Vote for Our "Crappy-Ass" Republicans Because The Future of the Country Depends on It;
AndrewWK Talks About the Politics of Party with Glen Beck
|
Main
|
Top Headline Comments 8-14-14 »
August 13, 2014
Overnight Open Thread (8-13-2014)
Dumbest Thought of the Week: Did Southern Culture Kill NASCAR Star Kevin Ward Jr?
And the award goes to ESPN's Colin Cowherd:
Cowherd began the segment by citing NASCAR's embrace of dangerous displays of masculinity and 'settling the score,' saying that it, like the NFL, NHL and boxing, deliberately allowed those elements to draw in a larger male audience. .Saying NASCAR had a 'unique culture' that was almost exclusively a 'southern delicacy,' the ESPN host linked the sport's emphasis on displays of masculine aggression to what he said was the 'eye-for-an-eye' culture of the South, which he suggested encouraged behavior like that exhibited by both Ward and Stewart.

'It doesn't get ratings anywhere really outside of the South in the major cities, Atlanta, Charlotte [...] It's really, really part of the South, and it's an eye-for-an-eye culture.'

This culture, Cowherd said, encouraged drivers to find ways to 'settle the score' by dangerous means, as in the case of Ward and Stewart.
Funny I don't recall running out into a live racetrack sober being a southern tradition.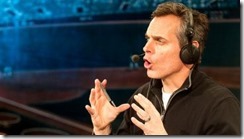 McDonalds: So You Want $15/hr? Well Meet Your McRobot Replacement
When you run the numbers, kiosks beat out $15/hr cashiers:
- For a location open 24 hours: The cost of human cashiers, not counting benefits, $15/hour * 24 hours * 365 days/year = $131,400
- For a location open 6AM to Midnight:  $15/hour * 18 hours * 365 = $98,550.

For the machine to be cost effective, all it needs to do is cost less than $100,000 a year to buy and maintain.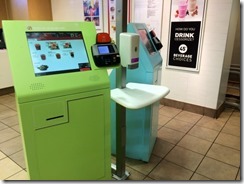 And even cooks may be mostly replaced by hamburger making robots:
Plus unlike human members of the SEIU robots aren't allowed to sue the franchise.
When Obama Beat Hillary, We All Lost
Insty's comments:
They've been wrong about a lot of things, and we've paid - and will pay - for that. But the sheer "I won" in-your-face immaturity of the Obamaites - remember the "Hey, Hey, Goodbye" chant to Bush at the inauguration - ensured that people would be angrier than normal. And they did that on purpose because a sharply divided nation suited them politically. Now Ron Fournier wonders if Americans would rally behind Obama after another 9/11 the way we rallied behind Bush, and I think the answer is no - because Obama has spent his entire time in office flicking boogers at half the country.

As I've said before, the reason why presidents traditionally act "presidential" isn't because they're stiffly formal, it's because acting presidential, rather than purely political, lets you appeal to the whole country in ways that a pure partisan can't. Obama doesn't care, and we may very well pay for that, too. But elections have consequences, and when you elect a guy like Obama, the consequences are bad ones.
Obama: The Box-Checker and Clock-Runner President
The point of the sanctions isn't to prove that sanctions can cause "economic pain." The point is to deter Vladimir Putin. And on that score, they clearly aren't working at all. It's amazing to me how much Obama thinks and talks like a bureaucrat. I've checked my box! I did my job! I've fulfilled my responsibilities. If the bear is eating your face, it must be the fault of Jones in accounting. Hate that guy.

This has been Obama's standard response to problems around the globe. He did what he was "supposed to do," and whenever the consequences of his actions create problems, it's because others didn't do what they were supposed to do. I pulled troops out of Iraq. I reneged on missile defense in Eastern Europe. I "reset" with Russia. I intervened in Libya. I didn't intervene in Syria. I told Leon Panetta to deal with Benghazi. I took the blue pill. The fact that the Iraqi pullout was destabilizing, that Putin saw his moves as weakness, that Islamists took over Libya, that Assad stayed in power, that the Matrix revealed itself anyway: These all reflect someone else's failures.
Now, I don't want to go to war to defend Ukraine. I don't want Obama to say we would go to war to defend Ukraine - and not because I think that such a statement would necessarily be irresponsible if it came from a different president. But I don't think Barack Obama would go to war to defend Ukraine even if he said he would. As with his "red line" debacle, the worst thing a president can do is vow to take a hardline and then not take it. But would it be too much to ask the president of the United States to characterize a potential Russian invasion of Ukraine as outrageous?

Keep in mind that "outrageous" is safer than "unacceptable." The problem is that his use of "unacceptable" is almost entirely ironic. He uses it like a theater critic saying a cast change is "unacceptable" when it is obvious the critics' acceptance is irrelevant. His use of "unacceptable" has been more promiscuous than Vizzini's use of "inconceivable" in The Princess Bride. (How long has it been since Putin's annexation of the Crimea was "unacceptable"?)
Never Forget: Sen. Clinton, Sen. Biden, Sen. Kerry, and Sen. Reid ALL Voted in Favor of the 2003 Invasion of Iraq
They were for the war before they were against it before they were in favor of it again.
Crony Space Exploration: The 3 Congressmen Who Are Trying to Tie Up SpaceX
Because it might hurt the NASA contracts in their states. Thank you Mike Coffman (R-CO), Mo Brooks (R-AL), and Cory Gardner (R-CO).
Philadelphia "Civil Forfeiture" Machine Runs Amok
I've never liked civil forfeiture laws since they're so easily abused and actually deprive people of the ability to mount a defense or get the forfeiture overturned. And the police have a financial incentive to go after the people least able to contest the seizures.
This is why the Institute for Justice is helping families in Philadelphia file a class action lawsuit against the city on behalf of all Philadelphians whose property is currently threatened by civil forfeiture. IJ is challenging several aspects of Philadelphia's civil forfeiture law, including:

"Seize and seal" without notice,
The requirement that citizens to give up the right to challenge the forfeiture if they want to "unseal" their home,
Lack of prompt post-seizure hearings,
Policy allowing prosecutors and police to use all of the cash and property seized to pad their budgets, and
Lack of judicial oversight
"There's this myth that they're cracking down on drug cartels and kingpins," Lee McGrath, of the Institute for Justice, who recently co-wrote a paper on Georgia's aggressive use of forfeiture, says. "In reality, it's small amounts, where people aren't entitled to a public defender, and can't afford a lawyer, and the only rational response is to walk away from your property, because of the infeasibility of getting your money back."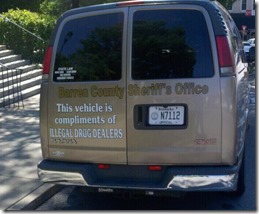 The VA Seems Concerned About Vets' Guns
Your Feel-Good Email of the Day
4 Deceptively Difficult Jobs Everyone Thinks They Can Do
That analogy doesn't make a bit of goddamn sense, but neither does the fact that we pretend as if professional sports officials aren't complete and total marvels of science. Well, NBA and NFL officials, anyway. They do more running during one game than most of us do all year long. If hockey even has referees, they're gliding around on ice like a bunch of Nancy Kerrigan's, and the only things that move less than the umpires at an MLB game are the players and the scoreboard.

If we're being totally honest, though, the brave men and and like one or two women who officiate this nation's NFL and NBA games deserve a massive amount of respect for being able to keep up with athletes who are sometimes half their age.

...Whatever the case, actual game footage is hard to come by, on account of copyright law and all, but watch almost any football or basketball game and at some point you're going to see an elderly dude running step for step with a professional athlete. Study up on the laws and bylines of the game all you want, but unless you're willing to commit to staying in "playing" shape well into your golden years, your chances of lasting as a pro sports official are slim to none.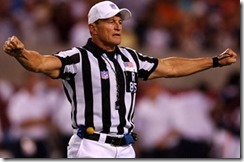 GA School Suspends Nine-Year-Old for NERF Gun Show-and-Tell
I guess brain-dead administrators are universal.
Oregon Police Deal With the Chicken Crossing the Road Issue
(thanks to La Vendette)
Collected and looped so you can enjoy 12 hours of the background sounds of the Tardis, the USS Enterprise, the Nostromo, Deckard's apartment, and the Death Star.
Made from titanium and with a bottle opener, an oxygen bottle key, a 0.325 inch hex nut key, and a 0.25 inch hex nut key it's the last food utensil you'll ever need. It will also make an excellent shank in the camps.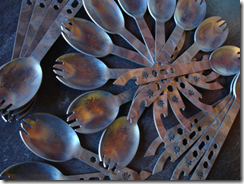 Model Says She Was "Face Raped" By Burger King's 7-incher Ad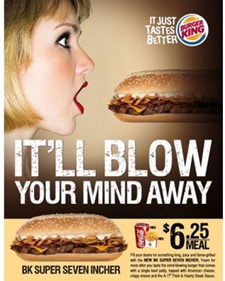 The Group knows what you did.
Tonight's post brought to you by Poitier, Curtis, Davis, and Lemmon: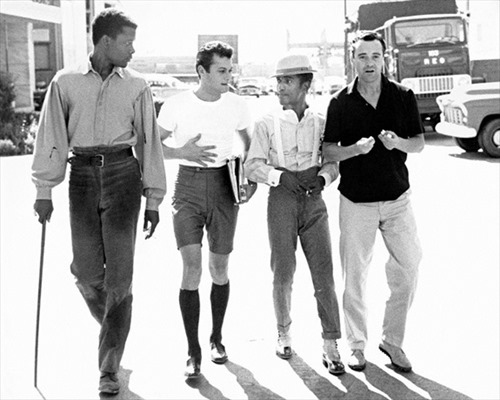 Notice: Posted by imprimatur de la AceCorp SA. Please e-mail overnight open thread tips to maetenloch aux gmail. Otherwise speak loudly into the phone and let the NSA handle it.

posted by Maetenloch at
09:53 PM
|
Access Comments