« And You Thought We Have Problems With Trolls? [CBD]
|
Main
|
Weekend Headline Roundup [CBD] »
August 09, 2014
Saturday Gardening Thread... Now with More Hate [Y-not and WeirdDave]
Today's thread is brought to you by scarecrows:
They call it a "scarecrow," but it's really a "hatecrow" -- amiright?!
Take it away, WeirdDave:
So, remember last week when I was mocking Beca Grimm and her wholesome "use my menses to fertilize lettuce" article? I opined on other bodily functions that might be appropriate for hipster idiocy gardening:
How about pee? I mean, now that we're warping perfectly normal bodily functions into twisted statements of "empowerment", what can we do with pee? We really should find something, it's a fun word to say. Try it. Pee. Pee. PEEEEEEEEEEEE! WHEEEEEEEE! There's gotta be something we can do with pee.
Well, proving once again that Jonathan Swift would be absolutely unemployable in the modern world, I bring you this NPR article. AoSHQ sock fans should make note of exactly where this is being proposed. Hope Mary gets a rash from using the communal jug.
Moving on, bugs are a regular topic here, this is a garden thread after all. Still, no matter how many bugs are attacking your garden, count your blessing that you aren't trying to raise crops in Brazil:
Note that the gloves weren't made just for the Aussie, this is a regular part of this tribe's coming of age rituals. Hardcore.
Let's just cut right to the chase, shall we? We all know why we come to AoSHQ, and now the cat is out of the bag. Frankly, it's almost a relief that we don't have to hide behind dog whistles anymore. The Left is onto us, gardening is a secret expression of our bigoted, racist, white supremacist attitudes. Glad we got that settled.
Blast from the past: ABBA drummer dies in bizarre gardening accident. Maybe this isn't as strange in the world of rock and roll as we might think?


So, what else is going on in people's backyards? Well, some people are removing posts,
others are loading their equipment to go help their friends,
while some are doing God knows what.
Stay safe pretty babies! WHO WAS PLANT?

And now back to your co-hostess, Y-not:
Someone forgot to tell Keith Cross about hate-gardening:
Oh, and in case you missed it, read the Head Ewok's take on hate-gardening here. (I thought Ace was en fuego yesterday.)
Not hate-filled, but I'm going to shamelessly use some material that our local gardening expert, KT, gave me a couple of weeks ago:
FALL ROOT CROPS

Carrots are normally a biennial plant, so your spring carrots must have experienced a stress to induce bolting. Maybe some cold weather after they got going?

Fall-harvested carrots should be able to withstand a light fall frost, and you can leave the roots in the ground even after heavy frost, with some protection. You might even like the flavor of Thanksgiving carrots dug from the cold ground better than the flavor of summer carrots.

Also consider one of the great "summer turnips" like Oasis, Hakeuri or White Lady for fall. You may not need floating row cover to protect them from cabbage root worms when planted for fall. They are not very frost-tolerant and may split in cold rain. Hakeuri especially. Let me know if you want me to send you some seed for one of these, or for "Just Right", a later, more cold-tolerant turnip that's mild and sweet. Only available from one market grower's catalog that's not online. I'm not a market grower, but I still get some commercial catalogs.

Rutabagas are more frost-tolerant. They are a cross between turnips and cabbage. The Gilfeather "turnip" is probably a rutabaga. They are suitable for winter storage.

Lutz Green Leaf or Lutz Winter Keeper beets are a good choice for fall. They have good storage characteristics.

Kohlrabi is not exactly a root crop, but tastes best when picked in cool weather. You can choose little early sweet ones or giant storage types. Fewer pest problems than other members of the cabbage family, because they don't generally attack the part you eat.

Other fall crops to consider: Asian greens (tatsoi is so cute), cabbage, broccoli and kale. Kale is very cold-tolerant. Best varieties for flavor may be White Russian and Red Russian (Ragged Jack). There's also corn salad for a protected spot in winter. My mother, in Ogden, keeps upland cress going for a long time into winter in a pot on the porch. Some lettuces do well in cool fall weather, others do not.
She adds the following in a subsequent e-mail:
A little more info on fall-harvest veggies:

I totally forgot about escarole, arugula, radicchio, etc. I like escarole. Radicchio is a challenge. Johnny's sells seed for types that don't need forcing.
Speaking of Fall producers, I've had an interesting phenomenon in my garden this year. My snap peas are still producing, albeit slowly. Last year they had definitely all died off by this time of year, but for whatever reason (well, obviously GLOBAL WARMING!) most of the plants are still chugging along. They're not as pretty as earlier in the year, but most are still making new growth, flowers, and peas.
My original plan had been to try to put in a new set of snap pea plants, but I'm inclined to just leave these going and see what happens.
More content from one of our fellow gardeners, bergerbilder sends along these great pix: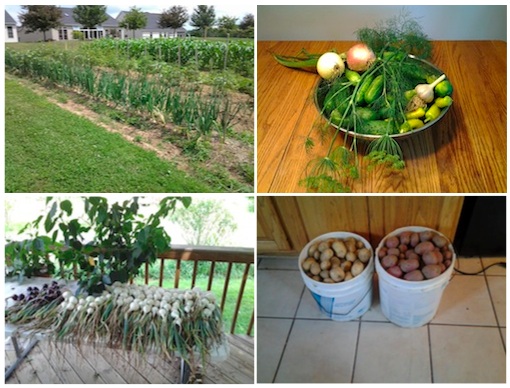 Early onions and potatoes did well. The sweet Spanish onions are just starting to soften at the neck. Cucumbers are doing great, and we are making gallons of pickles for the kids and grandkids. Tomatoes and peppers will be late (I hope it stays warm) - we need those to use up all the onions and garlic in pasta sauce. Also, a Rose of Sharon bush.
Bergerbilder is also apparently a "glass half full" person at heart:

This little guy will be a Swallowtail butterfly in about two or three weeks. They love the dill.
I think we should end the thread on that note of optimism.
What's happening in your gardens this week?
To close things up, here's a song I like about teh hate:

Thanks for the contributions. If I haven't gotten to yours yet, don't worry - I plan to at some point. If you have things to share with the group, contact me on Twitter at moxiemom or via my gee mail account at bailesworth.


posted by Open Blogger at
11:59 AM
|
Access Comments