« Party of the People Fights Like the Dickens to Preserve Crony Capitalist Payoffs
|
Main
|
Obama Graciously Compliments Republicans: "I don't think they're all terrible people. I think they love their families." »
July 09, 2014
Reliable Progressive Bubbleheads Michael Barnacle, Andrea Mitchell Admit Their Confidence in Obama is Badly Shaken
Click over on Hot Air to watch Mitchell lecture a White House spokeswoman on the fact that leadership sometimes means taking ownership.
It should be noted that Mitchell's role here is not as a journalist, but as a freelance Democratic political advisor, attempting to right the foundering Obama Ship of State. She's not critiquing Obama, really; she's offering what she intends to be constructive criticism. She's doing her best to help them, by expressing her frustration and letting them know their spin just isn't working.
Or another way to put it: Although I've always carried your water gladly, now you are demanding I carry too much of it, and it stinks like sewage to boot.
Among the points she makes -- echoing Democratic Congressman Henry Cuellar -- is that Obama seems to have a surplus of spare time when it comes to The-Bear-Is-Loose photo ops, but finds that his schedule is far too tight when it comes to visiting the border.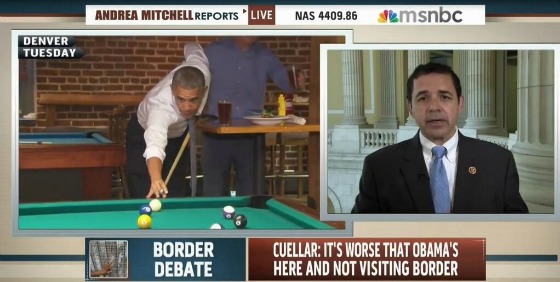 When even MSNBC displays chyrons calling Obama out for his Gone Fishin' style of presidentin', the Prog King may be in some trouble.
Incidentally, you may not know this, but the Chinese symbol for "crisis" is actually made up of two other words: "Obama" and "Chillaxes."
Mike Barnacle -- whose career, which includes stints as a plagiarist and fabulist, is actually the technical definition of "mailing it in" -- now asks if Obama is mailing it in.
Oh dear no, of course not, reassures Chuck Todd, who, unlike Andrea Mitchell, doesn't think the water he's demanded to carry is that stinky.
Todd did allow this much, however:
"This is an administration where events are controlling them," Todd said. "I can't remember the last time I feel like they controlled a set of events. The answer is the same, whether it was VA, whether it was the health care debacle, whether it was [ISIL] in Iraq, which is, boy, this all came up on us faster than we expected. We've had our eye on this but boy, we didn't expect it to be this bad or we didn't expect it to be this quick or we didn't expect it to be this substantial."
So a year after everyone was talking about the White House's penchant for claiming "We just learned about this in the morning papers" Chuck Todd finally notices as well.
Even this guy:
-- who you may remember vaguely for this ludicrous blather of Obama throne-sniffing--
-- (Remsburg being a decorated soldier who'd lost, in furious battle, an eye and the power to walk) now finds his childish hero-worship a bit unwarranted.
Murray began by observing that the Summer of Scandals II is even worse for the White House than Summer of Scandals I. From the Ukraine, to Sgt. Bowe Bergdahl and the Taliban Five, to the VA, to immigration; the White House has their hands full. Dann noted that the immigration crisis has been particularly poorly handled.

"This has been a growing problem, but it's really ballooned in the last couple weeks as there's been more press around these kids who are coming unaccompanied, and it's really just dominating the narrative for the White House," Dann said. "And it seems like something that the White House could have seen coming. This wasn't a problem that suddenly exploded overnight. It's been growing since 2009."

She observed that the White House seems to be reactive to crises rather than proactive. "And that reaction, always kind of being controlled by events rather than controlling events, has been a problem for this White House when it comes to this crisis management story," Murray agreed.
Incidentally, these Watchdogs of Journalism quickly disburden Obama of responsibility and instead blame themselves, or rather the media, for Obama's failings, because the media hasn't kept on these stories (and thus, though they do not say this, they have given Obama a pass as far as actually dealing with the problems, which he, being lazy and irresponsible, gladly seized upon).
Now that is the very definition of a Praetorian Guard -- when the daggers come out for the emperor, instead offer the attacker thine own breast.

posted by Ace at
04:10 PM
|
Access Comments