« USAToday Reporter Calls Border Surge Obama's "Katrina Momet"
|
Main
|
Top Headline Comments 7-8-14 »
July 07, 2014
Overnight Open Thread (7-7-2014)
It has always struck me as rather strange that that is the one prescription that the administration wants to insist should be provided at no cast to insured employees. Think of all the possible medicines that they could have chosen to be provided for free - prescriptions for heart problems, cancer, diabetes, asthma, HIV, or psychiatric treatments. But none of those were considered worthy of mandating that they be provided free of cost. Only contraceptives. Not covered with a deductible or for a certain percentage. Nope, absolutely free. I would love to have a reporter ask Obama why didn't they have similar mandates for other medical needs?
Also RSM's Existential Theory of Liberalism: "To a liberal, nothing exists unless it is mandated, subsidized and/or regulated by the federal government."
Well failure may be an orphan but it also sends a card to Joe Biden every Father's Day - just playing the odds. Frankly I'm surprised he was involved in Iraq at all - I just assumed that Obama had relegated him to funeral and fundraiser duty where he could do little harm.
On Sept. 1, 2010, Vice President Biden was in Baghdad for the change-of-command ceremony that would see the departure of Gen. Ray Odierno and the arrival of Gen. Lloyd Austin as commander of U.S. forces. That night, at a dinner at the ambassador's residence that included Biden, his staff, the generals and senior embassy officials, I made a brief but impassioned argument against Maliki and for the need to respect the constitutional process. But the vice president said Maliki was the only option.

Indeed, the following month he would tell top U.S. officials, "I'll bet you my vice presidency Maliki will extend the SOFA," referring to the status-of-forces agreement that would allow U.S. troops to remain in Iraq past 2011.
And this wouldn't be the first time that Biden has helped snatch American defeat out of the jaws of victory. From Robert Gate's book:
The vice president, when he was a senator - a very new senator - voted against the aid package for South Vietnam, and that was part of the deal when we pulled out of South Vietnam to try and help them survive. He said that when the Shah fell in Iran in 1979 that that was a step forward for progress toward human rights in Iran. He opposed virtually every element of President Reagan's defense build-up. He voted against the B-1, the B-2, the MX and so on. He voted against the first Gulf War. So on a number of these major issues, I just frankly, over a long period of time, felt that he had been wrong."
Coming in 2016: President Joe Biden.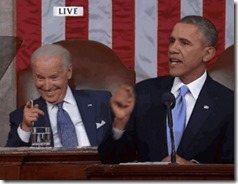 Driscoll quoting Prager:
The Washington Redskins have been in existence for 82 years. For about 80 of those years, virtually no one, including the vast majority of American Indians, was troubled by the name. Yet it is now of such importance to the American Left that the majority leader of the United States Senate has repeatedly demanded, from the floor of the Senate, that the team drop its name; 50 U.S. senators, all of them Democrats, have signed an open letter demanding the same; Sports Illustrated's Peter King no longer uses the name; other leading sportswriters have adopted the same practice; and the president of the United States has weighed in on the issue.

...First, there is a rule in life: Those who do not confront the greatest evils will confront much lesser evils or simply manufacture alleged evils that they then confront. This has been a dominant characteristic of the Left for at least half a century.
Furthermore there's been a Redskin Theater in Anadarko, Oklahoma for over 60 years. Why is this significant? Because native americans make up nearly a majority of Anadarko and it's known as the "Indian Capital of the Nation." So how the perfidious white man managed to oppress the native americans in their own town for so long with such a patently offensive slur is a mystery for the ages.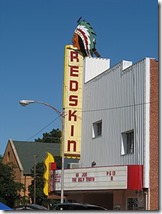 Steyn: Death of a Princess, Death Spiral of a Culture
Princess Fawzia of Egypt died last month. And Egypt and its culture are dying too.
You can measure the decay in a tale of two consorts. After she left the shah, Princess Fawzia served as the principal hostess of the Egyptian court. In tiara and off-the-shoulder gowns, she looks like a screen siren from Hollywood's golden age - Hedy Lamarr, say, in Her Highness and the Bellboy (1945). Sixty years later, no Egyptian woman could walk through Cairo with bare shoulders without risking assault. President Morsi's wife, Naglaa Ali Mahmoud, is his first cousin, and covered from head to toe. If you were a visiting foreign minister, you were instructed not to shake hands, or even look at her. If you did, you'd notice that the abaya-clad crone bore an odd resemblance to the mom of the incendiary Tsarnaev brothers. Eschewing the title first lady, she preferred to be known as "first servant." Egypt's first couple embodied only the parochial, inbred dead end of Islamic imperialism - what remains when all else is dead or fled.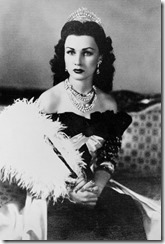 Gawker: The "Nanny From Hell" Is an American Hero
And no this isn't some kind of failed satire - the author really thinks that the family is the villain of the story and that the nanny is a hero.
So it goes for the Bracamonte family of Upland, California. The Bracamontes decided they needed a live-in servant to help care for their children, but they did not want to pay wages for that labor. Through some combination of greed, stupidity, and self-regard, they believed that in lieu of paying for the work, they could simply give the person they hired meals and a place in their house to sleep.

...Good for Stretton. How sadly fallen is this country when crooks like the Bracamontes can put themselves forth as sympathetic figures? Why, because they own a house? Because they "created" a "job"? The Nanny From Hell is an avatar of our collective future, the symbol of a nation that screws people remorselessly and pretends it's business as usual.
Because property is theft and jobs are slavery. The article is so far out there that even some lefty Gawkerites started to push back.
Cop-Killer's Family Blame Cops for Officer's Death
So Major Davis, Jr was brandishing a semi-automatic rifle while minding his own business Saturday night in Indianapolis and when police arrived, he opened fire killing one (Officer Renn) and was critically wounded himself in the gunfight. Guess who the family blames for the misunderstanding...
By the time they got outside, they realized those shots were Davis Jr. and Officer Renn shooting at each other. Davis had an assault rifle.

"Major is not a bad person in spite of what happened. Things happen," said Pam Moornan.

Now, the Davis family is worried about their son's reputation and again, questioning police tactics.

...The family did say it is sorry for Officer Renn's family, but they said the tragedy may have been avoided if Officer Renn would've stayed at his car since he could see Davis had a gun.
Apparently Davis had no free will of his own and was something akin to a force of nature that the police should have simply taken shelter against and waited out.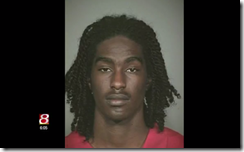 I'm sure that'll buff right out and no one will ever notice.
A Montana Rail Link train derailed near Superior Thursday, sending Boeing aircraft fuselages into a river.
 
Nineteen cars on the westbound train derailed. Three of the cars contained aircraft parts and ended up in the Clark Fork River. Boeing said the train was headed from Spirit Aerosystems in Wichita to the Boeing final assembly plant in Renton.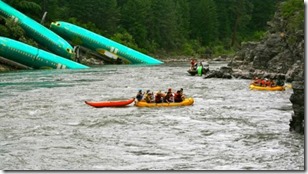 Why 1984's 'Top Secret' Should Be A Blueprint For Today's Spoofs
Technically it was a bomb at the box office but I've always loved it ever since I saw it in the theater. From the producers of Airplane! it has probably the highest density of jokes (spoken, visual, and otherwise) that I've ever seen in a movie. Every time I watch it I catch a new detail that I missed before. It was also Val Kilmer's first movie appearance.
Jerry Zucker: The thing with 'Naked Gun,' it fell into the category that all good sequel movies fall into, that it was based on a single strong character - or two in the case of '22 Jump Street' - that you can throw into a bunch of different situations and stories. With 'Airplane!,' it's a group of people and the story itself was a specific story of how Ted and Elaine were breaking up and he found his courage. You couldn't really have done a sequel to 'Zero Hour!.' So, for us, 'Airplane 2' was just going back on an airplane and trying to come up with 500 more jokes about things on an airplane.

Jim Abrahams: Then we figured the best thing to do was to put together a bunch of our favorite jokes - really good jokes - and string it together with what seemed like a story and that's what wound up being 'Top Secret!.'
There are too many classic scenes to include so I'll just give you this one.
Two Men Were Arrested In Idaho For Talking About Nickelback
Man they are really strict about the no-hipster-talk law there.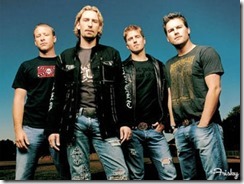 The Yahoo AoSHQ group - it's got electrolytes.
And my twitter thang.
Tonight's post brought to you by the Ft. McHenry flag: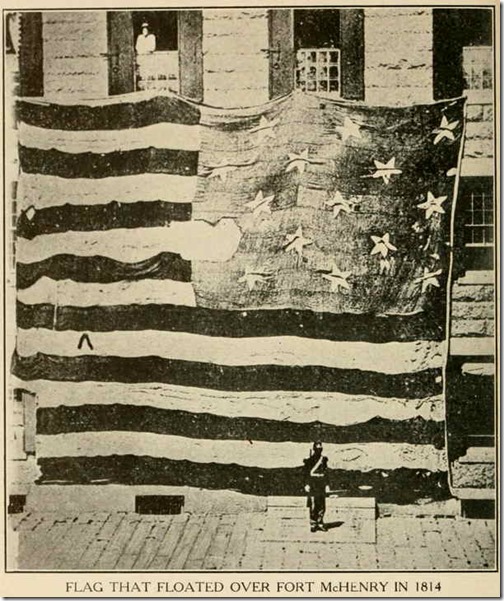 This was the flag that Francis Scott Key still saw on the morning of September 14, 1814. Thanks to its size it was visible from a British ship eight miles offshore.
Notice: Posted by permission of AceCorp LLC. Please e-mail overnight open thread tips to maetenloch at gmail. Otherwise send tips to Ace.

posted by Maetenloch at
10:47 PM
|
Access Comments