« Overnight Open Thread (7-3-2014) - Fourth of July Eve Edition
|
Main
|
Independence Day, 2014 »
July 03, 2014
Hurricane Arthur Update, July 4thish (tmi3rd)
Good evening, Morons and Moronettes. tmi3rd here again, and there have been some developments in terms of Arthur's track and strength.

The eye of Arthur made landfall near Cape Lookout, NC, a little after 11 PM EDT. Its maximum sustained winds are 100 mph (an impressive strengthening from last night), and its minimum sustained pressure is 976 millibars. Its motion is now northeasterly at 18 mph.

More below the fold...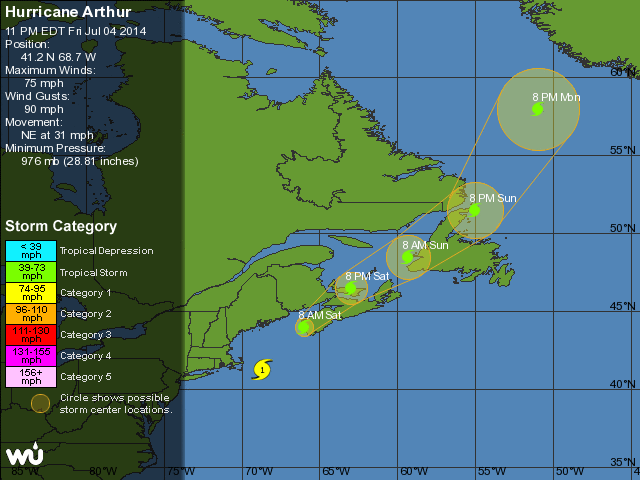 A Hurricane Warning is in effect for...

* Surf City North Carolina to the North Carolina/Virginia border

* Pamlico Sound

* eastern Albemarle Sound

A Tropical Storm Warning is in effect for...

* Cape Fear to south of Surf City

* the North Carolina/Virginia border to Cape Charles Light

Virginia...including the mouth of the Chesapeake Bay

* western Albemarle Sound

* Nantucket

* Cape Cod from Provincetown to Chatham

A tropical storm watch is in effect for...

* New Brunswick from the U. S./Canada border to grand-Anse

* all of Nova Scotia including Cape Breton island

* all of Prince Edward Island

So let's talk about things to keep an eye out for, starting with NC and VA...

Eastern North Carolina and southeastern Virginia are looking at probably about 4-6 inches of rain, with isolated pockets of 8 inches a possibility through Friday. Also, your storm surge in the area the eye goes over will be probably 3-5 feet, and the Pamlico and Albermarle sounds are looking at 2-4 feet. Southeastern VA is looking at 1-3 feet of surge. We also can't rule out tornadoes onshore, and if they spool up, they're going to be rain-wrapped. Gonna be a rough night at Naval Station Norfolk...

Now, here's a heads-up for you Morons living in New England, and particularly on the eastern side of Massachusetts or coastal Rhode Island. You're going to start seeing tropical storm conditions starting Friday evening on the coast, so please- finish your preparations quickly. Most of the East Coast is going to have a pretty rainy Fourth of July, but with the way Arthur's picking up speed, the storm surge will probably come in pretty quickly. This isn't going to be quite the haymaker Sandy was, but this is still going to be a pretty potent storm by the time it gets to the neighborhood of eastern CT, RI, and MA. It should still be a hurricane by the time it gets to the Canadian Maritimes.

Also- if you live along Long Island Sound, the water will come up some as the storm gets abreast of you. Once again, guys, PLEASE don't do stuff that will invite Charles Darwin to make an appearance. The storm surge will likely be about three feet through most of the northeast, but may be higher around Nantucket and Cape Cod.

That's about it for this update... I forgot to add my Twitter if anyone's got a question they need to bounce off of me during the day tomorrow... it goes right to my phone, and we've got comparatively docile weather where I am.

So y'all stay safe, and have a great Fourth of July! I'll keep the updates going through Saturday night, unless we have some Morons in the Candian Maritimes that need further updates. Let me know if you've got any questions- I'll monitor this thread for another hour tonight, and a bit in the morning.

-tmi3rd

UPDATE: Forgot to add this; CDR M sent it...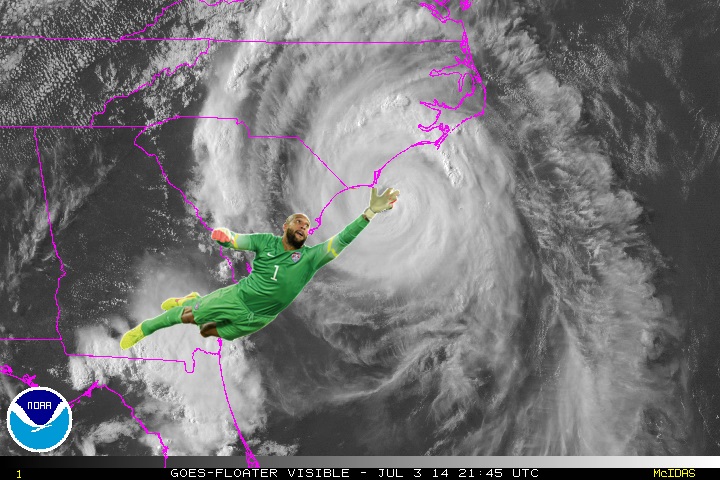 See ya!

posted by Open Blogger at
11:31 PM
|
Access Comments