« Here It Goes Again? OK Go Tries for Another High-Concept, Low-Budget Tricked-Out Viral Video
|
Main
|
Overnight Open Thread (20 Jun 2014) »
June 20, 2014
AOSHQ Decision Desk: A Few Things on the Mississippi Runoff
Unfortunately I couldn't whore this out to The Federalist in time, so I'll share my thoughts here before Ace crushes them like a rotund ewok is inclined to do.
Read on.

Where does the race stand?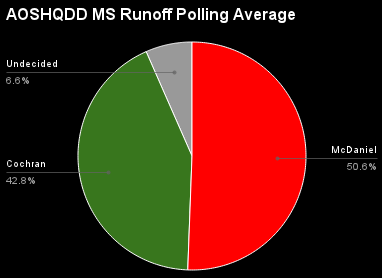 Our current polling average finds McDaniel with a respectable lead, but with much of the primary polling this cycle being...iffy...I wouldn't take much comfort in this. Cochran has been a Senator since my parents graduated from High School, and he isn't going to end his career quietly.
What's with the Democrats-for-Cochran strategy?
The thought process behind this is quite simple: if Cochran's team can turn out Democratic voters who did not vote in their party's primary three weeks ago, he has an outside shot of winning. Why?
Turnout is going to drop from the primary, as it has in every single Senatorial runoff since 1980. The geography of this drop-off is the big question mark, and this is where the Democrat voter strategy comes in. McDaniel and Cochran's margins in the primary appear below.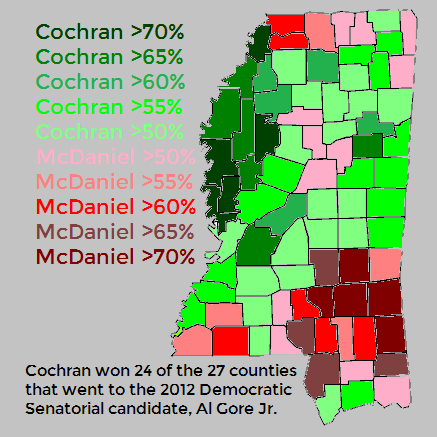 Notice a pattern?
The embattled Senator needs these Mississippi Delta votes just to be competitive- he had them and still lost by 1500 votes in the initial round. Without them, he loses handily. Getting these voters to turn out for him is a scramble for keeping up with McDaniel, who won much of the redder parts of the state easily. The election is going to come down to county-by-county shifts from the primary: if McDaniel's base turns out in CD-4, which from media reports is very likely, Senator Cochran would need even higher turnout in the Delta to survive, and considering the track record of voter turnout for runoff races as documented by Kyle Kondik and Geoffrey Skelley, that is a very tall order.
So why not just call it for McDaniel?
Because this has been a season of surprises. Cantor wasn't even expecting a defeat and got crushed. Ernst enjoyed a poll lead but was still hovering below the threshhold to avoid a convention, and come election day she cruised into the nomination. McDaniel leads in polling and has the easier GOTV task. But the incumbent Senator has been around the block more times than Dave in Texas, inventor of said block. His voter turnout efforts are daunting, but he has the backing of much of the state party and the Barbours. I wouldn't hold my breath on his defeat until the returns say so.
When can we expect returns on Tuesday?
The problem with Mississippi is the old school nature in which we have to obtain results. Calling clerks. Waiting on faxes. Hoping none of the bean counters get tired and go home. We expect the first results to trickle in about a half-hour after polls have closed, but anything of significance will probably start rolling in at least an hour after that, so around 9:30pm EDT we should start to ascertain how the race is going. I fully expect FL-19, the Oklahoma open Senatorial Primary, New York 22, and perhaps Colorado's gubernatorial primary to be decided before Mississippi. But it's the race I suspect everyone is the most excited about. Good things come to those who wait, I suppose.

posted by CAC at
07:35 PM
|
Access Comments