« State Spokeswretch Jen Psaki: You Know, Obama Just Doesn't Give Himself Credit
Incredulous Reporters Openly Laugh at Claim: Credit for What?
|
Main
|
Top Headline Comments 5-30-14 »
May 29, 2014
Overnight Open Thread (5-29-2014) – Meet Me By the Third Pyramid Edition
Frank J. Fleming: Why I Support the Mutant Registration Act
Look not to get all pedantic but the very first word of "human rights" makes it quite clear who actually gets them.
I know everyone is going to call me a bigot and say I'm on the wrong side of history, but it still needs to be said: the Mutant Registration Act just makes sense.

I know the left are always going on about how mutants are being discriminated against and questioning them at all makes us basically evil racists, but the left's position on this issue makes absolutely no sense. Right now, if a kid in school so much as draws a picture of a gun, the cops get called. But if there is a kid in class with mutant exploding powers who could easily kill everyone in the classroom - either maliciously or accidentally - then we're all Nazis for saying, "Hey, maybe we should reevaluate whether that kid should be in the same class as everyone else." Not only that, we're bigots for wanting to even know about that kid. How does this make any sense? I guess dead school children is better than "discrimination."

And it's not like these mutant powers are the same as someone walking around with a concealed gun like millions of Americans do and not necessarily harming anyone; no, they're actively using them. Many of the mutants are in this paramilitary organization - the X-Men - and flying around in military-grade hardware to "fight evil." Some of us think that maybe - just maybe - the government should watch these people. And of course we get called racists for this basic common sense.

And it really seems like we're not being told the truth about these mutants. When we ask how they got these fantastical powers, we're basically told they were just born with them and to shut up. I mean, what is the official explanation of mutants? Evolution. Really? I guess it makes a little sense for that one mutant from Canada to have to evolve self-healing powers in response to socialized medicine, but how does evolution explain being able to shoot lasers out your eyes or to be able to control the weather? Do they think we haven't had high school biology and don't know how natural selection works? You don't just suddenly go in one generation from normal human to blue guy who can teleport himself. Demon possession is closer to being a scientific explanation of their powers than evolution is.
Now Canada thinks they're too goody-good to allow the registration of clearly dangerous mutants but they seem to have no problems at all with setting up a registry of people who didn't get vaccinated.
"A national vaccination registry would identify which Canadians have been fully vaccinated, those who have received less than a full dose of shots, and those who have not been vaccinated at all. Having a vaccine registry in place in the event of an outbreak of measles, whooping cough, and diseases like these would enable public health officials to identify the children and adults who need vaccinations. Getting them the shots they need would reduce the risk of anyone on the list getting sick, and would also reduce the threat of an outbreak in the community in which they live or travel to [and] from."
Look getting whooping cough is no fun at all - but on the other I have yet to ever see someone with it ever accidentally fry innocent bystanders alive with their un-obscured vision. Let's get our risk priorities straight here.

I mean WTF Canada - do you really want this traipsing around the prairies without any kind of tracking at all?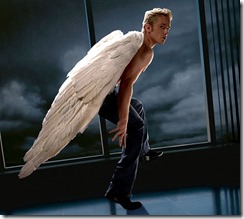 "The reason the first three Star Wars movies were so terrific, and the second three sucked so bad, is actually very simple. The first three were about rebels, shooting guns and driving fast, and speaking with American accents. The second three were about politicians, discussing treaties and holding court, and speaking with British accents.

  -- Bill Whittle
Wait What: The Supreme Court Changing Its Decisions Years After the Fact?
"The Supreme Court has been quietly revising its decisions years after they were issued, altering the law of the land without public notice."

Congress has the power to police this, under its power to "make all Laws which shall be necessary and proper for carrying into Execution the foregoing Powers, and all other Powers vested by this Constitution in the Government of the United States, or in any Department or Officer thereof." It could, for example, require final copies of opinions to be deposited with the National Archive before those decisions take effect, with revisions made only if the Archivist is involved.
Reporters Shocked When Their Targets Talk Back
The Koch brothers aren't even human beings so how dare they aggressively attack false claims against them and publicly expose the dishonesty of reporters trying to set them up.
Valerie Plame: Outing, Schmouting
Valerie Plame doesn't deny that blowing the cover of the CIA station chief in Afghanistan is a serious matter. It's just that, discussing the issue at a Wednesday evening forum sponsored by The Atlantic, Plame seemed to view the outing of the CIA's top spy on the front lines in the Afghan war as more of an embarrassment than an outrage.
However unlike Plame the CIA station chief now faces a real risk of torture and death due to his cover being blown with absolutely no prospects for a Vanity Fair cover.
What Really Happened to Gibson Guitar
What I did not know until I read this article was that it was the unions all along. The Feds were just their muscle.
This Ohio Korean War Memorial is a Historical Photoshop Horror
Well at least it's not as bad as the Danish Royal Family's portrait.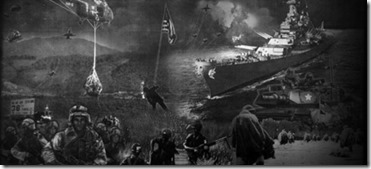 Are Your Hands and Feet 'Registered as Deadly Weapons'?
It seemed like you heard this phrase all the time in the 70s during the Kung Fu boom but I always assumed it was just a BS story that people used to sound scary. But it turns out that it actually is true in Guam.
But law professor Eugene Volokh has found a place where the old urban myth about "hands and feet registered as deadly weapons" is actually true: the US Territory of Guam. He quotes the statutes (law profs are always doing that!):

Any person who is an expert in the art of karate or judo, or any similar physical ar[t] in which the hands and feet are used as deadly weapons, is required to register with the Department of Revenue and Taxation.

A karate or judo expert required to register by the provisions of this Chapter shall be a person trained in the arts of karate, judo or other hand-to-hand fighting technique, whereby the hands, feet or other parts of the body are used as weapons, who shall have completed at least one level of training therein and shall have been issued a belt or other symbol showing proficiency in such art.
Just remember that registration always leads to eventual confiscation.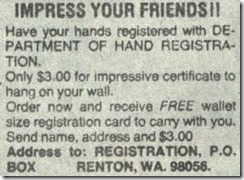 Fiat Chrysler CEO: Please Don't Buy Our Electric Car
Sure they lose money on every sale but they make it up by discouraging customers from buying them.
"The CEO of Fiat Chrysler said he hopes that people don't buy his company's electric car, the Fiat 500e, which he is forced to sell at a loss because of state and federal mandates. 'I hope you don't buy it because every time I sell one it costs me $14,000,' Sergio Marchionne told the audience at the Brookings Institute during a discussion of the auto bailout. 'I'm honest enough to tell you that I will make the car, I'll make it available which is my requirement but I will sell the limit of what I need to sell and not one more,' said Marchionne. Fiat Chrysler produces two Fiat 500s. The gas-powered Fiat 500 has a base price of $17,300. The electric Fiat 500e runs $32,650. In his candid remarks, Marchionne blamed regulations set in place in California and by President Obama."
On the other hand I think the color and styling of the Fiat 500e does a pretty good job of protecting Chrysler's bottom line just by themselves.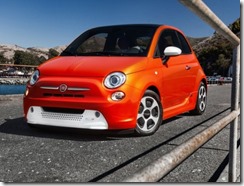 Gun Lubricant Corrosion Test Updated
Granted this is under more extreme conditions than your guns are likely to see but there are clearly some huge differences in how effective they are.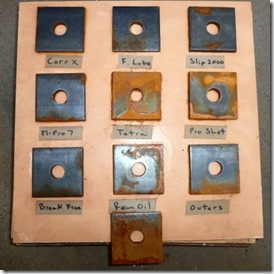 Husband of Pregnant Pakistani Stoning Victim: I Killed My First Wife to Marry Her
Okay I'm sure there are a couple of decent Pakistanis but if we just vaporized the entire country, I'm also quite sure that the global average of nearly every single indicator of human progress would go up as well.
The husband of Farzana Parveen, the Pakistani woman stoned to death for refusing to participate in an arranged marriage, told CNN he killed his first wife so he could marry Parveen.

Authorities said the first wife was killed six years ago.

"I wanted to send a proposal to Farzana, so I killed my wife," Mohammad Iqbal said Thursday in an interview with CNN.

Zulfiqar Hameed, district inspector general for the Punjab police, said Iqbal's son from the first marriage alerted police to the slaying six years ago.

Iqbal was arrested but later released on bail because his son forgave him, Hameed said.

The son, Aurengzeb, who is in his 20s, confirmed his father's statements to CNN. He said his father served a year in jail.

Parveen, who was three months pregnant, was beaten to death with bricks Tuesday in the eastern city of Lahore by a group of about 20 people, including her brothers, father and cousin, police said.
How to Torture Your Coworkers Through Outlook
Okay this is potentially kinda evil so use with extreme caution and only on the truly deserving.
It always starts with a simple plan.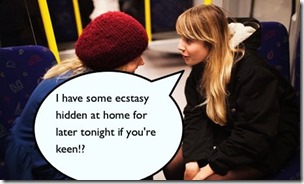 Yahoo group. That is all.
Come on be a smartie - join the yahoo group party! For the children.
And my lo-fi Twitter spew.
Tonight's post brought to you by Easy Company at the Eagle's Nest: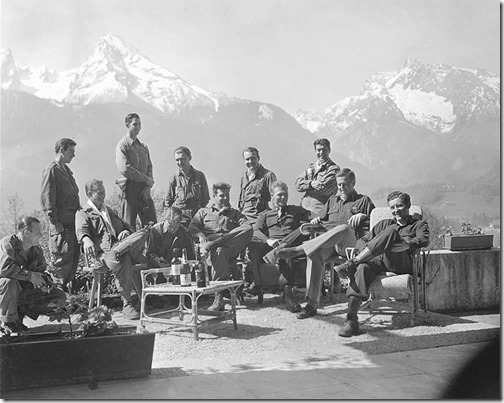 Notice: Posted by permission of LaceWigsCorp LLC. Please e-mail overnight open thread tips plus $1 for S&H to maetenloch at gmail. Otherwise send your scraps to BizarroAce. Do not trigger happy-fun ball.

posted by Maetenloch at
10:46 PM
|
Access Comments