« Saturday Morning Open Thread
|
Main
|
Saturday Car Thread 05/24/14 - [Niedermeyer's Dead Horse] »
May 24, 2014
Memorial Day Weekend Feel-Good Thread [Y-not]
Memorial Day will be observed Monday. In my neck of the woods there will be a lot of flags out on front lawns and observances held at many of our local cemeteries. My dad served during the Korean War as a psychiatric nurse for soldiers returning with PTSD (although at the time that was not what it was called). I cannot imagine what that was like and I am grateful for his service and that of countless Americans who served.
I know some chafe at the notion of Memorial Day weekend being celebrated in ways that have nothing to do with our military heroes. Although I understand the sentiment, I do not share it. To me the idea that this weekend has evolved to include a time for families to enjoy the first blush of Summer by spending time together is perfectly fine. After all, it is in small part those freedoms that our men and women of the military serve to protect.
At the risk of offending some (I hope not many), I wanted to share with you a few stories of another type of military hero.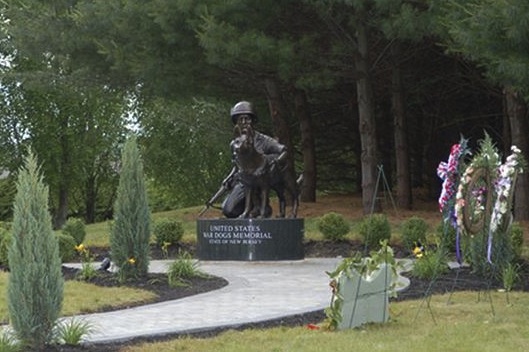 U.S. War Dogs Memorial guarding the gateway to the New Jersey Vietnam Veterans' Memorial in Holmdel, New Jersey.
Courtesy of the U.S. War Dogs Association, you can find links to many stories about the heroism of dogs who serve and what becomes of them after their service has ended. Here's one story from the Vietnam era:
An effective strategy in Vietnam is the use of scout dogs trained to alert troops to imminent danger, a practice started during WWII with the K-9 Corps.

Because a dog's senses are believed to be up to a thousand times more acute than those of humans, their value is immeasurable in enemy territory. Demand for scout dogs is high.

Likewise, the risk to scout dog patrols is also great. The enemy rewards its soldiers who return with the uniform emblem of a felled dog handler or the tattooed ear of his scout dog.

And so it was that, in the spring of 1969, an ad placed in the local Asheville newspaper for donated pets to help the war effort catches Beth Franz's eye.

Most of all she's motivated by the memory of Jim Inman, a family friend about her own age that was brutally murdered in Vietnam during an enemy ambush. His body was sent home to Asheville in pieces. If giving up her dogs could save even one young soldier from dying, it would be a small sacrifice.

She answers the call and seals her destiny in one brave and selfless act of youthful patriotism. Hugging her dogs for the last time, Beth watches tearfully as Bodo and Bar are loaded on a government truck and transported to K-9 training camp.

Bodo was soon returned, deemed gun shy and unfit for active duty, but Bar was sent on to Vietnam after 12 weeks of basic training. The certified letter read, "Bar is now the property of the U.S. government. You will not pursue the fate of this dog."

And she never did.
Follow the link to read the rest.
Also via a link fro the U.S. War Dog Association, Stars and Stripes has a nice article about how war dogs injured overseas are treated:
There are hundreds of military dogs at work in Afghanistan. Some, like Tomi, are Tactical Explosives Detection Dogs, tasked with finding hidden bombs and triggers. Some accompany Special Forces on raids to capture high-level insurgents, some sniff out contraband. Still others provide therapy for servicemembers rattled by combat, assuming a role often filled by military chaplains.

"Something about a dog just makes life better when you're deployed," Sgt. Tami Bush, a veterinary technician at the dog center, said.

She looks at the dogs as soldiers.

"I know what they do downrange. I know how many lives they save and how willing they are to work."

Before he was injured, Tomi and his handler, Spc. Michael Plemmons, found more than a dozen improvised bombs in Afghanistan. On one route-clearing mission, the duo and Army engineers turned up 14 devices, Plemmons said.

Like all dog-and-handler teams, Tomi outranks his handler — he's a sergeant.
Read the rest at Stars and Stripes.
On a related note, a couple of months ago I learned about this organization, Dogs on Deployment. Although they do not have a Charity Navigator rating as of yet, the reviews I've seen of this group are excellent. This is their mission statement:
Military members nation-wide confront a multitude of problems during their careers, the last thing they need to worry about is their pet's care during their service commitments. Dogs On Deployment is a 501(c)(3) national non-profit which provides an online network for service members to search for volunteers who are willing to board their pets during their owner's service commitments. Dogs on Deployment promotes responsible, life-long pet ownership by military pet owners by advocating for military pet owner rights, providing educational resources and granting financial assistance for military pet owners during times of emergency. Join Dogs on Deployment's mission in changing the lives of our military members and their pets.
Seems like a terrific idea.

Open thread.


posted by Open Blogger at
09:20 AM
|
Access Comments