« Sunday Morning Open Thread
|
Main
|
Soon To Be Stomped Open Thread »
April 20, 2014
Sunday Morning Book Thread 04-20-2014: The Day The World Changed Forever [OregonMuse]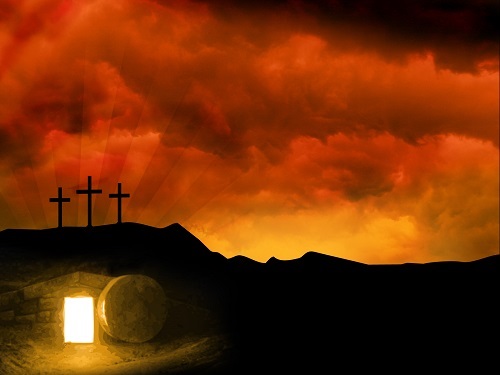 Good morning morons and moronettes and welcome to AoSHQ's prestigious Sunday Morning Book Thread.

He Is Risen!
Jesus Christ walked onto the stage of world history 2,000 years ago, and is never leaving it. To be sure, it is very easy to imagine a future history where the Church is either absent or totally irrelevant (and there have been many books written along those lines), that's never going to happen. The gospel of Jesus Christ is so powerful, that His followers can exist even in the most hostile environments, i.e. there are churches in Saudi Arabia and North Korea. Granted, they're small and pretty much entirely underground. But they survive. They know they're in a spiritual battle:
For we do not wrestle against flesh and blood, but against the rulers, against the authorities, against the cosmic powers over this present darkness, against the spiritual forces of evil in the heavenly places.

(Ephesians 6:12)
Many have lost their lives for the cause of Christ. For example, remember the movie 'Chariots of Fire', about that Olympic athlete who wouldn't run on Sunday? Eric Liddell was his name, and perhaps you don't know that he went on to become a missionary to China, and he died in a Japanese internment camp, where he was ministering to the other prisoners during WW2. There have been a number of biographies written about Liddell, but grammie winger recommends Complete Surrender: A biography of Eric Liddell, by Julian Wilson.
Another interesting character is the German theologian Dietrich Bonhoeffer and Bonhoeffer: Pastor, Martyr, Prophet, Spy by Eric Metaxas is a good modern biography. Christians classify Bonhoeffer as a martyr, but I have difficulty with this. What got him in trouble with the authorities was not anything that Christians are traditionally martyred for, i.e. being told not to preach the gospel but preaching anyway, or refusing to worship the leader of the state as divine. Rather, Bonhoeffer was arrested for his active participation in a plot to assassinate Adolph Hitler, and that's why the Nazi government killed him. In my opinion, murdering a political leader is difficult to justify under any flavor of Christian theology, and Bonhoeffer is no longer around to tell us why he thought what he was doing was right, given his understanding of the gospel. That is, I assume he thought it was right, I can't imagine him thinking, "yeah, this is wrong, but we have to do it, anyway." Read his books, The Cost of Discipleship or Life Together or even Letters and Papers from Prison and ask yourself if anything he wrote would lead you to understand how he would ever participate in such an obviously "battling against flesh and blood using worldly weapons" political plot.
I confess I don't understand.
I'm not saying what Bonhoeffer did was wrong. Perhaps it was. But even if not, I just have a hard time thinking of him as a martyr, at least as traditionally understood, like the kind of martyrs described in Foxe's Book of Martyrs, which, being in the public domain, is available on Kindle for $0.
Bonhoeffer was executed on April 9th, 1945. He could probably hear the artillery from the approaching Allied armies, who were only a few days away from liberating the camp he was in.

R.I.P.
The internationally renowned Colombian novelist, screenwriter, journalist and 1982 Nobel Prize winner Gabriel García Márquez has died at the age of 87. He was most famous for his novels One Hundred Years of Solitude, Love in the Time of Cholera, and The Autumn of the Patriarch.
I've never read any of his books.
Here's an interesting bit from the wikipedia bio:
The popularity of his writing also led to friendships with powerful leaders, including one with former Cuban president Fidel Castro...It was during this time that he was punched in the face by Mario Vargas Llosa in what became one of the largest feuds in modern literature.
Ha! A rat bastard commie gets popped in the puss. I would like to have seen that.

The First Emoticon?
This guy thinks he's found the earliest use of what are now called emoticons:
Robert Herrick

To Fortune

Tumble me down and I will sit Upon my ruines (smiling yet: ) Tear me to tatters; yet I'le be Patient in my necessitie. Laugh at my scraps of cloaths, and shun Me, as a fear'd infection: Yet scarre-crow-like I'le walk, as one, Neglecting thy derision.
I know it could just be a colon inside a parenthesis. In fact, that's what it probably is. But it does seem oddly coincidental that it occurs in a "smiling" context.
This article in Slate takes a different view. I'm not a big fan of Slate, but I was impressed that their response to the "first emoticon" claim contained some actual journalism.

A Cheap e-Book Notification Service
I absolutely hate paying $13.99 and $14.99 for Kindle or Nook books, and so I will do anything not to have to. Like many of you, I'm on the "Daily Kindle Deal" mailing list from Amazon, the one that Vic regularly posts to the morning news thread, and while I'm glad Amazon at least makes the effort, I rarely see anything I'm interested in.
But just yesterday as I was perusing teh internets looking for book thread material, I stumbled upon The Book Bub, a service you can sign up for, which compiles a list of free or low-cost e-books from a number of different sources such as Amazon, B&N, Kobe, Smashwords, etc. Once you've signed up, you can select which categories of books you're interested in, so you can stop from being deluged with, say, paranormal romance novels. The e-mail alerts will be structured according to your preferences, which you can change any time on the Book Bub site. Also, the individual listings will tell you the date the deal expires.
Here's their latest deal list.
And the service is free.

Haven't Read It, But Looks Like It Might Be Interesting
The Remedy: Robert Koch, Arthur Conan Doyle, and the Quest to Cure Tuberculosis by Thomas Goetz. From one of the 5-star Amazon reviews:
What a satisfying read! This book is great - it has amazing historical sweep on the development of the germ theory (fascinating) and the various personalities involved (Pasteur-the original germaphobe and many others), mini-novelistic biographies on two titans (Koch in science and Conan Doyle in literature), their conflict over tuberculosis, and the impacts this incredible disease had on both men and the society they lived in. The Remedy is engaging, amazing storytelling, I learned a ton, and I recommend it highly.
Various other reviewers say reading this book made them grateful for things we take for granted, like, say, medical cleanliness, personal hygiene, and, of course, the germ theory of disease.
Here's an interview with the author.

Moron Books
Sabrina Chase wants you to know that her sister has published her first fiction book. She describes Amy's Amazing Adventures (Across Time and Space) by Juliet Chase as "a very silly book for very silly people". As such, it comes with
Pan-dimensional rabbits, Regency heroines, Sheiks of Araby(tm), Navy SEALs, Ultimate Sacrifices, and pastries. Guaranteed 100% non-serious. Descended (illegitimately) from the Ruritania/Graustark-type novels of the early 1900s!
All that for only $2.99.
Pastries?

Another Book of Note
I'm not a fan of Seth MacFarlane's 'The Family Guy', but I think some of you morons are, in which case you might be interested in Seth MacFarlane's A Million Ways to Die in the West: A Novel. I might be interested, but not for $9.99, I'm not. Also, and this is just a personal peeve, I'm put off by any book that tries to score publicity points by including the author's name as part of the title. Why not just call it 'A Million Ways to Die in the West' by Seth MacFarlane and leave it at that?
And there's supposedly plans to make this into a movie soon.
___________

Some of these graphic novels look interesting enough check out. Haven't read any of them except Maus, which I thought was pretty good (best panel: in the second book, the author is trying to come to grips with his success recounting his father's surviving the Holocaust, so he draws himself in his studio, his work desk perched atop a pile of corpses).
___________

So that's all for this week. As always, book thread tips, suggestions, rumors, threats, and insults may be sent to OregonMuse, Proprietor, AoSHQ Book Thread, at aoshqbookthread, followed by the 'at' sign, and then 'G' mail, and then dot cee oh emm.
What have you all been reading this week? Hopefully something good, because, as I keep saying, life is too short to be reading lousy books.

posted by Open Blogger at
10:10 AM
|
Access Comments