« LA Sheriffs Kept Big-Brother-Like Eye in the Sky Technology Secret, for Fears That the Public Wouldn't Approve
|
Main
|
Preppin' on Mars: The Martian by Andy Weir »
April 18, 2014
College Professor Suspended and Investigated After Being Reported For Using His Daughter to Make Real and Credible Threats to Kill People
Oh, here was the real and credible threat he posted on Google+: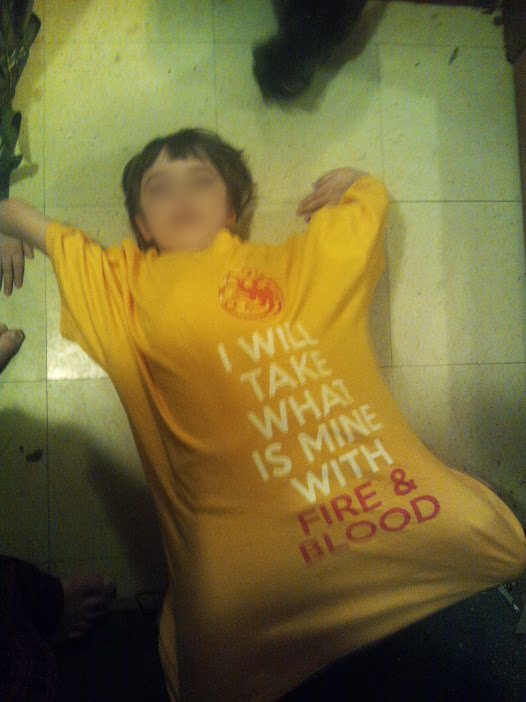 Intellectual Winter is Coming
Scary, huh? Yeah, that T-shirt is a quote from Daenerys Targaryen from Game of Thrones.
It's a nerd culture t-shirt, in other words. The "fire" she's threatening people with? Yeah, comes from fire-breathing dragons.
But the professor has literally been suspended and is being investigated for this scary death threat.
But one contact — a dean — who was notified automatically via Google that the picture had been posted apparently took it as a threat. In an e-mail, Jim Miller, the college's executive director for human resources, told Schmidt to meet with him and two other administrators immediately in light of the "threatening e-mail." …

Schmidt said he met with the administrators, including a security official, in one of their offices and was questioned repeatedly about the picture's meaning and the popularity of "Game of Thrones."

Schmidt said Miller asked him to use Google to verify the phrase, which he did, showing approximately 4 million hits. The professor said he asked why the photo had set off such a reaction, and that the security official said that "fire" could be a kind of proxy for "AK-47s."
Well, in fairness, the type of dragon alluded to is an "Assault Dragon," with extended stomach-magazines for additional literal fire-power.
Plus, "that part that goes down" (i.e., a tail).
It gets worse:
Schmidt believes the school is acting not to protect students from potential threats, but to retaliate against him. A week before being placed on leave, Schmidt filed a grievance against the school because he was passed up for a sabbatical.
Here's how Bergen Community College covers itself in further glory: by doubling down.
[Bergen Community College President Kay] Walter said she did not believe that the college had acted unfairly, especially considering that there were three school shootings nationwide in January, prior to Schmidt's post.
Well that's not the sort of sub-moronic utterance I associate with community colleges at all.
The professor is suspended, without pay, until he can pass a psych exam showing he is not a threat to the school.
So that's it, then: It's Idiocracy. We are a stupid, stupid people, and like most deeply stupid people, we are increasingly proud of our stupidity.
The greatest offense you can inflict on a stupid, ignorant person is to tell him something he doesn't know, and there's no possible way to avoid this offense, because the list of things he does not know is vast.
And he'll hate you for telling him something he didn't know. And he will mock you for having known this thing, and, if he can get away with it, he will inflict punishment on you. Corporeal punishment, if he's bigger than you, and if he's not bigger than you, which will usually be the case, he will resort to the more cowardly method of punishment favored by the weakling, to wit, social/political/bureaucratic punishment.
All for having made a f***ing moron felt briefly ashamed about not knowing something.
In no case will the proudly ignorant ever just laugh off their moment of revealed ignorance and apologize for the misunderstanding, because the thick-headed do not know the things it's okay not to know. That is, it's okay to not know character quotes from Game of Thrones; it's just a nerd-cult tv show and book series. Who cares if you don't know the quote, or never heard of Khaleesi, Mother of Dragons?
But the stupid know so little they cannot differentiate between those things they should be ashamed of being ignorant of and those that they shouldn't, so, always fighting from the position of a defensive flinch, they feel ashamed about being ignorant of everything, which would be fine, but being stupid, and therefore, in the center of themselves, aggressive and hostile, they lash out at their phantasmal "oppressors" by any means they can.
In related news, civilization itself was a major misstep and that error probably should be corrected as soon as possible.

posted by Ace at
03:33 PM
|
Access Comments