« Open Thread for Politics 4-19-14 [WeirdDave]
|
Main
|
Saturday Car Thread 04/19/14 - [Niedermeyer's Dead Horse & Countrysquire] »
April 19, 2014
Saturday Gardening Thread: Easter Weekend Edition [Y-not and WeirdDave]
This week's Easter Weekend Edition of the Gardening Thread brought to you by The Legend of the Dogwood:
At the time of the crucifixion, the dogwood had reached the size of the mighty oak tree. So strong and firm was the wood that it was chosen as the timber for Jesus' cross.

To be used for such a cruel purpose greatly distressed the dogwood. While nailed upon it, Jesus sensed this, and in his compassion said. "Because of your pity for my suffering, never again shall the dogwood tree grow large enough to be used for a cross. Henceforth, it shall be slender, bent, and twisted, and its blossoms shall be in the form of a cross–two long and two short petals.

"In the center of the outer edge of each petal will be the print of nails. In the center of the flower, stained with blood, will be a crown of thorns so that all who see it will remember."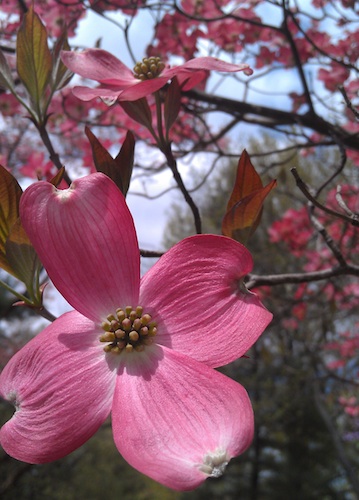 Take it away, WeirdDave!
WeirdDave's "Hot Mess:"
There's a similarly themed open thread below for OT talk and politics. Trust me on this one, you'd be better off down there.
Man, what a mess. It all started when they announced a sale on cyanide at Penny's (nod to Colin Mochrie). I was talking to myself about this week's thread. "Self, " said I, "what should I write about this week?" "I know", I replied, "How about a garden sing-a-long? Rewrite popular songs to a garden theme. Our name is Weirddave after all, there's precedent". Hmmm. OK, Billy Joel:
Pussy willow, daffodil, artichoke, chlorophyl
Common yarrow, foxtail fern, red tomato plant
Red leaf lettuce, green bean vine, kohlrabi, grapes for wine
Bachelor's button, Billy buttons, sure is going slow
Shovel dirt, white corn, wheel barrow Sunday morn
Carrots, hard work is nigh, shit hon, the grass is rye
Hot shower, now clean, more to plant? What do you mean?
Move the dirt, hoe the row, too much work, enough!
Trying to plant a garden,
but the nights are too cold
and my seeds are too old
Trying to plant a garden,
but the plants will flop
and the work don't stop
Rusty shovel, onion set, rain now so it's all wet
Broccoli, on my knees, corn a mile high
Mango, apple tree, watermelon, berry
Radish is too small, please God tell me why
Cabbage, pumpkin, time to pull the weeds again
Pachysandra, pink mink, paper reed, mulch stinks
Eggplant, raspberry, cauliflower, choke cherry
Artichoke, spade broke, another rabbit trap
Trying to plant a garden,
but the nights are too cold
and my seeds are too old
Trying to plant a garden,
but the plants will flop
and the work don't stop
Shit, that's awful, plus I'm going crazy trying to think in 3 and 4 syllable plant names. Maybe a different song. A Springsteen tribute to cross-pollination? (Oh, oh, oh, who's my sire?). Drek. What could I do with the Dead Kennedys ode to Jerry Brown? (Grow a green bean. Up a trellis. Up a trellis,
grow a green bean). * Shudder * Not that. The Chairman of the Board? (When I was 17, I ate a very good pear..). Obviously, this idea is going nowhere.
OK, I'll do what all the great writers throughout history have done when they lock up. Shakespeare, Dickens, Hemingway...all of them at one time or another got writers block, and all of them did the same thing-turned to Google. Playing with the theme, I Googled "Garden songs", and I got an immediate hit. It's this song, by someone named Dave Mallett:
Well, wasn't that just a lot worse than my attempted at parody? 90 seconds in I had to slit my wrists, which isn't helping because now my keyboards is wet and slippery. More results, more results...There's a Chinese restaurant in Georgia named Song's Garden....Here's somebody's list of 10 songs with garden in their title (Self, in a Dr. McCoy voice "Don't just sit there, throw it in! We need content, man, content!")
"Ten "Garden" Songs Everyone Can Dig" (link: http://voices.yahoo.com/ten-garden-songs-everyone-dig-10841103.html)
Hey, look! 100 year old garden songs! http://www.parlorsongs.com/issues/2006- 5/thismonth/feature.php
E-bay claims to have great deals on "garden songs". I'm not clicking. Everything else is about that awful folk song up above. I give up.
There you have it folks, one white hot stinking mess of a garden thread, song edition, a cautionary tale about what can happen when you try to write to a theme and just don't have it going on that day. OTOH, I think the open political thread below came off quite well. Maybe I should just blog open threads.

And now from your co-hostess, Y-not:
In honor of the Easter weekend, I thought it would be nice to share a little bit about traditional Easter plants. We're all familiar with the beautiful flowers at this time of year, especially the Easter lily, but did you know that two woody plants are also associated with this holiday?
The first, as mentioned at the top of this post, is the dogwood tree. It's one of my favorite flowering trees. The area of Maryland where I grew up had many wild flowering dogwoods, most of the white, horizontal growth variety. By "horizontal growth I mean like this: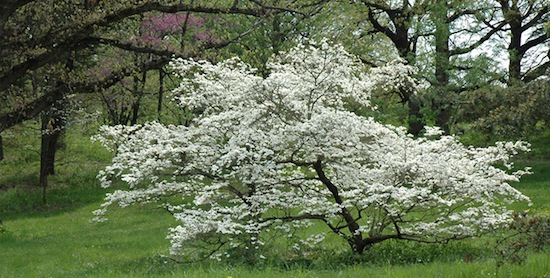 I think they are such beautiful trees, not just for their flowers, but for their interesting twisted branches.
Although there don't seem to be a lot of dogwoods in my current state of Utah, certainly not growing wild as they did in Maryland, we do have red twig dogwoods. They make a spectacular display by the sides of our rivers and streams. Do any of you have one? I was thinking of planting a couple in a problem spot of our yard that tends to be soggy owing to run off from the neighbor's irrigation system that is up slope from our yard.
In any event, if you like dogwoods as much as I do, you might want to check out some of these dogwood festivals:
Although the Atlanta Dogwood Festival was last weekend, I think it's worth a mention because it looks like it's a B.F.D. Also, presumably dogwoods are still blooming in the Atlanta area this weekend if you want to check them out.
Charlottesville, Virginia has a dogwood festival that extends over several weeks, starting in March and extending through April.
Next month, Tennessee's Dogwood Festival in Winchester (May 2-4), will be featuring the Charlie Daniels Band. Their catch-phrase for the festival is the "Devil went down to Dogwood." Cute.
There don't seem to be many dogwood festivals out West, but I did find one in Idaho, the Dogwood Festival of the Lewis-Clark Valley.
While I was reading up on Easter plant traditions, I learned that UK and Russia (and Eastern European countries) share the pussy willow as THE Easter (or Lenten) flower.
The Polish legend of the pussy willow:
"The Pussy Willow is also our Easter symbol. One of the most prominent Easter symbols, because of the fact out of this dry, kind of twig all of a sudden bursts forth this beautiful flower of life, and it is the first bush that blooms," said Father Krysa.

Christians use Palms as a church symbol of greeting Jesus as he rode into Jerusalem. But in the Polish tradition, you will also see pussy willow branches on Palm Sunday.

Father Krysa said according to Polish legend, Jesus visited a forest on Palm Sunday, barren by winter conditions, He commanded His angels to gather up pussy willows, with soft, cotton buds, the first blooms of spring.
Pussy willows were another favorite plant from my childhood. My mom always kept one and would usually have a display of the branches in an old antique vase. Sadly, Utah is not in the pussy willow's range, so I don't have one in my yard.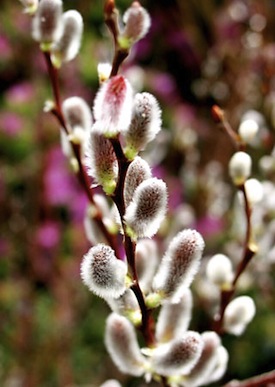 There's even a holiday of sorts devoted to the pussy willow. You can celebrate Dyngus Day in glorious Buffalo on April 21st. (Not to be outdone, Cleveland has one, too.)
Garden Report from the VAST Quarter Acre Estate at Casa Y-not:
We had HAIL (combined with thunder, lightning, and high winds) at Casa Y-not last weekend. It blew in at 1:30 in the morning, so needless to say I didn't get out there to cover my plants.
Fortunately, it looks like my mystery sprouts survived. The things that I *think* are radishes are chugging along and I'm seeing signs of what I think are beets and red onions peeking up through the soil. Not sure if the spinach or carrots are going to sprout. I'll give them some more time to do their thing, in the meantime, I put in some starter plants yesterday: snap peas, shallots, sweet onions, and strawberries. Those, combined with the herbs and lettuces that survived the winter are starting to make my raised beds look like a garden!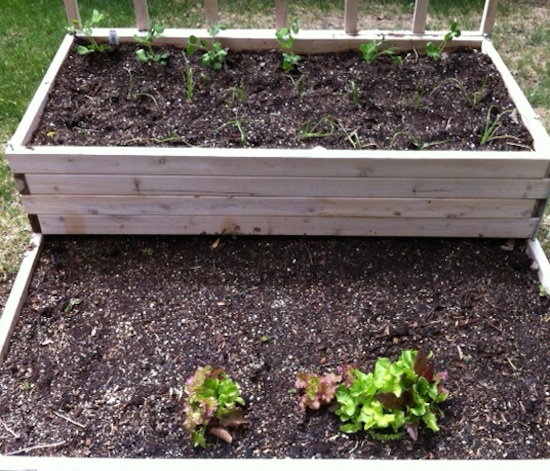 Snap peas, onions, and lettuces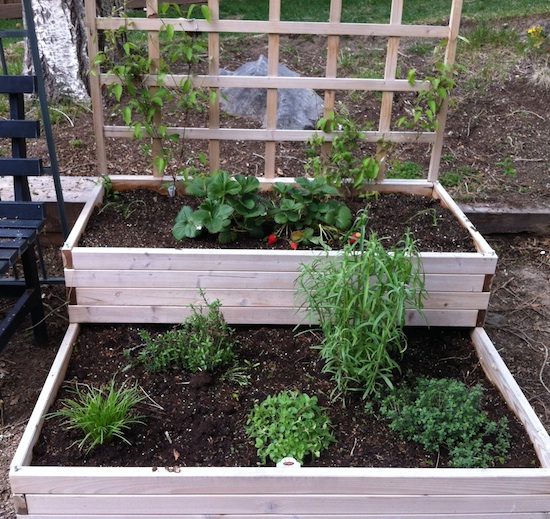 (Back to front) Clematis, strawberries, onions, chives, savory, oregano, tarragon, and thyme
What's happening in your garden?

This week's Blog of the Week is Botanist in the Kitchen. I stumbled upon this last week when a commenter was asking about the (possible) relatedness of magnolias and gardenias. This post shows what's called a phylogenetic tree analysis of "food" plants. It's worth a gander, especially if you want to understand one of the modern ways that evolutionary study is conducted.
If you're interested in learning more, here's a scientific primer on phylogenetic trees from UC Berkeley.
Also from UCB, I thought that this was a useful discussion of the predictive power of phylogenetic analysis:
Phylogenies also allow us to generate expectations about the characteristics of living organisms that we have not yet studied. For example, scientists discovered that the Pacific Yew produces a compound called taxol that is helpful in treating certain kinds of cancer, but it was difficult and expensive to get enough of the compound out of the tree to make its use broadly feasible. However, based on the evolutionary relationships among yew species, biologists expected that close relatives of the Pacific Yew might produce similarly effective compounds.

Happily, they were right! They discovered that the leaves of the European Yew contain a related compound that can also be used to efficiently produce Taxol. Taxol is now widely available for cancer treatment.
BTW, from what I can glean, Gardenias are not particularly highly-related to Magnolias. Gardenia is a Genus in the family Rubiaceae (the Coffee or Madder family). Magnolia is a Genus in the Magnoliaceae family. The other member of that family is Liriodendron (the tulip tree).

Finally, in honor of the Easter holiday, here's W.A. Mozart's Regina Coeli KV 108:

posted by Open Blogger at
11:27 AM
|
Access Comments