« Food Thread: Bar Etiquette; Take 2: An Open Letter To The "Lady" Who leaves Notes When She Doesn't Get Her Prefered Seat [CBD]
|
Main
|
Horror Story Open Thread [CBD] »
April 13, 2014
Gun Thread (4-13-2014)
Warning Shots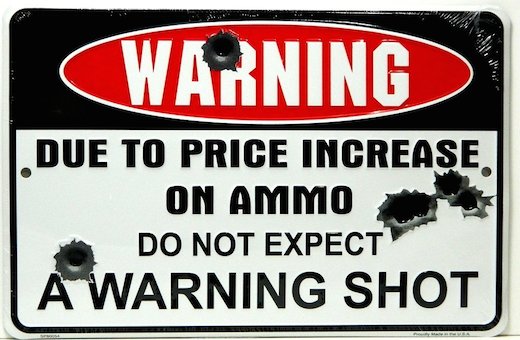 The left continues to soil itself over Florida's so-called "warning shot" bill.
Fortunately, we at the HQ know that anytime they talk about gun laws (a) they're virtually guaranteed to be wrong and (b) we can turn to Andrew Branca to get the real story:
Much of the discussion of SB-448 is replete with terms like "warning shot" and "stand-your-ground." In reality, however, the law does not even mention the term "warning shot," nor does it make any substantive changes whatever to Florida's stand-your-ground law.

...

The bill is prefaced with a legislative statement that notes that people have been criminally prosecuted and sentenced to mandatory minimum sentences under Florida's "10-20-Life" statute for having threatened the use of force in circumstances where an actual use of force would have been justifiable under Florida's self-defense laws (chapter 776).

In essence, the legislature is identifying as a problem the fact that prosecutors are sending defendants to prison for long periods of time for having threatened force, whereas if those same defendants had actually used force their actions would have been lawfully justified.
Be sure to read the whole thing.
Image h/t @ShivaPundit
Related, if you're on Twitter, you should follow Branca if for no other reason than to watch the pummeling the leftwing loons at the Coalition to Stop Gun Violence are about to receive.
Also, if you happen to be in the Indianapolis area, Branca's speaking at the NRA Annual Meeting beginning at 3:45pm on April 25th.

Gun Of The Week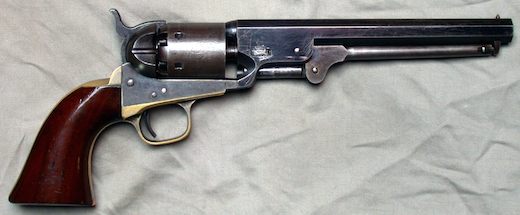 (answer below)
Marksmanship Award

Gun Of The Week - Answer
That's the .36 cal. Colt Model 1851 Navy. As cap and ball revolvers go, that one's a beaut. Over a quarter million units were produced before introduction of the metallic cartridge made the design obsolete.

CCW, Guns and Insurance
This very informative post is by one of our own morons and is a must-read.
Lots of attention was given, in the aftermath of the Newtown tragedy, to liability issues when a gun is used in a crime. And almost exactly a year ago, we discussed the proposal put forth by retired business owner Tom Harvey to compensate victims of illegal gun violence.

But what about the legal use of a weapon in self-defense? The rate of concealed carry permits has risen dramatically the past few years, and most folks have either home or renter's insurance. What part might these policies play if one were to injure or kill someone else in self-defense?

Tammy Bruce's Unexpected Home Defense
Conservative radio talk show host Tammy Bruce didn't know it at the time, but she was live-tweeting a break-in at her own home last night.
Bruce was alerted to the presence of a trespasser in her basement by her dog Syd, who I imagine is being served a nice ribeye at this very moment. She armed herself and called the police, who apprehended the criminal.
This situation was handled perfectly by Bruce and led to good outcomes for all involved. Bravo.

Eric Holder's Dumb Proposal For Smart Guns
Despite the fact that there's something on the order of 300 million guns in the US today and that they're very simple mechanical devices that can be built in a decently-equipped workshop, Eric Holder wants to spend our money on "smart guns" because "gun safety" or something.
This week, Attorney General Eric Holder testified on Capitol Hill that what America needs at this pivotal moment in its history is to spend $2 million for "smart" gun technology, as part of a $382 million expenditure on what the Obama administration calls "gun safety."

Translation: Federal "universal" background checks, "assault weapon," and "large" magazine legislation was defeated in the Senate and not voted upon in the House of Representatives last year, and gun control supporters need something else to talk about.

During his testimony, Holder voiced support for devices that would prevent firearms from being used by anyone other than their lawful owners. A common hypothetical along those lines would be to rig a firearm so that it could not fire unless it received an electronic signal from an electronic bracelet worn by the firearm's lawful owner.
Ummm, yeah. No.
How about this, Holder. We'll consider discussing this silly idea after you come clean on Operation Fast & Furious and take some responsibility for that colossal f*ckup.

Tips
If there are topics you're interested in seeing in the gun thread, please send them to AoSHQGunThread at gmail. You can also send them to me on Twitter at @AndyM1911.
The owner's manual for your concealed carry permit: The Law of Self Defense
Defend the Second Amendment. Join: The National Rifle Association * Gun Owners of America * The National Shooting Sports Foundation * Your state's second amendment org.
Celebrate America's firearms heritage: participate in Project Appleseed.

posted by Andy at
04:55 PM
|
Access Comments