« Great, Another Upper Income White Woman Crusade: The Girl Scouts May Give Up Selling Cookies, as Cookies are Contrary to Optimal Public Health Messaging
|
Main
|
Top Headline Comments 4-2-14 »
April 01, 2014
Overnight Open Thread (4-1-2014)
Because nothing happens on a Tuesday night.
WTF is Wrong With Jeopardy Champion Ken Jennings?
Was he always an asshole or did someone slip him a case of douchebag pills over the weekend? (thanks to Ben K)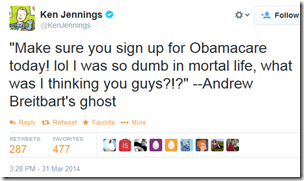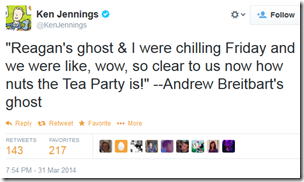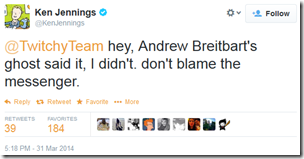 Department of Education Throws Up A Roadblock to Online Education
Because restricting and controlling education is their real purpose.
The Department of Education is revisiting a fight it lost in 2012: to make states authorize every distance education provider that enrolls students within their borders. Ever since a federal judge struck down this requirement on procedural grounds, states have been able to exempt online programs from the authorization process as long as it's accredited somewhere else.
Otherwise someone might lose their phony-baloney job. Because educators are all about the kids. (thanks to Slu)
Cracked: 6 Unexpected Things I Learned Resisting the Nazis in WWII
#4. Nobody Is Who You Expect

Going to school, this girl, Tanya, was there. Her dad was a mayor of a big town, so she was wealthy. We always wondered, though: Why would she come from 100 miles away just for school? She was even friends with this girl who was the girlfriend to a member of the Hlinka Guard. She, despite being rich, would go to the poor areas at night. We always wondered why she went there. It wasn't until after the war we found out why.
One of these three school girls would go on to fight the Nazis and save Jews while another would become a Nazi collaborator. Can you tell just from the picture?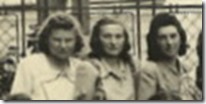 Also:  Who Goes Nazi?
The Joys of Socialism I: Where Bread is Nearly Free to Workers
If you can buy it.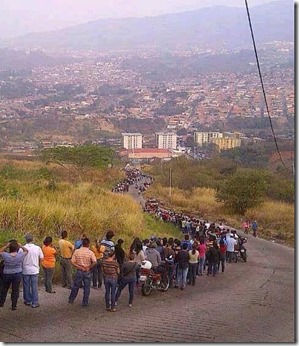 The Joys of Socialism II: Where the Government Orders Gas Prices to Stay Low
Assuming you can find any place willing to sell it.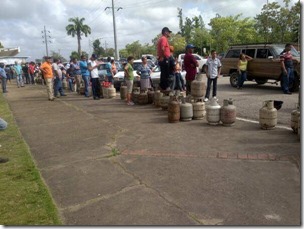 Beef and potatoes...very nice.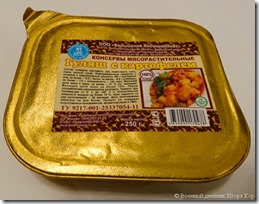 Karma is a Lovely Bitch Sometimes
But that wasn't enough punishment for the road rage thug who made headlines around the world last week for falling victim to a beautiful act of karma. Karma struck twice.

At the weekend he was arrested by authorities, Florida television news network WTSP reports. Not only for reckless driving, but for leaving the scene and failing to wear a seatbelt.

You could even say karma struck a third time, because police publicly identified him as Jeffrey White, age 33.
15 Antiquated Words for "Happy" We Should Bring Back
"CHIRKY"
From the late 19th century, meaning "cheerful."

"IN HIGH SNUFF"
An expression for "good mood," used from the late 17th century until the 1930s.

"KVELLING"
From the Yiddish for "so happy and proud my heart is overflowing."

"CHUFFED"
This current slang in the UK certainly needs to make a trip across the pond.
Rats Exonerated in Black Death
We traced the source of the infection and...it's coming from inside the house!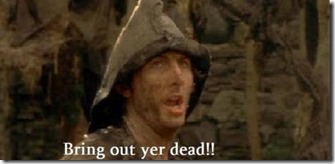 How to Make Crappy Cheap Vodka Taste Like the Good Stuff
Val-u-Rite + Brita = all class baby!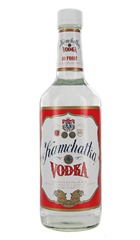 How To Beat Your Kids Properly
AceCorp LLC not responsible for anyone's actions after viewing this tutorial.
The AoSHQ group. Yeah.
Teh Tweet!
Tonight's post brought to you by guns of the Warsaw Uprising: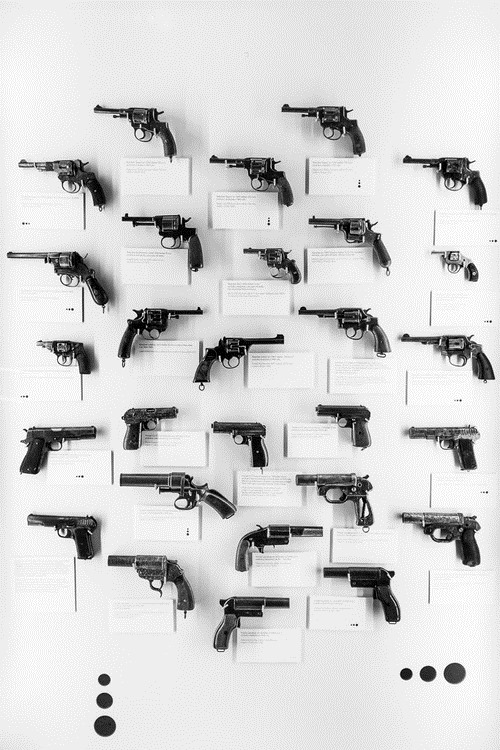 Notice: Posted by permission of AceCorp LLC. Please e-mail overnight open thread tips to maetenloch at gmail. Otherwise send tips to Ace.

posted by Maetenloch at
10:13 PM
|
Access Comments