« Sunday Morning Book Thread 03-16-2014: The Luck of the Irish [OregonMuse]
|
Main
|
Sunday Travel Thread: Viva Las Vegas Edition [Y-not] »
March 16, 2014
March 16th Open Thread (below the Travel Thread) for Politics [Y-not]
Here's your Open Thread to discuss politics and news for those of you not interested in the travel thread.
To get you started, the latest news from Venezuela continues to be bad.
People who want food need to get marked and then stand in outrageously long lines:

More about the food shortage courtesy of Fausta's Blog.
This in NOT a demonstration, this is a line to buy food in Venezuela. The result of 15 years of Chavismo.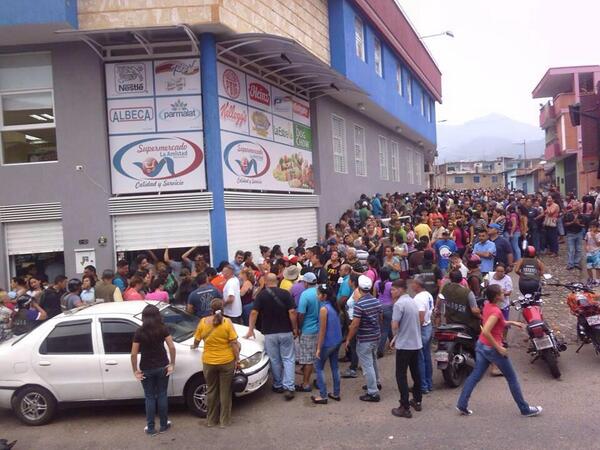 Finally, from the Catholic Register:
Deep economic problems and violent demonstrations in Venezuela have left Catholic charities struggling to supply food and medical supplies amid an increase in demand for services, said a top Catholic aid official.

"The situation has been getting worse over the last year, but now we're at the point where it has become very difficult for us to even find basic (food items) or to buy medications," Janeth Marquez de Soler, executive director of Caritas Venezuela, told Catholic News Service March 10.

Shortages of basic foods, rising inflation, high crime and political divisions have led to tense protests across Venezuela in the past month as opponents of President Nicolas Maduro and thousands of students have taken to the streets to demand changes. Demonstrations on several occasions turned violent, however, leaving at least 21 people dead and prompting the bishops of Caracas
I guess this is Obama's South American Spring.

Open Thread.

posted by Open Blogger at
01:40 PM
|
Access Comments