« Sun. Morning "Open Before The Book Thread" Thread [OregonMuse]
|
Main
|
March 16th Open Thread (below the Travel Thread) for Politics [Y-not] »
March 16, 2014
Sunday Morning Book Thread 03-16-2014: The Luck of the Irish [OregonMuse]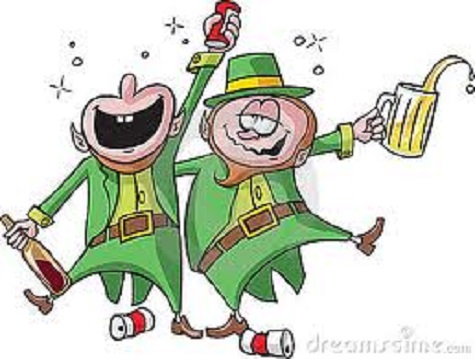 The Moron Meet-Up In Dublin Was A Huge Success
Good morning morons and moronettes and welcome to AoSHQ's prestigious Sunday Morning Book Thread.

Green Beer, Anyone?
May the road rise up to meet you.
May the wind be always at your back.
May the sun shine warm upon your face; the rains fall soft upon your fields and until we meet again,
May God hold you in the palm of His hand.

Tradition Irish Blessing
Faith and begorrah, tomorrow is St. Patrick's Day. With its emphasis on carousing, excessive drinking and vomiting, St. Paddy's Day is one of the three great moron-friendly holidays, the other two being the 4th of July (drinking and detonation of heavy ordinance ordnance) and Mardi Gras in Rio (drinking and scantily clad women).
So, other than downing pint after pint and throwing up on your shoes, what have the Irish ever done? Well, perhaps more than you'd think. This book, How the Irish Saved Civilization: The Untold Story of Ireland's Heroic Role From the Fall of Rome to the Rise of Medieval Europe, by Thomas Cahill, which is described as
the story of how Europe evolved from the classical age of Rome to the medieval era. Without Ireland, the transition could not have taken place. Not only did Irish monks and scribes maintain the very record of Western civilization -- copying manuscripts of Greek and Latin writers, both pagan and Christian, while libraries and learning on the continent were forever lost -- they brought their uniquely Irish world-view to the task.
There are a number of one-star reviewers who point out some historical inaccuracies, namely, that manuscript copying wasn't going on only in Ireland, but also in monasteries in Gaul and other places on the continent as well. Also, that the Irish monks got their manuscripts from the Benedictines, who deserve better than to be completely ignored.
Another, more recent, book along these same lines is The Secret Gospel of Ireland: The Untold Story of How Science and Democracy Descended From a Remarkable Form of Christianity That Developed in Ancient Ireland by James and Leo Behan. It further details the contributions to western civilization that had their origin on the Emerald Isle.

Real Books
Moronette Anna Puma sent me this series of photos of actual books. You'd think books with titles such as Another Bullshit Night in Suck City and The Jewish-Japanese Sex & Cook Book and How to Raise Wolves would be photoshopped fakes, but as you can see from the links, they're apparently real books. Many of them, anyway.

Disturbing Headline of The Week
Keith Richards Will Release A Children's Book This Fall:
Richards, the guitarist for the legendary rock group the Rolling Stones, said he is writing a book based on his relationship with his grandfather, jazz musician Theodore Augustus Dupree.
I guess that's OK.
The book will be titled "Gus & Me: The Story of My Granddad and My First Guitar" and will be released by Little, Brown Books for Young Readers via both paper and e-book format on Sept. 9. A CD will be included with the physical book.
That doesn't sound too bad. That headline still kind of creeps me out, though.
Also, in my yoot, the Stones were a young, new band. It's hard for me to think of those guys as grandfathers now.

Foreign Words
Ever walk away from a conversation thinking "Do'h! I should have said such-and-such!"? Well, the French have a word (phrase) for it: "espirit d'escalier", literally, "spirit of the staircase", from when you get plagued by belated insight as you're walking down the stairs afterwards.
Here are a few more. There is a Japanese word which I think might be the equivalent of our word "butterface". The word "bakku-shan" means a girl who is beautiful, as long as she is being viewed from behind.
And of course, there's the moron favorite "backpfeifengesicht", which is a German word for a face that badly needs punching.
From another, longer list, I learned the useful Czech word 'litost', which is an emotion described as a state of torment created by the sudden sight of one's own misery. What a wonderful word for these depressing, infuriating times.

Books of Note
Rush has been crowing about this all week: His newly released book for school-age children, Rush Revere and the First Patriots: Time-Travel Adventures With Exceptional Americans, is #1 on the Amazon chart. It has already gathered a number of one-star reviews, and they're pretty funny. I can just see them jumping up and down and shaking their tiny little fists with impotent rage.
___________
During my dental appointment this week, I overheard the hygienist that she purchased Deep Survival: Who Lives, Who Dies, and Why by Laurence Gonzalez as a gift for her father. I don't know anything about it, but the premise sounds interesting:
What impels people to risk their lives by climbing mountains or deep-sea diving? What confluence of forces leads to drastic accidents? Why do some people survive disasters while others perish? A renowned journalist intrigued with risk, Gonzales conducts an in-depth and engrossing inquiry into the dynamics of survival. Relating one hair-raising true story after another about wilderness adventures gone catastrophically wrong and other calamities, Gonzales draws on sources as diverse and compelling as the Stoic philosophers and neuroscience to elucidate the psychological, physiological, and spiritual strengths that enable certain individuals to avoid fatal panic and make that crucial "transition from victim to survivor."
___________
The 2nd book of Brandon Sanderson's Stormlight series has been out for a little over a week. If you're one of those who likes a good, long read, this is your lucky day: Words of Radiance weighs in at 1000+ pages, so that should keep you busy for the entire weekend.

Bulwer-Lytton
Every year since 1982, the English Department at San Jose State University has sponsored the Bulwer-Lytton Fiction Contest, a contest that calls for submission of the opening sentence to the worst of all possible novels. I thought the 2014 contest had ended and so I could pilfer book thread material from it, but I was wrong, it's still a few months off. So, in the meantime, here are a couple of choice entries from last year:
Mildred, sitting under the hair dryer at The Curl & Go and thumbing through a Victoria's Secret catalogue, felt a shudder and a fleeting moment of commiseration when she saw those tiny thongs the models were sporting in the name of underwear because, as it happened, her own butt cheeks tended to gobble up her Fruit of the Loom For Mature Women white cotton panties like a pair of starving wolverines fighting over a flatfish.
And this one had Mrs. Muse laughing so hard that she almost had An Unfortunate Accident:
Betty had eyes that said come here, lips that said kiss me, arms and torso that said hold me all night long, but the rest of her body said, "Fillet me, cover me in cornmeal, and fry me in peanut oil"; romance wasn't easy for a mermaid.

Books by Morons
Moronette Elizabeth Wolfe e-mailed to let me know that her new book is out. Volume 2 of her Loyal Valley series, Loyal Valley: Bystanders:
An unconventional enemy resorts to unconventional tactics. Determined to lure Lt. Col. Clint Donovan and his military intelligence team to their deaths, Number Seven's operatives make a deal with an Apache warrior whose cruelty is legendary even among his own people and whose involvement stirs up the torturous ghosts of Bella Donovan's past. A widowed horse rancher sends Clint timely warning, but even that can't prevent the Apaches from taking a neighbor's sons as bait for an ambush, and Clint's informant finds herself on the wrong end of Number Seven's wrath as a result of her actions. As Clint's choices set the stage for a cavalryman's finest hour and a town's hard lesson in courage, the same question arises time and again:

Is there such a thing as an innocent bystander?
She also says
...if any of the Texas 'rons and 'ettes are interested, I'll be speaking about Bystanders next Saturday (3/22/14) at West Texas Heritage Days at Fort McKavett, during the noon meal. I'll be there primarily as a reenactor, doing a calligraphy demonstration, but I'll have books for sale as well.
Elizabeth is also the author of Look Behind You (The Order of the Silver Star) mentioned here a few weeks back.
___________

So that's all for this week. As always, book thread tips, suggestions, rumors, threats, and insults may be sent to OregonMuse, Proprietor, AoSHQ Book Thread, at aoshqbookthread, followed by the 'at' sign, and then 'G' mail, and then dot cee oh emm.
What have you all been reading this week? Hopefully something good, because, as I keep saying, life is too short to be reading lousy books.

posted by Open Blogger at
09:55 AM
|
Access Comments