« Open Thread for Politics and News [Y-not]
|
Main
|
Saturday Car Thread 03/15/14 - [Niedermeyer's Dead Horse & Countrysquire] »
March 15, 2014
Saturday Yard and Garden Thread: Zombie Edition [Y-not and WeirdDave]
This thread brought to you by Be Prepared: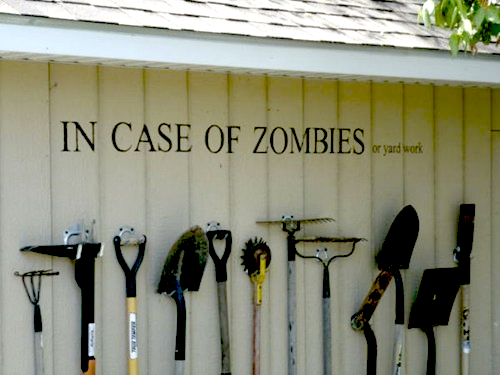 In case of zombies (or yard work) via The Orange.
From your host, WeirdDave:
Y-not has been on vacation this week, so the bulk of the gardening thread falls to me. She has promised to contribute some photos, perhaps her standing in front of the world's largest ball of kittens, or maybe this place: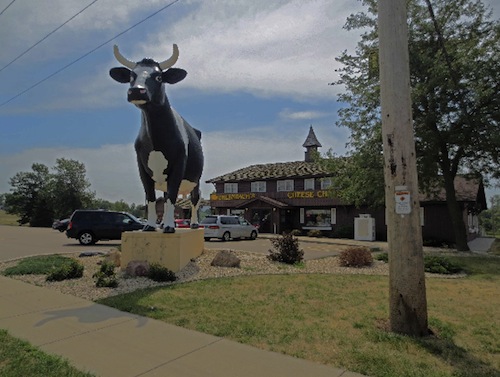 This is my favorite cheese shop, Ehlenbach's, in DeForest, Wi. The town's off to the left here, but unfortunately you can't see DeForest for the trees.
Accordingly, I'm going to have to play it pretty straight this week. There will be no jokes, puns or satire anywhere in this post. Let's start off with the news. It seems a farmer won the mega millions this week. When asked by his local news station what he planned to do with the money, he said he'd probably just keep farming until it's all gone, and really, who can blame him? The only other thing he could do with money like that is the traditional, namely buying slum housing and then making the poor people who live there beg to be allowed to stay instead of being thrown out on a cold winter night. Jolly fun that, but not practical in his area of limited population, where strong Christian values and traditions of charity infest the towns.
So, we're now into the second half of March. It's planting season, or it should be. Somewhere in this country, I'm sure it is, but here in Maryland we're expecting snow again this weekend, and parts north just got upward of two feet. Globull warming, dude! I am planning on starting tomato seeds this weekend in an indoor plastic greenhouse. I should have nice sized plants when they go out in 6 weeks or so. Who has what started already?
Here's a video on square foot gardening. I used this method years ago and think I'm going to go back to it at least in part this year. I'm ditching the plans for digging out the whole garden and installing subsurface irrigation, at least for this year. No time or money at the moment. Throwing up a couple of 4 X 4 raised beds as shown in the video is something I can easily do over the next few weeks:
Here's a story from a couple of years ago that I'm glad didn't happen last week or I would suspect that someone had read my "bodies as fertilizer" column and taken it seriously: Teen Gets 25 Years for Shovel Murder. (Note: If the link doesn't work for you, try entering the url into your browser: http://voices.washingtonpost.com/crime-scene/montgomery/teen-gets-25-years-for-shovel.html)
Apparently moron Rex Harrison's Hat (not to be confused with sock champion moron The Fill-In-The- Blank Hat) thinks that I have no ideas for this thread and sit around desperately hoping for someone to do my job for me. Wait. That actually describes me perfectly. *AHEM* Moron poster Rex Harrison's Hat shared this link with me VIA Twitter this week about a cool new way to start some types of vegetables. I like it because I'm lazy as.... something or other, whatever, make up your own simile, who cares?
Here's a picture: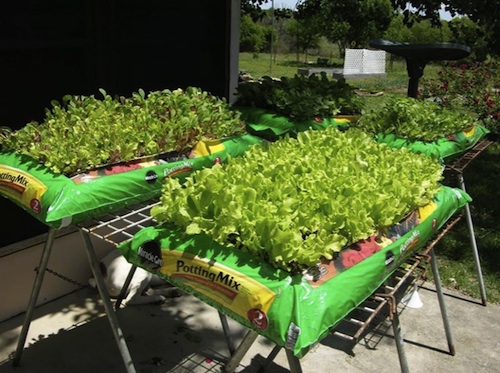 It's almost impossible to be lazier than this, but I bet it works well. Here's the link to the face book post about it. Great idea.
Speaking of Facebook, one of my friends posted this picture of an herb garden she is pestering her husband to make.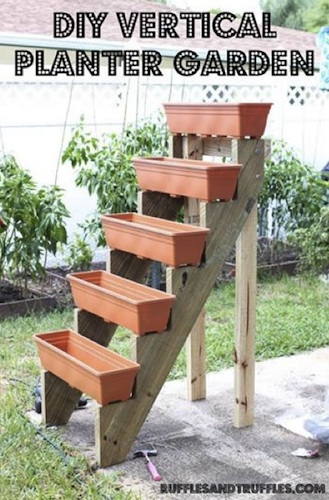 She wants to make hers one step taller because she's a lady who's sure that her plants will grow bold if she builds them a stairway of seven. Pretty neat for small spaces.
Finally, by popular demand, heirloom tomatoes. Several people have requested that we talk about heirlooms, so we will. Here's what Wiki says:
An heirloom tomato (also called heritage tomato in the UK) is an open-pollinated (non-hybrid) heirloom cultivar of tomato. Heirloom tomatoes have become increasingly popular and more readily available in recent years. According to tomato experts Craig LeHoullier and Carolyn Male, heirloom tomatoes can be classified into four categories: family heirlooms, commercial heirlooms, mystery heirlooms, and created heirlooms. They are grown for a variety of reasons, such as historical interest, access to wider varieties, and by people who wish to save seeds from year to year, as well as for their taste, which is widely perceived to be better than modern tomatoes.
I don't really know much about heirlooms, despite the fact that I seem to grow some each year (as I mentioned before, I'm in my third year of growing tomatoes seeded off of a Campari tomato that sprouted, that apparently makes what I'm growing an heirloom), but I'm sure that some of you morons will be glad to tell us all about them in the comments. And that's it. I'll try to have something silly and stupid to say next week.
And now from your co-hostess, Y-not:
Last weekend Mr Y-not and I did a lot of yard work (by our standards, anyway), getting the beds ready for planting. The soil mix of garden soil, vermiculite, and peat that we used last year had settled a bit, so we added some more. It was a beautiful day for working in the yard: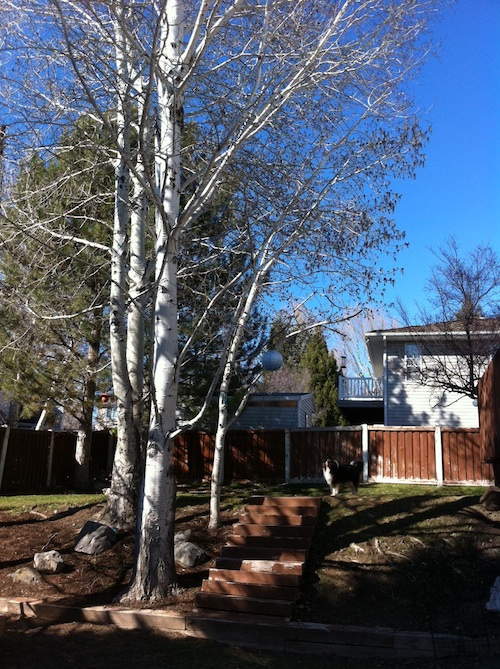 Now last year when I put the beds "to bed" for the winter, I did not pull out all of the plants. I left the herbs and a couple of flowering plants, just to see if they'd over-winter. (I had intended to cover them with leaf litter, but our lawn guys took them all away before I'd had a chance to tell them of my plan.) In any event, it turns out quite a few survived the winter, including both types of thyme, savory, culinary sage, and oregano. We even have some small lettuces left, which either survived somehow or perhaps they self-sowed: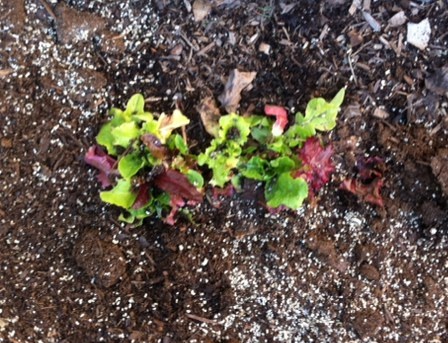 The Plan was to go ahead and plant seeds of cold-hardy plants last weekend – I was thinking of beets, snap peas, lettuce, spinach – but I ran out of steam. Good thing, too, because this happened a couple of days later: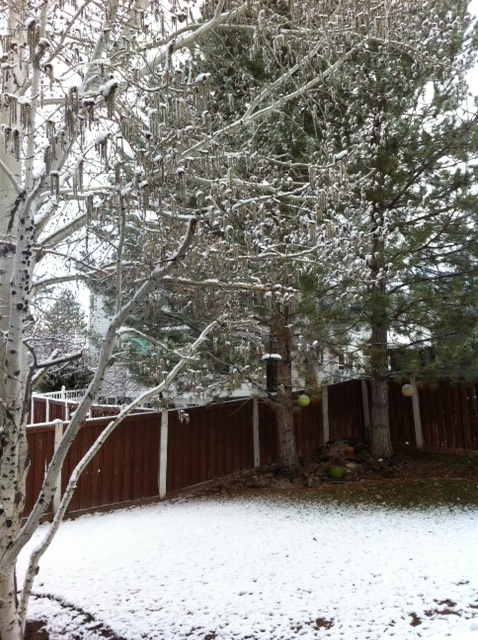 So like any hard-core gardeners we jumped into the car and headed down to Las Vegas. Much nicer weather and the plants were NOT covered in snow!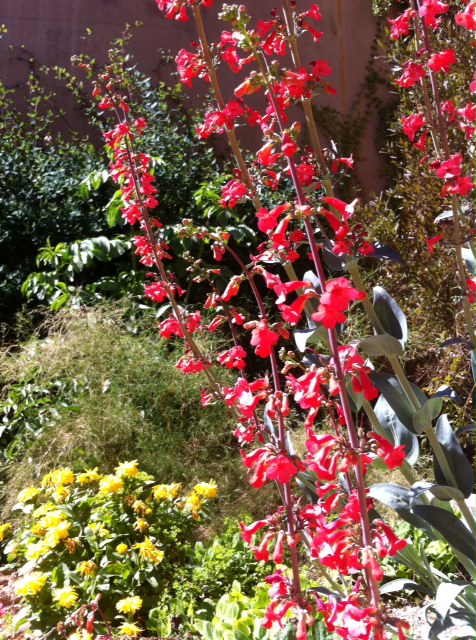 (More about the botanical gardens I visited in next week's gardening thread.)

To wrap things up, here's your Blog of the Week: Natural Gardening. The blogger, Lisa, describes herself as an educator in Clemson, South Carolina. (My guess is she's either a professor or an extension person given the number of powerpoint presentations she has on her blog.) Anyway, she calls herself a "wildlife gardener." Her blog is filled with a lot of nice ideas for naturalizing your garden. Check it out!


posted by Open Blogger at
12:04 PM
|
Access Comments