« Saturday Thread for Non-Gardening Discussions [Y-not]
|
Main
|
Saturday Car Thread 03/08/14 - [Niedermeyer's Dead Horse & Countrysquire] »
March 08, 2014
Saturday Afternoon Yard and Garden Thread: Q Branch Edition [Y-not and WeirdDave]
This thread brought to you by SPIDER ROBOT LAMPS!!! :
Good afternoon, morons and moronettes! Welcome to your Saturday Gardening Thread. Today's "topic" is gardening trends and gadgets. To get in the mood, put on your tux, light a cigarette, and pour yourself a dry martini (shaken, not stirred).
The Home & Garden Show season is in full swing, which is to say that it seems to be nearly over in much of the country. However, our local show is this weekend, so it only just now hit my radar. Never having been to one of these shows before, I didn't know what to expect. So armed with my trusty camera phone and the $10 admission fee, I headed off to the show on Friday afternoon. The sacrifice it required for me to mix and mingle with the Great Unwashed Masses inside a hot, chaotic convention center when I could have been enjoying a beautiful Spring day was considerable, but what can I say? I'm a giver!
I arrived shortly after the three-day event opened. The venue was large, noisy, and poorly ventilated. It took me about an hour and a half to walk up and down all of the aisles too look at all of the booths, stopping at a handful that interested me.
Upshot? It was much more of a "home" than a "garden" show. So my dreams of having tons of content for today's post were quickly dashed. I did find the mix of displays to be "interesting". In addition to the usual home improvement contractors, there were a few cheesetastic crafts booths, a bunch of cookware displays (and demos), numerous chiropractors, one baker (I bought a loaf of pumpernickel bread from them), MANY MANY mattress displays, even MORE booths hawking sheets, some financial planners, and a couple of crematoria and mortuary booths! Sadly, the crematorium one was not directly adjacent to the barbecue display – THAT would have been comedy gold!
Out of hundreds of displays, there was one unique one displaying prototypes of a hydroponic wall system. The idea is that you'd mount this self-contained unit on a wall in your house. The inventor claimed that using this system you can grow several heads of lettuce (or whatever plant you choose) each week. (There is also a light fixture, but they had not gotten that set up yet so it's not in the photo.) Anyway, it was the most unusual thing I saw there so I thought I'd share it with you:
Wall-mounted hydroponic growing unit developed by Fahrenheit70.
I gotta say, there is a certain appeal of having a wall-mounted system for growing herbs, if it actually worked and was attractive. I'd rather have that than potted plants cluttering my kitchen window sill.
If you are interested in attending one of these shows, here are some resources to help you find where and when they're being held: Listing of home and garden shows in North America, courtesy of one of the trade show organizations and a searchable database of home and garden shows courtesy of FestivalNet.
So aside from Killer Robot Spider Lamps, what are the hot trends for your garden this year? According to the Lawn and Garden Retailer magazine, here are some of the things to look for 2014. (You'll note how on-trend this blog is – we hit the first one right out of the gate!)
1. Ground Up: Recycling food scraps and creating compost is the new recycling.

2. Super Foods, Super Models: Edibles are going to the next level with foodies growing everything from quinoa to dandelions in straw bales and keyhole gardens.
What's a "keyhole garden," you ask? Well, it's a type of circular raised bed with an active compost pile in the center. The keyhole refers to a notch in the structure that extends to the center of the bed for access to the compost pile.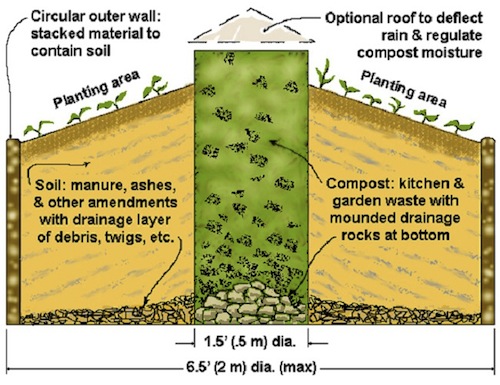 Diagram of a keyhole garden design taken from the Inspiration Green website.
Keyhole gardens were popularized in Africa, but work very well in other hot, dry climates. They can also be quite attractive: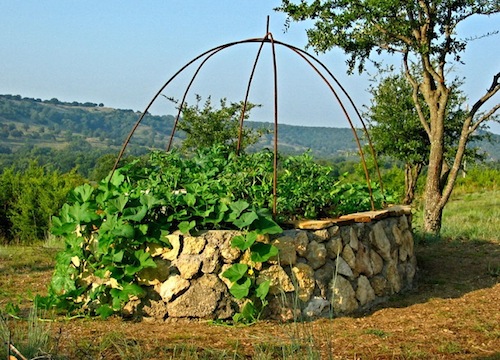 Example of a keyhole garden in Texas builty by Deb Tolman (www.debtolman.com).
Make sure to follow the link to read more about these cool garden structures.
Back to the trends list,
5. Bee-neficials: It's all about the bees this year. Bees are at forefront of environmentally aware consumers' minds, inspiring them to plant native, pollen rich flowers, trees and veggies to provide safe shelters.
Don't we have a few bee-keeper morons and moronettes here? If there's enough interest, we can devote a post to this topic. I admit, I know nothing about bee-keeping. Courtesy of Popular Mechanics, here's a quick primer on getting started keeping your own bees.
9. Young Men Get Down and Dirty: Big surprise here: young men 18-34 are spending $100 more than the average gardener. They are grilling, growing their own hops for beer, and taking the kids out to play in the dirt.
I guess this makes sense, although I'm not sure I'd classify a 34 year old as "young," despite my advanced age. It's also a good excuse to post this picture of a somewhat older man getting "down and dirty" for the moronettes: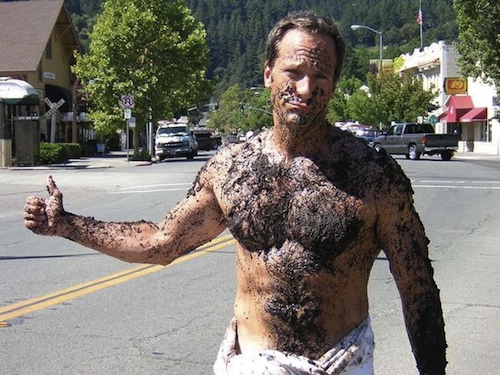 Three words: Shirtless Mike Rowe. You're welcome, ladies!
(BTW, Mike Rowe is popular with older ghey dudes. Don't ask me how I know. shudder)

Finally, per the gardening trends report
11. Fingertip Gardens: Gardens go high tech with mobile apps and technology.
I found some great lists of high tech garden gadgets at Mashable and Urban Gardens. A lot of these gadgets are designed to remind us to feed and water our plants, so I guess I'm not the only forgetful gardener out there!
To wrap things up, this week my Blog of the Week is not really a blog, per se, but the Utah State University Cooperative Extension site. It's really quite good. In addition to gardening and agricultural information, there's also quite a bit on food preservation and storage, which I think is of interest to some of our morons. If there's one thing Utah is known for, it's PREPPERS!

And now for the comedy stylings of WeirdDave!
(Please note: it should go without saying, but this post is a work of satire, as are most of my gardening posts. SAT-IRE. Google it. Then read Swift, Jonathan "A Modest Proposal". Then lighten up, Francis)
Today we're talking about gardening gadgets. There are any number of labor saving devices that one can deploy to make their gardening life easier, but one in particular comes to mind. It is endlessly efficient, yet be warned that it can be difficult to work with. You can get many, many years of productive use out of one, and in fact it is a generational tool. Properly treated, it is a tool that will in the fullness of time produce other tools that will make the toil of your twilight years immeasurably easier. Acquiring one, however, is not for the faint of heart, and care and maintenance is a full time job in and of itself. I am talking of course about a kid.
A kid is the perfect gadget to make your gardening life simple. Properly utilized you can support one on just a small portion of the food that it raises, leaving the lion's share of the harvest for your enjoyment. Kids also enjoy working outdoors with their hands and have a primal connection with the soil. Put a kid to work in your garden and it will be grateful for being given a purpose in life.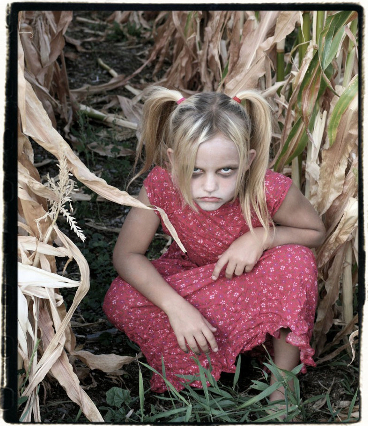 Pictured: Gratitude
The hard part about deploying a kid in your garden is acquiring one. Kids are literally everywhere, so you would think it would be easy just to pick one up without anyone missing it. Such is not the case. The quaint kid dealer, operating out of a rusty Dodge van with the traditional "Free candy" logo is a thing of the past. Kids are able to bite and scratch so it's hazardous to attempt to harvest a free range one from a local playground, and other people value their children for the work they do in their gardens, so they tend to keep a weather eye on them. No, the way to go is to produce one yourself, but I warn you, the process is daunting.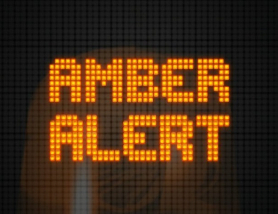 Back off buddy, my peas need picking, get your own.
The first thing you need to produce your own kid is a woman (this guide is written from a male perspective. I have no idea how, or even if, women think). Women are all over the place, they're the ones with the bumpy things on their chests. In order to produce a kid, you must find a likely woman ( Pro-tip: not all women can produce kids. For best results find one between the ages of 18-40 ). Once you've located a woman, you must approach her. Your approach should be tailored to the woman you chose. With younger women, a conversation about vampires and werewolves works well. Women over 30 are more likely to respond to overtures featuring feelings, approval of nesting behaviors and an admiration of something called "knick-knacks". A longing to "make a good home with someone" and a desire to "love unconditionally" can enhance your appeal. Once you find a good woman, the wooing commences.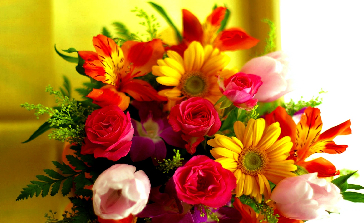 Woman bait
Wooing is a very complicated subject that is probably beyond the scope of this guide. There are plenty of very informative resources available online, Google them. The end game here is to convince a woman to mate with you, and that's where the horror begins. I am presenting this information here in a clinical manner. We are gardeners, we pit our wit and ability against the unfeeling anger of Mother Nature. Our calling is not for the faint of heart, and as distasteful as this section may be, I ask you to find the nerve inside yourself to absorb the information with a stout heart. I ask this not lightly because in order to produce a kid of your own, you must engage in.......sex.
At some point after you have located a woman and wooed her, you will find yourself alone with her, probably in a bedroom, and the two of you will disrobe. Standing naked before each other, it's time for the sex to begin. Observe the woman. Notice that while you have a proud pee pee, she does not. Do NOT feel sorry for her lack, and most especially do not point it out to her, it's not her fault, nature made her that way. Reminding her that she doesn't own a willie will only lead to bad feelings. The first thing you have to do is make your pee pee stand up. Stroke it gently and tell it how much you like it. Flatter it. Soon enough it will become interested and stand up tall and proud. You'll be able to look right at its hole and it will look back at you (true fact: this is where the phrase "seeing eye to eye" comes from). Ask your wooed woman to lie down. Here's where it gets ugly.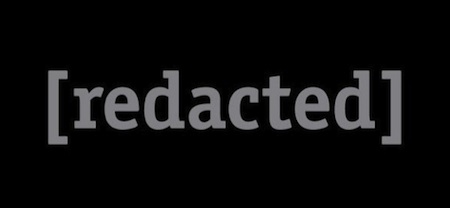 Sex
If you examine the nest of hair the woman has between her legs, you will find that there is an opening there. You must (shudder), put your pee pee into this opening. Once it's in, slide it out, but unfortunately not all the way. Push it back in (I know, I know). Do this again. And again. Keep doing it until a warm feeling envelopes you and your pee pee does something like peeing (pro tip: It's NOT peeing. Do not pee at this point or most likely you'll have to start all over again finding another woman. If she doesn't demand this, forget gardening, your life is about to become a carnal hell from which you won't escape. Word to the wise). At this point it's traditional to say something meaningless, "You were great, baby" usually suffices. Now you wait. If you're very lucky, within a few months your woman will start to make a baby out of food. You'll know this is happening because she'll start to glow and put on weight, plus when you come home she'll greet you with a drawn gun and a demand for pickles and ice cream. (pro tip: Get them for her. For God's sake, get them for her. Immediately) If you're not lucky you'll have to do the "sex" thing again until it takes. 9 months later your very own kid will arrive! Now you can start training him or her to garden for you. This process takes some years and really should be the subject of another post.
I apologize for the graphic and horrifying nature of this post, but if you want the ultimate garden gadget there really isn't any other way to get it. I know the process described herein is distasteful, but the results are well worth it. My hope is that the garden labor saved by utilizing a kid will, in time, more than compensate for the terrifying method that is required to get one.

Happy gardening!


posted by Open Blogger at
11:43 AM
|
Access Comments