ę Saturday Afternoon Yard and Garden Thread: Q Branch Edition [Y-not and WeirdDave]
|
Main
|
No Accounting For Taste - [Niedermeyer's Dead Horse] Ľ
March 08, 2014
Saturday Car Thread 03/08/14 - [Niedermeyer's Dead Horse & Countrysquire]
Good afternoon my lovelies.
Letís get to it.
Chrysler orders that donated Vipers be destroyed.
Iím not in the least bit worked up about this. Itís a shame but the colleges had an agreement with Chrysler and abuse of that agreement cost Fiat millions. Further, the college admits that there is little educational value in the car. Then, thereís this little bit of wackiness:
ďItís like the day Kennedy was shot,Ē Norm Chapman, automotive technology professor at SPSCC, said. ďNo one will forget where they were when they heard the news.Ē
Get some perspective, dude.

An old story, but a good one: A 102-year old man owned the same car for 78 years: A 1928 Rolls Royce.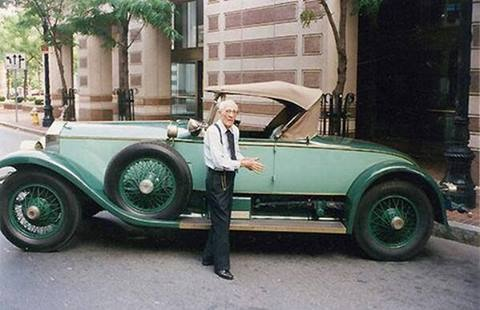 The science is settled! Marijuana contributes to deadly car crashes.
Not so fastÖ
Is pot really to blame for these accidents? Unlike alcohol, marijuana can remain in the bloodstream for weeks after it has been consumed -- possibly affecting driving skills, possibly not. (Consider this: CNN found that Washington's limit of five nanograms of THC per milliliter of blood wasn't nearly high enough to negatively impact driving.) The study's authors caution that their findings don't indicate that the drivers were impaired from pot at the time of their accident, only that they had used pot sometime in the recent past.
Beware Mother's bearing scientific "data".

Lifestyles of the rich and infamous:
It seems that "Wow!" means the same thing everywhere.

Beauty of the week:
I can only think of a couple cars introduced in the last dozen or so years which are worth as much now as when they were new, and neither are getting cheaper. The incredible Ford GT is one, and the BMW Z8 presented here is the other.
While itís hard to argue with the opinion that the Ian Callum designed Aston Martins are the most beautiful cars of this generation, I feel the Z8 deserves the spot at the top. While BMWís goal was to build a car that looked like a modern day 507, and it did capture the grace of that car, the proportions and aggressive stance made it something of a modern Bavarian 427 Cobra. And thereís not a bad line on the car, itís wonderful from any angle, an achievement very few cars can claim. From the retro interior with the banjo steering wheel, to the neon taillights, I love everything about it. Plus, it powered by the 4.9 liter V8 from the E39 M5, so itís got that going for it. Simply superb.

Cruising tune of the week:

For the Moronettes:

For the Morons:
And a bonus pic:
Please feel free to send any complaints or commendations to us at Nied's Dead Horse and Countrysquire.

posted by Open Blogger at
03:15 PM
|
Access Comments