« Saturday Afternoon (Open) Thread for Politics [Y-not]
|
Main
|
Surprisingly, Obama Skips Out on Important National Security Briefing on Ukraine »
March 01, 2014
Saturday Afternoon Yard and Garden Thread: Make Your Bed Edition [Y-not and WeirdDave]
Good afternoon, morons & moronettes. Welcome to your Saturday Gardening Thread!
This thread brought to you by "Thanks for the snack!":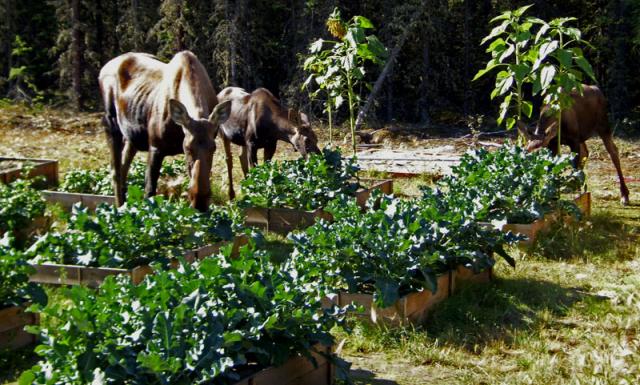 By the way, this guy was no help at all!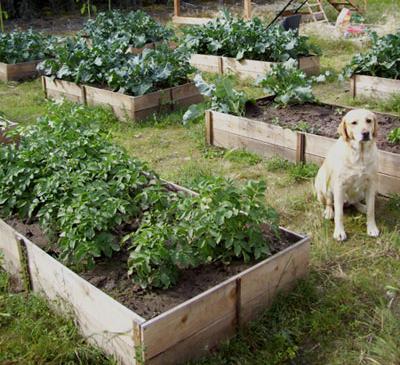 Everything you (n)ever wanted to know about raised beds below the jump.

From your host, WeirdDave:
Well, I've been sick for most of the week, and I'm behind on lots of stuff and I have to be up early Saturday morning, so this one's going to be quick and dirty. Since the subject is raised beds, I have one on topic story.
Gingy and I met online. We both frequented a message board that I decline to name that was fun and interesting and also unfortunately infested with some of the most brain dead progs you'll find on the internet. Lots of cool, fun people, but when politics came up the idiots and assholes appeared. She avoided the political stuff (which you could do, it had different forums) and I spent too much time trying to teach pigs to sing. (Funny story-I got banned from there after another poster held forth for the nth time about the warmongering Israelis and the innocent peaceful Muslims they victimized. I said "OK, asshole, here's the deal. Lets you and I fly to Jerusalem-my treat. I'll pick up the tab, flights, room, board, all expenses paid. All you have to do is walk around the West Bank for an hour wearing a sandwich board that says in Arabic "Allah loves the IDF". Hell, I'll even wear a "G-d loves the PLO" board and march in front of IDF HQ for a whole day. How about it?" For some strange reason he demurred. I kept hounding him about it, challenging him to take his free vacation, and I got banned for "Wishing death on another poster", which, if you're not too blinded by ideology to see (they were), kinda proved my point.). Anyhow, 10 years ago, I made a post about raised beds which I'll copy here:
"These past couple of weeks, my wife has been complaining of dizziness because of her pregnancy. It was happening in the morning when she got out of bed, in the evenings after lying there watching TV, it was making her really uncomfortable. She said the only solution was for her to get high, and she wanted my help. Reluctantly, I agreed. I checked with some of the major dealers, but they wanted too much money, hell, the Swedish dealer wanted over $200! Luckily, I knew a place, down in the warehouse district off Grundy St. where I could get what she wanted for a lot less. This evening I went down there and scored just what the doctor ordered for only a little more than $50! I was pretty jazzed to have saved that much money. I came directly home, I'm pretty sure that nobody I know saw me. Getting it into the house was tricky, we had to make sure our young son Matthew was out of the way, but we successfully got it into the bedroom and closed the door. Now my wife is lying in there, nice and high with a smile on her face. I'm a good husband. ;-) ( Although when I finish up here, I'm going into the bedroom and you better believe that I'll be high too.) "
I titled it "Helping my wife get high". Most people got it, but a couple didn't and they got offended that I would give drugs to my pregnant wife (I never mentioned drugs. I didn't actually mention raised beds either, but that's what it was about. I got an extra box spring, it was easier for Gingy to lever her pregnant self on and off a high bed rather than a low one). "What about the baby?!??" they squealed! "Drugs could harm him!" (I didn't think about it until later as at the time I was just in my final lap of converting from pro-abortion to pro-life, but if I had posted "We've decided to kill our unborn child" nobody there would have said boo.) A particularly humorless moderator closed the thread fairly quickly, but there you have it: My one and only experience with raised beds.

And now from your co-hostess, Y-not:
"Farm Report" from Zone 7a in Utah
We had a delightful warm spell for much of last week, but are now back to grey cold weather, complete with drizzles. A quick tour of the vast quarter acre estate at Casa Y-not last week reveals the following signs of Spring:
One of our aspen trees (we have six) has suddenly burst forth with lots of buds, which is exciting as there is nothing better than listening to the leaves rustle in the evening when the canyon breezes pick up.
A few of the smaller branches on our shrub roses are showing signs of greening up, so I'll be pruning those when we get a dry day around here. Last year I pruned them back before winter and they did fine, but this time around I just cut off the excess growth and dead flowers (so the snow wouldn't weigh them down and damage the bushes) and decided to wait until Spring to prune them. I'll let you know how that goes.
I also discovered that some of our lettuce plants in our raised beds either survived the winter or have already sprouted or self-sown. I wonder if this means I should start planting something soon?
What should/could you be planting now?
What can I plant now? Well, per Urban Farmer, apparently there are all sorts of things, including beets and broccoli. I tried broccoli last year, but the plants got too big and bolted. Maybe I'll try beets this year. I love roasted beets in a salad.
Another resource, called Gardenate.com, allows you to enter in your plant hardiness zone and check to see what you should be planting each month.
Apparently, those of us who are still at risk of having more snow don't have to let that stop us! The folks at GardenDesign.com provide a handy step-by-step guide for sowing in the snow. As I recall, several of our morons (and 'ettes) swore by this technique on earlier threads as a great way to develop very hardy plants. The idea in this case is to repurpose plastic milk containers as miniature greenhouses into which you place soil and seeds. Then set them outside where they can be snowed on, rained on, and "sunshined" on until the seedlings are ready to transplant. Looks cool!
Let's talk about raised beds
Cursed as we are with hard, root-riddled clay soil here at Casa Y-not, the mister and I quickly realized that if we were going to get anything to grow, we'd need to install raised beds. After one year's experience all I can say is "Where WERE these when I was growing up!?!"
Being impatient to start, I did very little research into the hows and whys of this kind of gardening beforehand. Even without that preparation, we had decent success right out of the gate and are really eager to get an earlier start this year now that the beds are already built.
If you haven't done raised bed gardening before, there are many great primers on the subject, including this one courtesy of Popular Mechanics that surveys the basic concept, considerations in locating your bed, and design ideas. I confess that jumping in as we did (and, again, being very lazy gardeners) we did not try to incorporate an irrigation system nor did we consider the idea of building the frame for a "greenhouse" structure to cover them. Both seem like good ideas to me (although, frankly, I really do enjoy standing there with the hose each day watering them).
Courtesy of DougGreensGarden.com, here's a handy troubleshooting guide to address some of the downsides with raised beds.
Now that you have some of the basics, let's talk a little more about designs. You can make them out of all sorts of materials, from stone to concrete to "polywood" to lumber. If I had a lot of money, I'd definitely go with something like the ones featured in this picture from Better Homes and Gardens: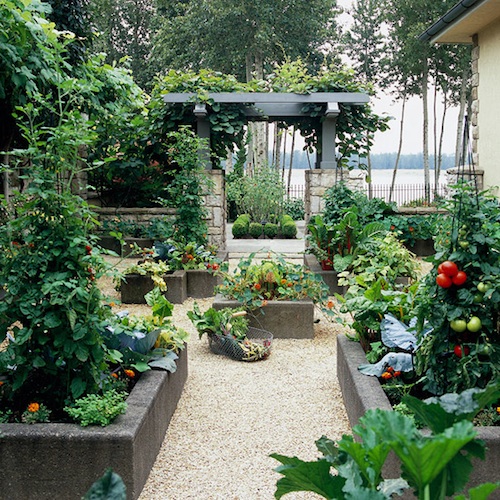 What a gorgeous garden. I hope the greedy one-percenters who own this garden are Republicans, at least!
Not having won the (non-existent) Utah Lottery, we settled for something considerably less grand:
Three of our five raised beds are located in the sunniest part of our yard, on the southern side.
I looked long and hard for the tallest, largest bed I could afford. These beds are 4 foot square. The deep section is 18 inches tall and the lower level is 9 inches tall. The trellis (which was a bitch to assemble) extends 36 inches above the upper bed; it was great for our early Spring snap peas, but not much help for the tomato plants we put in later on. One thing I especially like about this particular kit was the use of long metal pins in lieu of screws for assembly. So, in theory, we can disassemble and move them, should we desire. Two of the beds (not pictured here) are under our aspen trees, so we may wind up moving them if and when we get around to that dryscaping (patio) project I mentioned a couple of weeks ago.
Sadly, they don't seem to offer these bi-level beds for sale at present, but the single-level version seems to still be available. (I think ordering through Amazon helps the Head Ewok pay the monthly waxing bills.)
Alternatively, there are many raised bed designs available on the web. Here's one I thought was particularly good courtesy of Sunset Magazine. This design measures 8 feet by 4 feet and costs $172 to build.
I have to say, I think most raised beds out there are simply too short. (I guess, like Gingy, a bed can never be too high for me!) What can I say? I don't like to bend at my age. And, I'd like the option, at least, of planting things that have deep roots. Speaking of which, Earth Easy provides handy charts detailing plant heights and soil depth requirements to help you plan your garden.
Once you've set up your beds, you'll need to fill them. The good people at Gardeners.com provide this handy calculator for estimating your soil needs. (I realize this is child's play for 99% of morons and moronettes, but based on what I've seen from the current administration, "Math Is Hard!").
Flying blind last year, we filled our beds with a mix of garden soil, peat moss, and vermiculite, which turns out to be not too different from what some people recommend. There was some soil settling over the winter, but we expected that and will be adding to the beds before planting again. Make sure to follow that link for other soil mix recommendations.
What sort of experience do you folks have with raised bed gardening?

Blog of the Week
While I was cruising the internet this week learning about winter sowing, I stumbled across A Garden for the House by blogger Kevin Lee Jacobs who lives in the Hudson Valley (zone 5-b). I loved the mix of gardening, food, and lifestyle posts, so it's my Blog of the Week.

To wrap up this week, how about a gardening-related song? Here's comedic song-meister Heywood Banks performing "The Weasel" (an ode to the garden weasel):
Happy gardening!


posted by Open Blogger at
04:55 PM
|
Access Comments