« Justified, Person of Interest Back on Tonight
|
Main
|
Top Headline Comments 2-26-14 »
February 25, 2014
Overnight Open Thread (2-25-2014)
I'll be on the road for the next week so the ONT will be a bit...unsettled. So expect the not so expected.
Thought For the Day: Anger Is Not an Agenda
Anger is not an agenda. And outrage, as a habit, is not even conservative. Outrage, resentment, and intolerance are gargoyles of the Left. For us, optimism is not just a message - it's a principle. American conservatism, at its core, is about gratitude, and cooperation, and trust, and above all hope.

It is also about inclusion. Successful political movements are about identifying converts, not heretics. This, too, is part of the challenge before us.

-- Sen. Mike Lee (R-UT)
Do Conservatives Keep "Falling in Love With Bad Boys" in Politics?
Matt Lewis:
Political candidates who pick the right enemies are too often supported, regardless of their failings. Most recently, we have seen this in the effort to oust Senate Minority Leader Mitch McConnell. McConnell, of course, is no conservative hero, but conservatives were too quick to latch onto a flawed replacement.

Matt Bevin's campaign has been plagued with mistakes and odd revelations (did he really go to MIT?), the most recent of which is that he signed a letter in support of TARP. Bevin's in a different category from Trump and Nugent, but conservatives are supporting him for many of the same reasons, including the fact that he has the right enemy. For a lot of conservatives, it's better the devil you don't know than the devil you do.
Jazz Shaw:
No matter how much you may love to hear some people set their own hair on fire and spout out some really over the top, world class invective, Matt's point is a fair one. Winning in politics involves, well. winning, and there are still some lines that are only crossed at significant risk. Some actors on the political stage tend to cross - or completely shatter -those lines, and while the entertainment value is high, they risk becoming clowns in the eyes of many voters who may be more cautious. And when you endorse the clown, you become part of the circus by default.
Andrew Klavan on Purity vs Strategy
All my sympathies, in other words, are with the tea party. And I would truly love to see the RINO's skewered on their own horns.

And yet. In general, Tea Party candidates tend to do well in congressional races where small, homogenous districts are in play. In Senate races where you need votes across an entire state, a primary victory for someone like Christine O'Donnell or Todd Akin may briefly fill the conservative heart with joy, but the loss of a Senate seat that could have been won is simply too high a price to pay for that momentary triumph.

We need to talk this out with good sense and without pompous ranting. Politics is the art of the possible. Writing belligerently purist articles, blog posts or comments is relatively easy. Winning elections is hard. Barack Obama is one of the most destructive presidents this country has ever seen, but a talented politician. If stopping him in his tracks requires stomaching some RINO's here and there, it seems a no brainer: It must be done.
A troubling, but plausible, argument from @ryanavent on why we need fewer workers: http://t.co/l9XiELKhAH

- Ezra Klein (@ezraklein) February 19, 2014
And Ezra Klein along with his number one most favorite-est president ever are just the guys to do it. Meanwhile there seems to be a bit of musical chairs going on as longtime journalists are being lured to new outlets by a media feeding frenzy. Which leads William Jacobson to declare that "Journalists" are the new no-money-down mortgages.
So we're somewhere on this curve and I'm guessing it's between greed and delusion: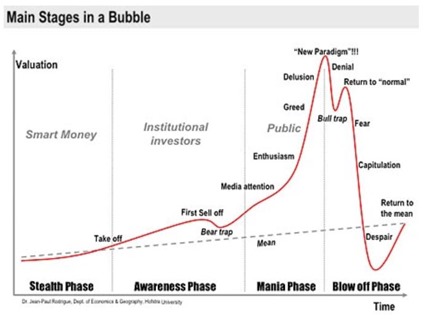 Most front-line TSA agents despise the absurd rules they are ordered to enforce just as much as the public whose items are confiscated due to the rules. Ask almost any TSA employee what his or her least favorite part about the job is, and the answer will usually include a long list of managers, federal security directors, and other higher-ups.

My six years at the TSA played out like a circus of absurd security regulations, presided over by a coterie of managers who, for the most part, made the Keystone Cops look competent.

There was the manager who was arrested for fleeing the police after being involved in a marijuana bust (and who was then back at work soon after, with barely a slap on the wrist). There was the manager who ordered all aluminum foil be confiscated from passengers due to the possibility of the boxes' serrated edges being used as weapons. There were the many managers who tried to have TSA employees terminated for gum-chewing - claiming that there were terrorists casing the airport, looking for gum-chewing screeners with their defenses down.
But in all my years at the TSA, the most absurd memo passed down from headquarters to front-line TSA employees - a memo that eventually took on legendary status among many screeners - came in 2012.

One morning at briefing, my supervisor at the time - an old, gruff, no-nonsense man with an irreverent sense of humor - told us to gather around, as there was something important to brief.

"This comes down from the folks up in D.C.," he said. "So listen up."

The memo advised the entire TSA workforce that terrorists were plotting to use solar powered improvised explosive devices in order to harm aviation interests. But not to worry: TSA headquarters was on the case. The memo continued to explain that new technology was being explored in order to detect solar powered IEDs.

The supervisor tore his reading glasses off his face - whether he crushed the memo in his fist, I cannot remember.

"What the hell are these idiots up in D.C. talking about?" he asked. "Why would anyone need a solar powered bomb indoors, on a plane?"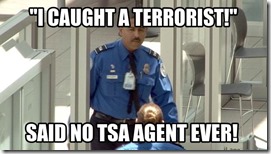 Gibson Hollow Body Stratocasters and the Gell-Mann Effect
Can you spot the error in this newspaper article?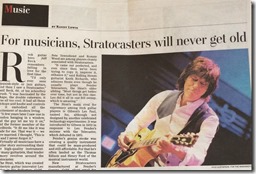 Seriously, if your gonna run an article on the Fender Stratocaster Jeff Beck is about as grand a Strat playing guitar god to showcase in a photo as you could find. And of course, that would be pretty easy to do. If you couldn't, it would be nice if they at least had him playing a Fender.

But a Gibson hollow body ?!?!?!?
Well I have one of both so to me a Gibson hollow-body stratocaster would be Teh Awesome. If it existed.
NY Post Reports the Capture of the Largest Handgun Ever Made!!
Or not assuming you have any idea about where the FNH Five-Seven gets its name from. Hint: The FNH Five-Seven fires a 5.7mm round which is about the same size as a .22 bullet.
Struggling New York Knicks point guard Raymond Felton allegedly pointed a huge, armor-piercing pistol at his estranged wife during a domestic dispute, sources said, and was arrested Tuesday morning for gun possession.

Ariane Raymondo-Felton - who recently filed for divorce - brought the Belgian-made pistol, an FNH Five-Seven 28mm handgun to the 20th Precinct on the Upper West Side, and the starting point guard later turned himself in for questioning, sources said.

...Sources said the 28 mm handgun is one of the largest made, and that his wife took it from their home on West 63rd Street.
Never forget all the layers of fact-checking and the Murray Gell-Mann Effect:
Briefly stated, the Gell-Mann Amnesia effect is as follows. You open the newspaper to an article on some subject you know well. In Murray's case, physics. In mine, show business. You read the article and see the journalist has absolutely no understanding of either the facts or the issues. Often, the article is so wrong it actually presents the story backward-reversing cause and effect. I call these the "wet streets cause rain" stories. Paper's full of them.

In any case, you read with exasperation or amusement the multiple errors in a story, and then turn the page to national or international affairs, and read as if the rest of the newspaper was somehow more accurate about Palestine than the baloney you just read. You turn the page, and forget what you know.
10 Japanese Travel Tips for Visiting America
Beware the family-style 'dinner plate':
In Japan, each person eating gets as many individual dishes as needed for the meal. Sometimes more than 10 dishes per person are used. In America, there is a method where a large bowl or dish is placed in the middle of the table, and you take as much as you like from there, and put it on a big dish said to be a "dinner plate."
Limited vending machines - i.e. no lobsters, beer, or panties:
Vending machines in the United States just give carbonated beverages. Coke particularly. If you try to buy the juice from a vending machine when you're thirsty, it's just all carbonate. I pressed the button and thought it would be a nice orange juice, but carbonate came out. I love carbonated, but there are times when it will make you sick indeed.
But optimism and little fear of failure:
In Japan, there is great fear of failure and mistakes in front of other people. It is better to do nothing and avoid being criticized than to taste the humiliation of failure. As a result, there are things we wanted to do, but did not, and often regret.

In America, you can make mistakes, fail, and it doesn't matter. It is a fundamental feeling that to sometimes be incorrect is natural. In addition, rather than thinking about mistakes and failures, American's have curiosity and say, "Let's try anyway!"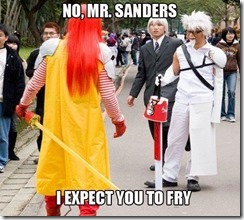 Probably isn't a surprise to longtime fans. A lot of the references came from Lucas' love of WWII movie dogfighting scenes and from the effects house's use of whatever model pieces they could get their hands on.
...Steve Gawley, model maker for A New Hope recalls, "We didn't have any money at all! I don't think we bought anything new - even the furniture in the screening room was recycled from Goodwill. We had a relationship with Monogram, a model kit company in Hawthorne, California, so we were able to order certain plastic trees with kit parts from some of their models and to buy 'returns' that maybe had a part missing - chances are we wouldn't need that part anyway. We'd get tremendous discounts on that kind of thing."

The Millennium Falcon model is covered in just such model kits. Pictured here is the 5 ft. Falcon model, used during the production of Episode IV. The main structure of the ship was made from scratch, but much of the rich detail was added using existing model pieces. On the hull of the Falcon you will find pieces of Panther tanks, Tiger tanks, Messerschmitt 109 fighters, Kubelwagons, and many more.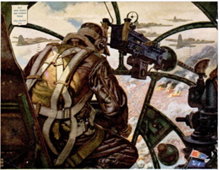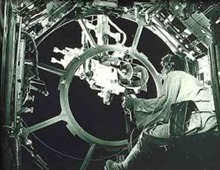 Bill Murray Remembers His Friend and Longtime Collaborator Harold Ramis
"Harold Ramis and I together did the National Lampoon Show off Broadway, Meatballs, Stripes, Caddyshack, Ghostbusters and Groundhog Day. He earned his keep on this planet. God bless him."
And Ramis' open-mindedness.
Lena Dunham Had No Idea Her Boyfriend Jack Antonoff Dated Scarlett Johansson Until She Saw It On A Blog
Granted it was a pre-nose-job ScarJo but still. I sure hope he's dating Lena out of love for her scintillating personality and general joie de vivre because if it's for her money, he's earning it the hard way.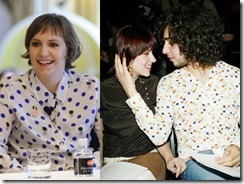 The AoSHQ group. Yeah.
Teh Tweet!
Tonight's post brought to you by animated jay pegs: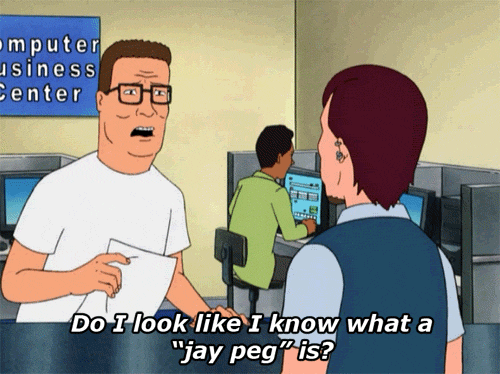 Notice: Posted by permission of AceCorp-KochBrothers LLC. Please e-mail overnight open thread tips to maetenloch at gmail and death threats via snail mail to Ace.

posted by Maetenloch at
10:16 PM
|
Access Comments