« AoSHQ Podcast: Taking The Week Off
|
Main
|
Obama May Decree... What Would Surprise You At This Point? »
February 07, 2014
Bane's Belated Response to Obama's State of the Union
And now, delivering a response to the President's State of the Union, the director of the Gotham Revolutionary Party, Bane.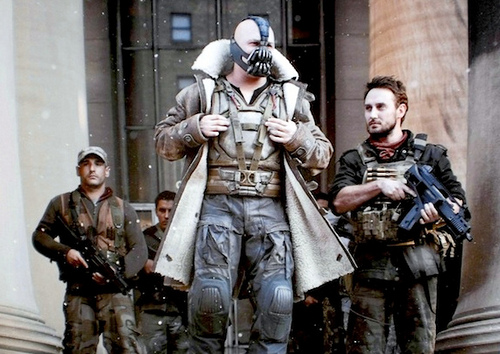 Greetings, Puny Americans. I am told you have just completed one of your saddest and most pathetic of rituals – gathering around your idiot boxes, getting your dose of electric soma, to watch your president, your ridiculous God of Government, instruct you as to what you should think, and what you should be talking about. As the leader of the Gotham Revolutionary Party, I approve of your weak craving for an authority to rule over you.
But before I address your Mister Obama's words, perhaps I should introduce myself. My name is Bane. I come from a small nation called Santa Prisca with a rich, colorful culture of riot and slaughter. I am the son of a brutal and cruel revolutionary fighter, what you might call a terrorist. As a small child, I was imprisoned, for my father's crimes in a savage penal colony with no guards and no rules. My childhood was one of constant fear and violence as I was forced to defend myself daily against the unsavory predations of evil men. As we had no food in the prison, we turned to the most primitive and basic form of agriculture known to mankind – eating our dead. And sometimes, our not-quite-dead.
As NBC's Political Director Mark Murray might say, my story is really Obama's story. Nothing ever came easy for either of us, you know. The rhyming clown Jay-Z once forgot to call Obama on his birthday; I once had my face nailed to a wall. They're really quite the same, aren't they?
This was humor of course. I was told I should begin with a humorous anecdote. I thought I should also explain this, this black thing on my face.
But now let me turn to the state of the union. I do not come to mock Barack Obama, I come to praise him.
Your Mister Obama presumes that the only guiding force in the world is pure naked power. I approve! Your American democracy is a ridiculous conceit. As George Orwell noted, the true nature of political power is a boot stamping in your face, forever. And forever. And forever more. Your Mister Obama is a weak man, but I admire his brutish instincts as to the true nature of political force.
Let us now turn to your Mister Obama's economic theory, similarly untainted by sentiment. Mister Obama believes that the natural state of man is not to create, or to strive, or to build, or to make, but instead to loot wealth from those who are so absurd as to create and strive, and build and make. The natural state of man is not that of a shopkeeper, but as a brigand, as a hijacker, as a thief. Once again, I approve!
Your Mister Obama understands what I learned as a mere lad of seven years, defending myself against cannibalism and rape. Prosperity is an illusion, and an illusion that itself enables other illusions. The illusion of decency . The illusion of self-worth and self-respect. The illusion of progress. The illusion that man is more than animal, that he stands above the beasts and vermin of the fields.
Your Mister Obama is wise to teach Americans that they are not more than animals; that they are in fact, rather less. When you have been sufficiently stripped of your illusions and vanities, you will return to your natural, feral state, violent, unthinking, unreasoning, and easily controlled by stronger animals.
Once again, I approve!
Your Mister Obama also mentioned some kind of new investment bond for the poor. Something his speechwriters have told him to call "MyRA." Here are my thoughts on this: I could give a shit less. I mean, come on. This is fodder for dummies.
In conclusion, puny Americans, the state of your union… is decadent! Your pathetic civilization shall not endure. No civilization ever does. For within each civilization are agents of chaos, and fear, and misery, and stupidity, and base instinct, who always seek to drag it down to their brutish level.
And, Puny Americans: You have elected such men to lead you! To lead you down into the pit. Whence I arose, so shall you sink.
Thank you for your time, and please watch Justified on FX. It's got guns, hillbillies, and heroin. It's like Duck Dynasty except they shoot people. I just enjoy it, you know.

posted by Ace at
03:54 PM
|
Access Comments