« "Sexualistics" Track Trends in Taste in Pornography
|
Main
|
Top Headline Comments »
February 06, 2014
Overnight Open Thread (2-6-2013)
Yet Another ObamaCare Surprise: The Mandatory Race Questionnaire
If you want to see your doctor, you are now required to declare your race and ethnicity and fill out a questionnaire.
The image below was sent to me by a reader who went for a visit to a physician, and was told that she could not be seen unless she filled out this race and ethnicity questionnaire, and put her name on the form.

She initially refused, but they insisted that it was required or she could not see the doctor. The form does indicate that it is mandatory under Section 4302 of Obamacare.
Thanks Obama and Congress. These days I always put myself down as 'Mixed' since a) it's true in the larger sense and b) it fucks up all their statistics.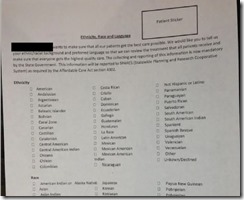 Anti-PIV RadFeminist Very Unhappy That Men Read Her PIV=Rape Blog Post
If you're wielding a P, just reading her rant is a threat. And thinking that someone who regularly generates several thousand words screeds on the utter perfidy of all men might have some screws loose is a form of misogynistic gaslighting. And criticizing her criticisms is a form of assault. (thanks to red)
When men view our blogs in such large numbers, it's a threat. They're not just looking at it, they view it with the intent of harming radical feminists and women in general. They do it to collect information so they know what next to do to prevent women from going there. They batter radfem work in public for all women to see and show the result of their verbal and written battering as an example of what will await women if they do, think or say the same.

...Unlike a normal blogger, attracting 85,000 hits isn't something I want to celebrate. It's threatening: you know they're after you, it only means you've hit men's radar and you have no idea what they plan to do. Will they attempt to hack into my blog? Will they try to find info about me? The kinds of thought this leads me to is 85,000 men going after me in real life.
Scrolling through page after page of angsty driven man-hate I can't help but think that some therapy would lead to a much, much happier life for her. But I'm sure that's just the P-driven non-nurturing result-centric hetero-patriarch in me talking.
The Congressional Class of 1974 is Almost gone, Thank God
With Waxman, Baucus, and Harkin retiring or resigning we're down to two remaining member of the 1974 class - Chuck Grassley (R-IA) and Rick Nolan (D-MN)*.
And Moe Lane isn't sorry to see them go.
.and good riddance to bad rubbish. That was the Congress (specifically: those were the Congressional Democrats) who decided to make the USA break its promise, and thus condemned several million people in South Vietnam to a life of slavery and want. In a just world, they would have been long since hounded from office; alas, I have to settle for watching them settle into the indifferent embraces of entropy.  Admittedly, that has its compensations.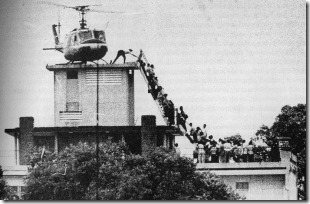 Remember That Time the US Invaded a Japanese Submarine Base in Alaska?
The Aleutians Campaign is mostly forgotten these days and many of the battlefields are still not open to visitors.
An absolutely fascinating but little-known story-described as a "forgotten theater" by the U.S. Navy itself-is the tale of Kiska and Attu, Alaska: two remote Aleutian islands where the Japanese military established a submarine base during World War II.

The islands-surprisingly close to the outer edge of the Japanese archipelago-were to serve as a landing point and restocking way-station for the Japanese on their way to a much larger invasion of the American mainland.

What ensued, however, was a harrowing 13-month period of submarine and naval warfare, including the all-out shelling and aerial bombardment of an enemy encampment constructed on U.S. territory-but not yet a U.S. state, as Alaska would only become the 49th state of the Union in 1959.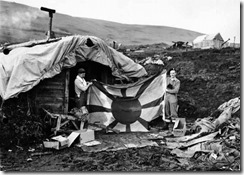 If Your Parents Were Long-Lived, Will You Be Too?
Not necessarily but you might get a few years beyond the average.
But in fact the correlation of longevity between individual parents and children is very low.  For the people dying in England in the period 1858-2012 with the rare surnames used in chapter 4, we can measure the correlation of longevity between fathers and sons for more than four thousand sons surviving until at least age 21.  That correlation is only 0.13.  If we take the average of both parents' ages at death, that correlation increases to 0.26.  But it is still low.  In reality, your age at death is not strongly predictable from your parents' age at death.  All those saving more for retirement simply because both parents are fit, healthy, and in their nineties should stop immediately.  Your expected additional longevity relative to the average is only three years.
Cop Arrests Firefighter at Accident Scene For Not Moving Fire Truck
Good thing it was caught on camera, or it would be tough to believe: A California Highway Patrol officer put an on-duty Chula Vista firefighter in handcuffs for refusing to move his truck while tending to victims of a car crash.

As he was being handcuffed on the side of the 805 Freeway near Orange County, the firefighter, 12-year veteran Jacob Gregoire, told reporters who had gathered, "I just want to let you all know he's arresting me."

Later, according to CBS News 8, Gregoire told the arresting officer, whose name has not been released, "It's unbelievable you guys have to treat us like this. We are trying to help you guys."

The officer replied, "We asked you to clear the road, you said 'No.' You are being arrested for not moving."
It seems the Highway Patrol and Fire Department have different views on what the priorities after an accident should be (keeping traffic flowing vs treating victims on the freeway) and the conflict got more heated this time around.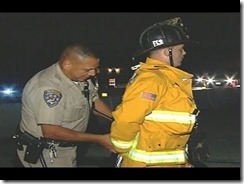 Frank Herbert "Reviews" a Beer
Part of the Something Awful's  'Great Authors Series':
There came a hazy pour, like the refraction pattern of a Torbit Shield, dropping into a Helfmann's Suspension Flask from a distance of two meters. The house imbibery was immediately filled with the sunny smell of hops. These were faraway hops from the rockfalls of the west wall and tasted of soft desert mingled with the Sea of Peace, pine, stone, and fresh baked bread.

The beardman was Quali and was called Yult Cherrik and came from a long line of blood-encrypted hypno-barbacks. His brewery conditioning had long ago been unraveled by a need to serve his customers spirits to their liking. As one of the elect of Quali, his arrogance persisted, and he approached my order with some hostility.

"Firestone Walker Double Jack?" he said and held out the Helfmann's Suspension Flask. I took it from him with a crackle of field refrigeration. He frowned. "Adjust two degrees by five five copy one."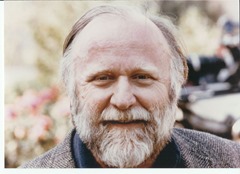 Underwear Statue at Wellesley Causes Angst
"[T]his highly lifelike sculpture has, within just a few hours of its outdoor installation, become a source of apprehension, fear, and triggering thoughts regarding sexual assault for many members of our campus community," says the petition. "While it may appear humorous, or thought-provoking to some, it has already become a source of undue stress for many Wellesley College students, the majority of whom live, study, and work in this space."
Well I thought art was supposed to be all transgressive and shit. But apparently only as long as it upsets the proper people.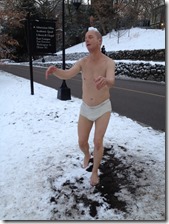 Yahoo group. That is all.
The group thingy. And the middle class.
And my Twitter spew.
Tonight's post brought to you by know your cults, 1979: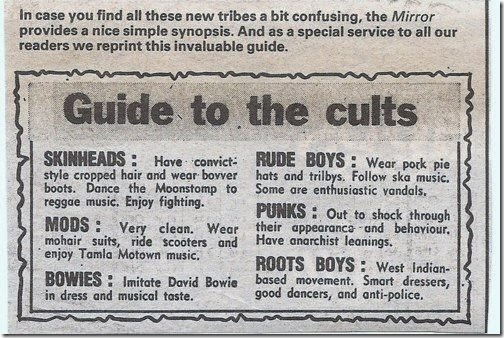 Notice: Posted by permission of AceCorp LLC. Please e-mail overnight open thread tips plus $1 for S&H to maetenloch at gmail. Otherwise send your scraps to BizarroAce. Do not taunt happy-fun ball.

posted by Maetenloch at
10:53 PM
|
Access Comments