« Saturday Morning Open Thread
|
Main
|
Yard and Garden Thread [Y-not and WeirdDave] »
February 01, 2014
The Senate Races & Immigration
Sean Trende took a cue from AmishDude, and considered the concept that the GOP is outright terrified of winning big. Ok he didn't consider it, he ran with it:

The idea is twofold. First, a landslide would present as much of a problem as it does an opportunity for those who might want to revisit the issue in 2015, especially if the GOP establishment (or its donors) believes this is a must-do before the 2016 elections. The base would be even more agitated after a big victory, and appalled at any compromise on this issue if the GOP picks it up in 2015. In addition, absent a majority, Democrats wouldn't have the same incentive to support a bill that contained further compromises, especially since they already view the bill as a compromise in the first place. They'd be better off watching Republicans flail and fail to pass a bill as their own base abandons them; this is roughly what happened in the mid-2000s.

This makes sense of the timing issue. Perhaps the GOP really did plan on letting the issue die last summer, when taking the Senate looked like a 50-50 shot, and breaking even in the House seemed like the order of the day. But then the Obamacare rollout hit, and suddenly Republicans looked like they might enjoy a 2010 redux.

If that's the setup, then Beutler's observation in No. 3 also makes sense. If a fight is inevitable, have it now rather than a much messier one in 2015. Maybe the Senate Democrats won't be able to swallow a bill with tougher enforcement provisions and without a path to citizenship, and they will own part of the death of immigration reform. Or maybe they'll pass it, and the issue will be partly cleared off the table for an election year. For an establishment Republican, that's win-win.

But I think it there's another, broader factor involved. When you get past the top tier of recruits -- the Mike Rounds and Shelley Capitos of the world -- and get into the more marginal seats that could fall for Democrats in a wave election, you start to get into candidates like Ken Buck. People have almost written Buck off, but I haven't; while I think there are smarter choices for the Colorado GOP, he barely lost in 2010, and conditions for Democrats are no better right now than they were in 2010. There's a similar crop of candidates in second-tier House races. The last thing the leadership wants is another crop of Ted Cruzes and Rand Pauls in the Senate, nor does it want another dozen Tea Partiers in the House.

This isn't to suggest that the GOP leadership is affirmatively doing this to minimize Republican gains. What I am saying is that they are closer to neutral about big gains than we might think, given the problems that the surge in base enthusiasm caused for them after the 2010 elections. So if they check agenda items like this off the list now and still get a landslide, great. But if they end up cooling off the base's enthusiasm and get a narrow, establishment-based Senate majority and keep the House, well, that's not the end of the world either. In fact, it would mean a more docile caucus in both Houses, which is good for those who run those Houses.

This hypothesis makes sense to me as well, because I can actually see a very, very large gain for the Republicans if conditions as they stand continued or even worsened for the Democrats over Obamacare. One of the core assumptions of this theory- that the GOP is facing big gains- absolutely holds water.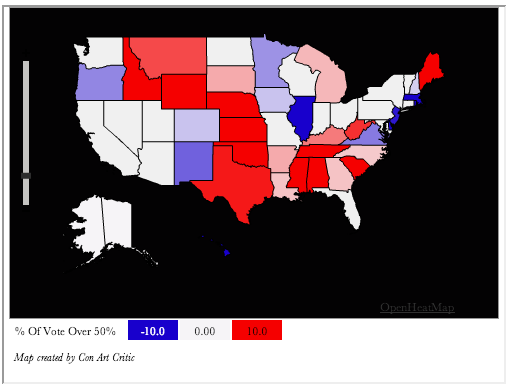 Words build a story, the picture tells it. This is what we are gambling away in exchange for something the core of the party itself does not want.
Realistically, seeing the GOP picking up between seven and ten seats is no longer crazy. Well, at least it wasn't before this latest poke in the eye. Republicans are favored in seven contests now, "tied" in Alaska (thanks to a lack of data), and trailing narrowly in Iowa, Colorado, and New Hampshire. Four more seats- Oregon, Minnesota, Virginia and New Mexico- could surprise as well, if an anti-Ocare wave continued to build. Ten seats would tie the GOP's strongest Senate majority since we've had 50 states- 55, and exceeding that? You're talking 1920's-level dominance.
With so many races coming up Milhouse, perhaps this gamble is worth it, short-term, to the Republican leadership. I can see several seats still flipping to the Republicans despite the bill: Montana, South Dakota, West Virginia, and if anti-Obamacare fever holds, a few Democrat incumbents representing states that have already left them.
My problem with the "they don't want to win...big" theory is there are a lot of Republicans up in just 2 years who would be looking at such a gamble as toxic to their chances, if the amnesty-passage doesn't send Hispanic voters flocking to them (spoiler: it won't). Republicans, to put it nicely, got reamed royally at the end of 2006. Their base, sickened by the amnesty push and annoyed with the floundering in Iraq, rightfully abandoned a party that had lost it's way. As Trende had indicated in a previous article, 2016 is looking to be a real bear for Republicans, so they would need this year to be a big win to hold onto the Senate, should they get it. Worse, if they don't even score a majority this year, the losses in 2016 could potentially send the Republicans down into the 40-vote zone again, making the Senate GOP even more powerless and useless than it currently is.
The assumption under this scenario is that the leadership has weighed the good versus the bad, figures they can still pull out a victory, and get their long-coveted amnesty; and that their base, which has warned them repeatedly not to commit such profound asshattery, will still pull them through in the end.
Judging from the past behavior of these guys, and the very strong reactions to all previous amnesty attempts, I have my doubts.
I like to win. I love watching states change from blue to red. Really, really love that. So, watching the Republicans do this to themselves when they were on the verge of a historic romp, you just have to shake your head. The bare minimum a party should try to do is win, but I guess that's just a bit too much to ask from the GOP these days.

posted by CAC at
10:04 AM
|
Access Comments