« I Just Can't Listen To This Jagoff's Smugly Droning Voice Anymore Thread
|
Main
|
Top Headline Comments 1-29-14 »
January 28, 2014
Overnight Open Thread (1-28-2014)
"When you have an efficient government, you have a dictatorship."

-- Harry S. Truman
The American Dream is Dead in the South?
Well that's what a recent article by Matthew O'Brien in Atlantic Monthly seems to claim.
Included in the article is a chart showing the percentage of people whose parents were the bottom 20% of income who made it into the upper 20%. When you look at the vast sea of red in the lower left it paints a pretty dismal picture of Dixie which appears to have about the same economic mobility as feudal Europe.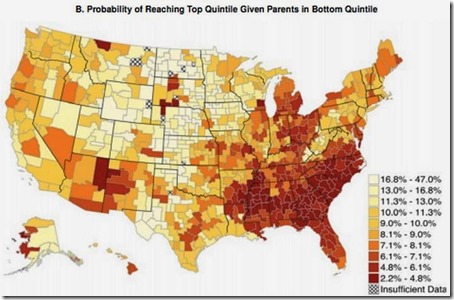 But this map doesn't correspond at all to the places that people are currently moving to to get a better life. And Stacy McCain calls bullshit on it. His primary rebuttal: West Virginia- the glory land of economic advancement?! No fucking way.
Why does rural Arkansas look like a beacon of upward mobility, while the bustling economies of Atlanta and Charlotte produce no such effect?

Most of all, why does the map referenced by O'Brien show that impoverished Appalachia offers more opportunity for advancement than any of the more prosperous surrounding flatlands?

To use a social science term: Your data is obviously fucked up.
And when people looked into the study they found it uses a strange way of determining economic advancement. Basically they looked at the mean family income levels of kids when they were in high school and then later the children's family income when they were 30 years old. Not too many people are in the top 20% of income levels at 30 even if they're doing very well. And I hope they adjusted the income levels for local costs of living but I wouldn't bet on it.
Also
Who Gets More Federal 'Welfare'- Red or Blue States?
Short answer: Blue states by far.
New Mexico Triple Enema, Anal Probe, and Involuntary Colonoscopy Guy Gets $1.6 Million Dollars
A city and county in New Mexico have agreed to settle for $1.6 million their portion of litigation brought by an arrestee who said he was subjected to a humiliating hospital anal exam involving three enemas, a colonoscopy and more after a traffic stop last year.

...Despite the exam, no drugs were found on Eckert or in his vehicle.

"It was medically unethical and unconstitutional," his lawyer, Shannon Kennedy, told the Associated Press. "He feels relieved that this part is over and believes this litigation might make sure this doesn't happen to anyone else."

Eckert's suit also named Gila Regional Medical Center and the doctors who performed the exam as defendants, and that portion of the case is ongoing.
I'm guessing the settlement against the doctors and hospital will be even bigger since they essentially ass-raped the guy against his will and without any medical justification.
Keep an Eye on Those Rotarians
They're organized, operate under the radar and have cadres in every major city and county. And I for one welcome our future Rotarian overlords.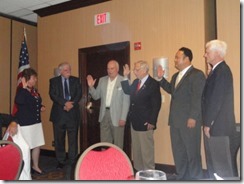 The Creepiness of Mass Weddings
Whether of Moonies or gay couples at the Grammy Awards group weddings are nearly always the actions of a cult. And very creepy to all the non-cultists.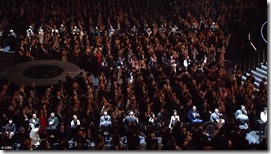 About like you'd expect.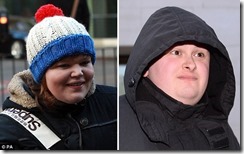 And here's your chance to vote on the best animated GIFs of 2013. I like the Obama-door one but it's a little too large to embed so you get balloon cat instead.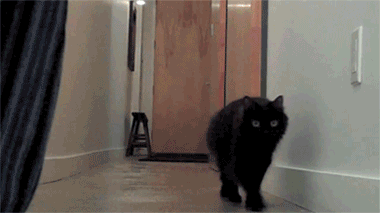 Also here's what classical paintings might look like if GIF technology had been available back then:
A 1920's Guide to NYC Tourist Etiquette
Don't take the recommendation of strangers regarding hotels... Don't get too friendly with plausible strangers.

Don't gape at women smoking cigarettes in restaurants. They are harmless and respectable. They are also "smart."

Don't forget to tip. Tip early and tip often.
Well not gaping and being wary of plausible strangers are still good advice.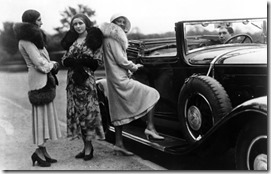 Victorian Home For Sale - Slightly Haunted
Built in 1901, this Victorian home in the Hollywood section of Dunmore [Pennsylvania] features 1850 sf of living space with an additional 1350 sf of partially finished space. Original hardwood floors throughout entire home. 4 bedrooms, 2.5 bathrooms. Off-street parking. Freshly painted. New moulding throughout entire first floor. Slightly haunted. Nothing serious, though. e.g. The sounds of phantom footsteps. A strange knocking sound followed by a very quiet (hardly noticeable, even) scream at 3:13am, maybe once a week. Twice a week, tops. And the occasional ghastly visage lurking behind you in the bathroom mirror. Even still, this occurs very rarely and only in the second floor bathroom.
Note to self - avoid the upstairs bathroom at night, contact local shaman.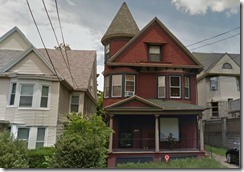 Solving the Dying Grandmother Code
Ask MetaFilter member JannaK presented the community with a puzzle that had been troubling her family for nearly 20 years. Her grandmother died in 1996 from cancer and in her last days she scribbled down a seemingly non-sensical string of characters on index cards. Nobody knew what it all meant. Then the Metafilter community solved the puzzle in 14 minutes.

According to the posting, JannaK's grandmother left at least 20 of the cards behind but neither JannaK nor her cousins could solve what they assumed were codes. Her father discovered one of the cards lying around recently, and so JannaK put it to the community.
And the MetaFilter community solved the code. Read the story to find out what the cards said.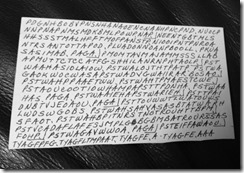 The AoSHQ group. Yeah.
Teh Tweet!
Tonight's post brought to you by Marty now walks among us: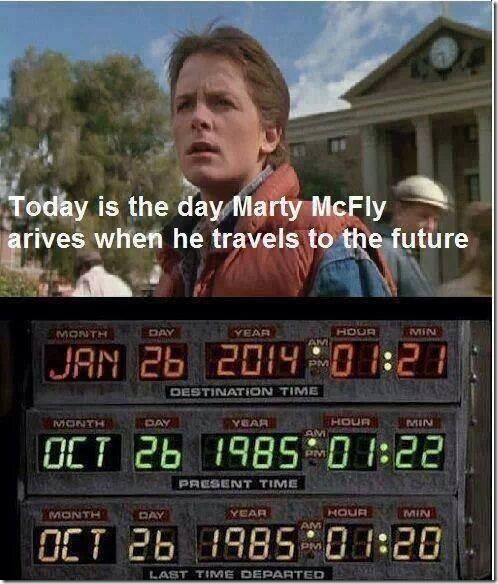 Notice: Posted by permission of AceCorp LLC. Please e-mail overnight open thread tips to maetenloch at gmail. Otherwise send tips to Ace.

posted by Maetenloch at
10:55 PM
|
Access Comments