« Ted Cruz: Obama Should Use State of the Union Address to Apologize to America for Obamacare "Lie of the Year"
|
Main
|
As I Was Saying: Fear-Mongering Progressives Review the RIP Round and Gush: "96 Grains of Pure, Unadulterated Hate. A Desire to Inflict Suffering. Period." »
January 27, 2014
Meet the New Superbullet (Same as the Old Superbullet?)
Almost fifteen years ago now an ammo maker made claims about its super-lethal round -- the the Black Talon "Devastator" ammo -- and then the all the usual people who freak out about such things freaked out.
Hollywood especially. They were bewitched by the Devastator for years. A major plot point in Lethal Weapon 3 concerned these Very Very Scary "cop-killer" rounds.
If I understand it correctly (and I think I do), an armor piercing bullet has a very hard, non-deformable tip so that it can better penetrate armor. When a bullet deforms upon impact, it mushrooms into a bigger shape, which makes it easier for armor to stop. But if the tip does not deform and remains relatively "sharp," it presents a smaller cross-section to the armor and can pass through more easily.
But armor piercing bullets tend to also pass right through the body without deforming. Once inside the body, you actually want the bullet to mushroom and expand, because you want all of the kinetic energy of the bullet delivered to the target, not partly delivered to the target and partly wasted on the scenery behind the target.
So for actual kills or stopping power, you want a bullet to deform. Like a hollowpoint round, which deforms upon impact. But hollowpoints are more likely to be stopped by armor (or any intervening object, like a pane of glass).
So the big selling point of the Devastator was that it kept its sharp, hard tip when passing through the skin (or any armor) because it was coated with slippery Teflon, but then expanded inside the body. The best of both worlds, supposedly.
As far as I know (and here I don't know much), the Devastator's claims about being hard on the outside and soft on the inside were overblown and within six or seven years pretty much everyone forgot about the ultra-lethal, we-have-to-ban-this-right-away super scary Cop Killer rounds. (Actually, per Wikipedia, Winchester stopped offering them for public sale in 2000, after a very well publicized shooting death involving the round. But it seems very strange that the Ultimate Bullet had a bodycount of one.)
Well there's a new miracle bullet, again promising the same kind of hard-outside-but-deformable-inside performance. The ultimate one-shot manstopper, it's being sold as. I don't know if the claims made about this one will pan out.
This one also doesn't make claims about passing through armor, but does claim to penetrate the skin more readily (and I guess a bullet does lose some kinetic energy just passing through the skin, which is tougher than people give it credit for).
But you know what I know?
Within a year every gun control organization will be shrieking about these rounds and there will be a dozen TV episodes talking up how terrible they are.
At least they didn't give it some super-scary name like The Devastator.
Oh wait: They're calling it the Radically Invasive Projectile, or R.I.P. for short.
Uh-oh.
G2R, based in Winder, Ga., highlights that the bullet points are manufactured with trocar angles — or simply put, edges with three angles reaching one point — to "penetrate the dermis layer more efficiently."

The G2R website explains the R.I.P. acts like a full metal jacket when it impacts solid objects: "It is capable of going through barriers such as sheet rock, plywood, sheet metal or glass and still performs its original intent. The bullet shreds through solid objects and only then, expands its energy."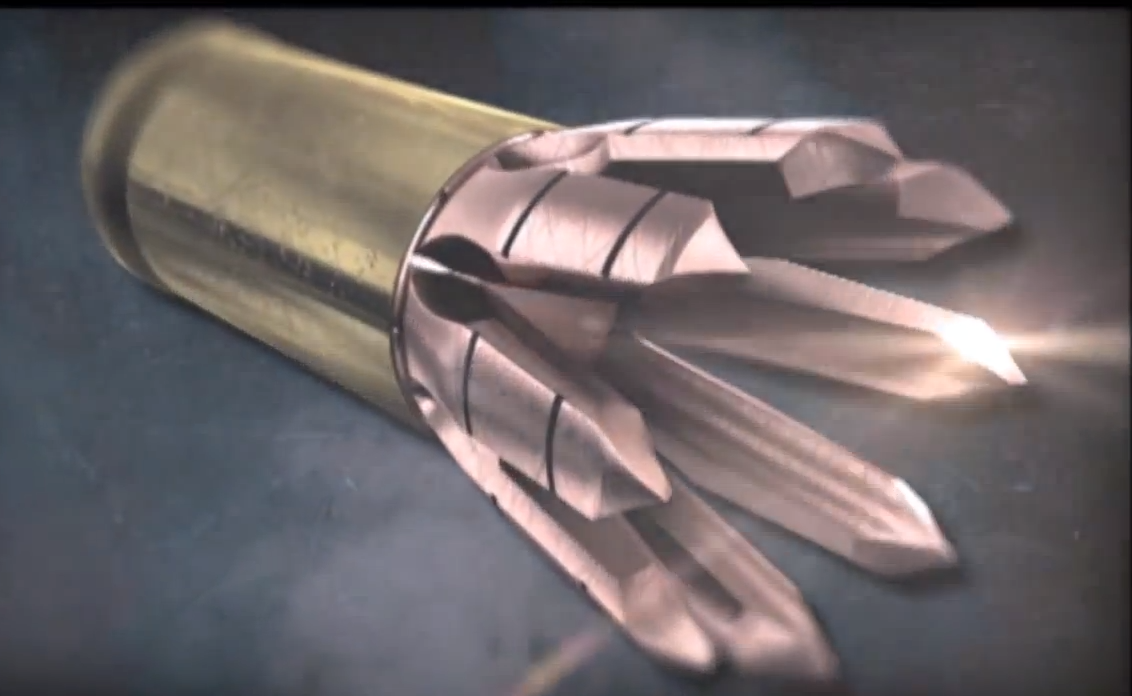 Scary looking. Like a bullet made up of knives. This bullet gives even Freddy Kruger nightmares.
Just as performance cars are supposed to look muscular and powerful or svelte and sleek (or combinations of all of these), so too do gun and ammo makers want their performance products to look scary.
And that's just catnip for the gun controllers, who are Ready to be Frightened at the drop of a hat, and would like to make sure that everyone is as frightened as they are.
The bullet's maker and the gun control crowd enter into a sympathetic symbiotic relationship here: The maker offers up a bullet for the gun control people to scream about: "This is the ultimate killer! It's worse than Hitler!!!," Chris Matthews will soon be saying.
And then the bullet maker gets to run advertisements:
"The Ultimate Killer. It's Worse Than Hitler."

-- Chris Matthews, ecstatically reviewing the R.I.P. round on Hardball
They both get out of this what they want: Publicity, and selling their product, whether bullets or Bullet Panic.
So get ready for an awful lot of hoopitty-do and much ado.
Thanks to @benk84. Follow him on Twitter or he'll shoot Bullet Knives at your face.
And Speaking of Hitler... A book claims Hitler escaped to South America (faked his death), and they claim to have a picture of a 95 year old Hitler, taken in 1984, to prove it.
He's dead now.
Supposedly.
The book, titled 'Hitler in Brazil - His Life and His Death', challenges the accepted view that the dictator shot himself in his Berlin bunker on April 30 1945. She claims he may have lived as Adolf Leipzig in the small town of Nossa Senhora do Livramento, 30 miles from the state capital Cuiaba.

Simoni, a Brazilian who comes from Cuiaba, says Leipzig was known locally as the 'Old German.'

Simoni is now planning to use DNA tests using a relative of Hitler living in Israel, after been given permission to exhume Adolf Leipzig's remains from his alleged final resting place in Nossa Senhora do Livramento.

As for the picture: It is so blurry that Adolf (whether Leipzig or Hitler) doesn't even seem to have a face. He just has a Head Oval.
If Adolf Hitler relocated to Brazil and called himself "Adolf Liepzig," then I've got some questions about this whole "Master Race" thing.

posted by Ace at
03:27 PM
|
Access Comments