« Open Thread
|
Main
|
Overnight Open Thread (1-26-2014) »
January 26, 2014
Spaced-Out Challenge: A Supernova, Globe-At-Night Light Pollution Survey, Hawking Squawking
[We Politely Request That All Off-Topic or Political Comments Be Directed to the Open Thread down page, Which Will Serve Officially as the Current "Active Conversation" Thread for All Discussions Not Related To This Topic. Enjoy!]
Selfish Betelgeuse still refuses to blow up (author, iPhone4S)
Welcome again to the Spaced-Out Challenge! Whether you have a question about equipment, a new astronomical discovery you want to expand on, or just want to kick back and enjoy the cosmos above, come one come all on our weekly astronomical journey.
This week, we'll aim our eyes and instruments at the closest supernova in decades, review the planetary positions for the week, discuss some positive news in the fight against light pollution, a crowd-sourcing project you can participate in to track it's spread (the Globe At Night), and rdbrewer briefly reviews and discusses Hawking's latest brain-burner on black holes. So, step outside, turn off the lights, and let me guide you through space and time.
***
A Supernova for Backyard Astronomers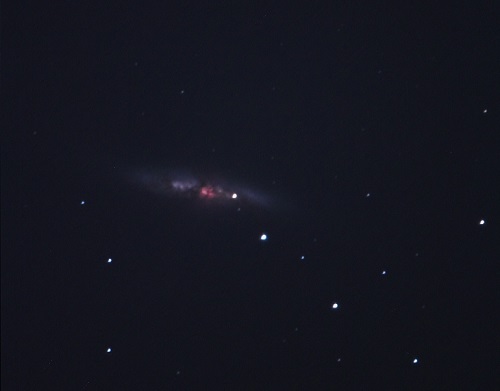 Supernova in M82 by Alberto Levy (from inner San Diego!)
Sky & Telescope
has the goods on it's current appearance (right now at magnitude 10...and still rising) and the fluke nature of it's discovery:
A surprise supernova has erupted in M82, the famous nearby irregular galaxy in Ursa Major. Observers are reporting it at about magnitude 11.2 as of Saturday, January 25th, with a color on the orange side of white.

A spectrum reported by Yi Cao and colleagues (Caltech) suggests that it may still be two weeks away from reaching its peak brightness. Early spectra showed it to be a Type Ia supernova — an exploded white dwarf — with debris expanding at up to 20,000 kilometers per second. It is reddened, and hence must also be dimmed, by dust in M82 along our line of sight...
The first people to recognize the supernova were a group of students — Ben Cooke, Tom Wright, Matthew Wilde and Guy Pollack, assisted by teaching fellow Stephen J. Fossey — taking a quick image at the University College London Observatory (within the London city limits!) on the evening of January 21st, at 19:20 UT.

"The discovery was a fluke," says a university press release,

—a 10-minute telescope workshop for undergraduate students that led to a global scramble to acquire confirming images and spectra.

"The weather was closing in, with increasing cloud," Fossey says. "So instead of the planned practical astronomy class, I gave the students an introductory demonstration of how to use the CCD camera on one of the observatory's automated 0.35-meter telescopes."

The students chose M82, a bright and photogenic galaxy, as their target, as it was in one of the shrinking patches of clear sky. While adjusting the telescope's position, Fossey noticed a star overlaid on the galaxy which he did not recognise from previous observations.

They inspected online archive images of the galaxy, and it became apparent that there was indeed a new starlike object in M82. With clouds closing in, they switched to taking a rapid series of 1- and 2-minute exposures through different colour filters to check that the object persisted, and to be able to measure its brightness and colour.

The supernova is visible in 90mm+ aperture telescopes, and theoretically visible in large binoculars from a dark sky site. I caught a glimpse of it with my 8" dobsonian from my heavily light-polluted porch, and it definitely outshines the hazy cigar it is implanted in. M82 is one of a pair of galaxies towards the head of the great bear, Ursa Major, and can be tough to locate, though easy to spot once you're looking in the right place. Here's how to find it.
First, look to your north for the Big Dipper, the bright asterism within the large constellation Ursa Major: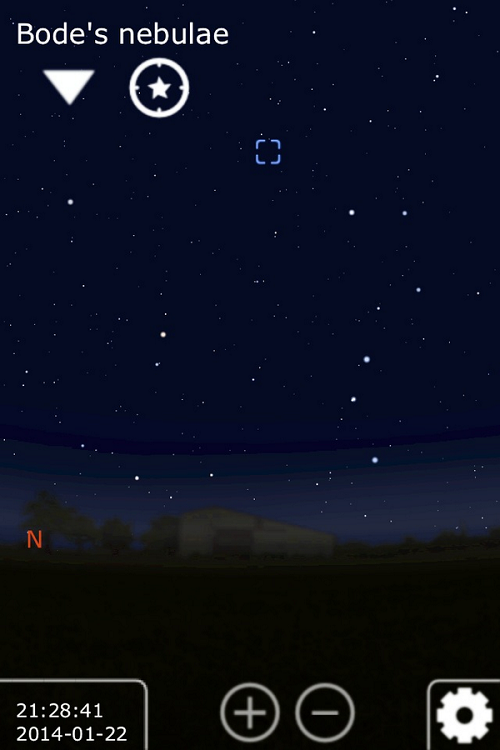 Trace a line from the back star of the bowl, Phad, to the northernmost front star of the bowl, Dubhe, and continue in the same distance and direction: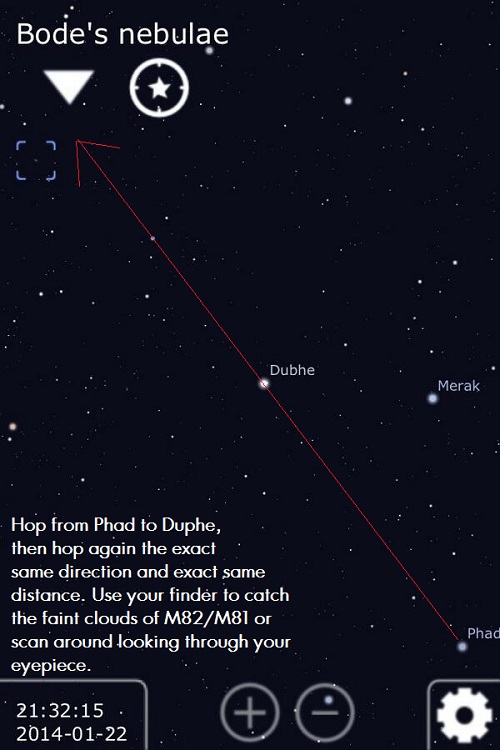 Looking through your finderscope or eyepiece, you should then see two faint patches of light. If not, you're just a push or two away, so scan around slowly, until you notice the two patches: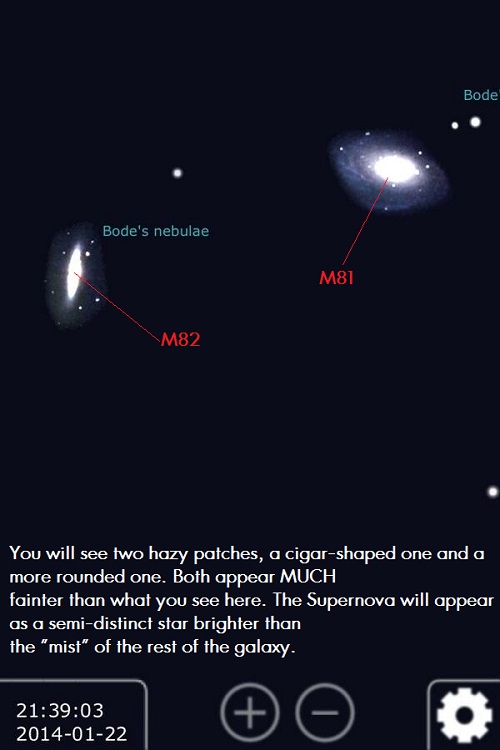 Important: there are a few bright stars within the vicinity of the galaxy, so compare your view to images published of the supernova to confirm you've successfully spotted it. If you catch it, be sure to send flowers and condolences, especially since you're around 11 million years late to do so.
***
*climbs onto soapbox*
Light Pollution & the Globe-At-Night 2014 Surveys
It's that time again to participate in the annual Globe-At-Night survey, a great project anyone can contribute to in the attempt to map, track, and, hopefully, reduce light pollution.
I encourage anyone living in the 'burbs and countryside to check out your outdoor lighting. Is it glaringly bright? Unshielded? Aiming into your neighbors windows? Into your own windows? Could you switch to a directional lamp, or a lower-watt bulb? Really, reducing excess glare and light tresspass can be as simple as adding a do-it-yourself shield. Rick Wilson, noted hippie, served this up on twitter:

Rick wanted to add a little bit, in case anyone was thinking of doing the same with their property:

Safety first, everybody. Also, if you are looking to change the outside look of your property anyway, please check out Lowes' Good Neighbor Lighting.
Just how much of a difference can word-of-mouth, voluntary outdoor light conversion, and changing outdoor lighting codes can make?
Well, if you live in suburban New England or New York, the concept of seeing the Milky Way, much less the zodiacal light, may sound like a nice fantasy. Yet, that is exactly what has happened in Charleston, Rhode Island, where a mix of voluntary and code fixes has returned the darkness: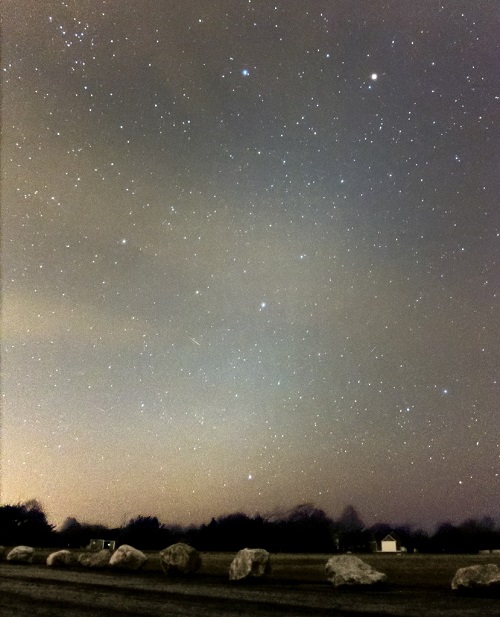 image by Scott MacNeill/Frosty Drew Observatory
Scott MacNeill was in Ninigret Park, his telescope trained on the comet "Ison," when he saw something he had never seen before: a celestial phenomenon called "zodiacal light." After several decades of being obscured by light pollution, the feature was visible again, thanks to the town's "dark sky" ordinance.
At first, MacNeill, an astronomer and the assistant director of the Frosty Drew observatory, didn't believe what he was seeing. The cone of light, which he initially thought was light pollution, turned out to be a faint, white glow that astronomers at the observatory hadn't glimpsed in recent memory.
"I was sitting back for a minute, just looking at the sky, and I said 'wait a minute. This is the southeast, and to the southeast is the ocean. What is coming up in the southeast?' And then I noticed the cone. And I'm like 'no way. That can't be zodiacal light.' I've heard so many stories about the days of old at Frosty Drew when you used to see zodiacal light here," he said...while the ordinance applies only to commercial outdoor lighting, the town has encouraged residential property owners to switch their outdoor lighting, too.
The town includes a pamphlet on dark sky lighting with each building permit it issues, and Warner said homeowners have been receptive to the changes. Warner attributed Charlestown's darker skies not to a single change, but rather, a town-wide effort.
"It's not like we tell them to do it. They don't have to, but it seems that a lot of people are. The word has gotten out," he said.
Town Council President Thomas Gentz said the ordinance had enhanced the quality of life in the town.
"I'm happy that it has been passed and that it's in place and I think Charlestown will continue to be an attractive community because of our dark skies," he said.
In already very dark areas, state governments have taken the initiative in preserving what they have: the Texas legislature overwhelmingly supported (and Governor Rick Perry happily signed) HB2857 in 2011, which forced all counties within a 57-mile radius of McDonald Observatory to adopt limits on outdoor lighting to keep the skies as free as possible from light pollution. This, combined with lighting-conversion efforts by Big Bend National Park, has made West Texas, already a great dark sky destination, almost dizzingly dark: Big Bend scored the lowest recorded level of light pollution of any National Park in the entire country. The stars at night are big and bright, indeed.

"But CAC," you exclaim, "I'm lazy. What could I possibly do with almost no effort?" This is where the Globe-At-Night survey comes in. I encourage all regulars, lurkers, and first-timers to go outside any night between now and the 29th, and submit your findings. Give your eyes a bit of time to adjust to the darkness, compare your view of Orion to the charts provided, and report your results using this link. Last year saw over 6000 data submissions from the United States, including hundreds from Texas, South Carolina, Florida and Michigan. It would be great if the horde could really ramp up the numbers!
*stumbles off soapbox*
***
What's Up This Week
I'm going to throw it over to Sky and Telescope's Tony Flanders to recap the solar system sights from now through next Sunday:
Deep Sky Targets:
The Orion Nebula, Pleiades, and Andromeda Galaxy are all great targets for amateurs and experts in the early to mid evening sky this week. For specific charts on each, please refer to our guides for Orion, Taurus, and Andromeda.
Omega Centauri reappears in the pre-dawn sky for observers south of latitude 42.5 N looking for an extreme challenge. Our guide to hunting down this elusive (for those not lucky enough to live in South Texas, Florida, and the very Deep South) can be found here.
***
STEPHEN HAWKING STIRRING THE POT AGAIN
[rdbrewer]
Stephen Hawking has submitted a paper (PDF) for peer review arguing there are no black holes--no event horizons--and that there are only apparent horizons which temporarily hold information. He's attempting to solve the black hole firewall paradox, a problem presented in a paper recently that has shaken up the physics world. From Nature:
Hawking's new work is an attempt to solve what is known as the black-hole firewall paradox, which has been vexing physicists for almost two years, after it was discovered by theoretical physicist Joseph Polchinski of the Kavli Institute and his colleagues (see 'Astrophysics: Fire in the hole!').

In a thought experiment, the researchers asked what would happen to an astronaut unlucky enough to fall into a black hole. Event horizons are mathematically simple consequences of Einstein's general theory of relativity that were first pointed out by the German astronomer Karl Schwarzschild in a letter he wrote to Einstein in late 1915, less than a month after the publication of the theory. In that picture, physicists had long assumed, the astronaut would happily pass through the event horizon, unaware of his or her impending doom, before gradually being pulled inwards — stretched out along the way, like spaghetti — and eventually crushed at the 'singularity', the black hole's hypothetical infinitely dense core.

But on analysing the situation in detail, Polchinski's team came to the startling realization that the laws of quantum mechanics, which govern particles on small scales, change the situation completely. Quantum theory, they said, dictates that the event horizon must actually be transformed into a highly energetic region, or 'firewall', that would burn the astronaut to a crisp.
This violates the equivalence principle, which states that that someone in free fall should perceive the laws of physics as identical everywhere in the universe, including falling into a black hole.
Hawking's solution is to do away with the concept of an event horizon. No event horizon, no wall of fire. The apparent horizon is something that can dissolve over time and release the information suspended there back into the universe.
Again, from Nature:
If Hawking is correct, there could even be no singularity at the core of the black hole. Instead, matter would be only temporarily held behind the apparent horizon, which would gradually move inward owing to the pull of the black hole, but would never quite crunch down to the centre. Information about this matter would not [be] destroyed, but would be highly scrambled so that, as it is released through Hawking radiation, it would be in a vastly different form, making it almost impossible to work out what the swallowed objects once were.
Many physicists will have a problem with the idea of no event horizon. Hawking's paper will generate a lot of responses.
***
Moron Astrophoto of the Week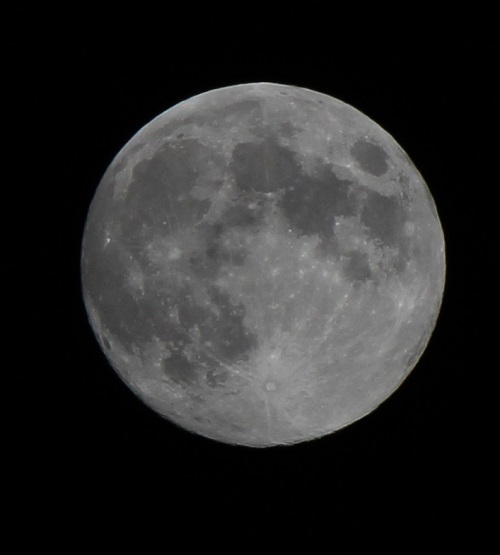 Moron Anthony LaGatta submitted this beautiful shot of this month's full moon.
***
The full Beginner's Buyer's Guide, our Comet Guide (featuring additional grab-and-go telescopes), and any other edition you're looking for can be found in the master index of all Spaced-Out Challenge threads
here
, but of course you can always inquire about binoculars, telescopes, and all the rest in the comments. As always, if you have astrophotography, product recommendations, or astronomy news you'd like to see on a future Spaced-Out Challenge, email me at theoneandonlyfinn (at) gmail.com, or tweet me
@conartcritic
.
If you have any more questions about your new optics, feel free to ask below. Until next time (February 9th), clear skies to you, and keep looking up!

posted by CAC at
09:13 PM
|
Access Comments