« War on Women: Unemployed XXers Split on Congressional Generic Ballot
|
Main
|
Glenn Beck: Hey Sorry I Broke The Country and Stuff »
January 22, 2014
Obama: Roe v. Wade Permits all Women to "Fulfill Their Dreams"
No longer punished with a baby.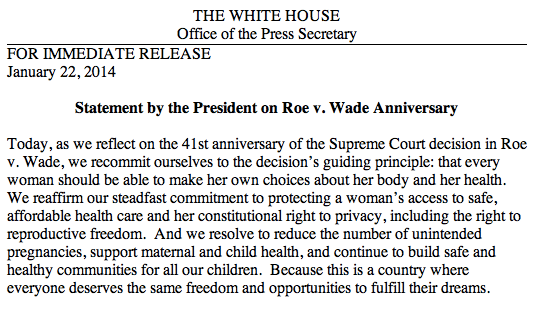 It's instructive to note the shift from Bill Clinton to Barack Obama. Bill Clinton straddled the issue, rhetorically, by declaring that abortion should be "safe, legal, and rare." By adding the last word -- really nothing more than a rhetorical fillip, because he opposed all restrictions -- he at least attempted to signal to pro-life people that he understood the act of abortion did in fact have moral consequences.
Whether he did believe this I have no idea. But he did at least try to signal his understanding of, and concern about, the moral consequences of abortion.
His political posture was thus: If you're pro-life, I am voting against you; I will use my power as President to advance the interests of your opponents and thwart your own; however, I will at least give you the courtesy of a rhetorical nod towards the plausibility and respectability of your position. I disagree with you, but I will grant you that your position is well-founded, even if it is one I do not favor.
Compare this to Barack Obama, who today proclaims abortion an unambiguous moral good, something that permits "everyone" to "have the same freedom and opportunity to pursue their dreams."
Standard progressive boilerplate on abortion usually includes a flourish acknowledging, for example (and I'm fake-quoting this from memory, not any particular document), "supporting women as they wrestle with these difficult choices."
Well, apparently we're wrestling with difficult choices no longer. Now it's about freedom and the opportunity to pursue your dreams, Wendy Davis style.
This isn't just about Barack Obama's decision that there are no more difficult questions to wrestle with on this issue. New York Governor Andrew Cuomo similarly declared that one side of the issue was wholly illegitimate, with not a shred or speck of decency to it, and thus could not longer be tolerated in an entire state.
During a radio interview on Friday, Cuomo pointed out that Republicans were in the midst of a schism, where conservatives worked against moderate Republicans.

"Their problem is not me and the Democrats; their problem is themselves," he said. "Who are they? Are they these extreme conservatives who are right-to-life, pro-assault-weapon, anti-gay? Is that who they are? Because if that's who they are and they're the extreme conservatives, they have no place in the state of New York, because that's not who New Yorkers are."
Over at the All-White Racist Newsletter The New Republic, a progressive critic faults Obama for talking to Americans as if they were children. I have similarly faulted Obama for his endless baby-talk.
The progressive left praises Obama's endless chatter as elevated and enlightened, but in fact he only says four categories of things:
1. Things which are true, but are so obvious that it is insulting to be told them in such condescending terms.
2. Things which are not obvious, because they are also not true.
3. Heroic self-reference.
4. And the Middle Class.
But let me quote some of TNR's Isaac Chotiner's observations:
There was a time, of course, when the very idea of having a president who is smart and engaged seemed like a luxury. Obama's intellect—well caught by Robert Gates in his new memoir—marks an improvement over many other people who have held the office. Remnick defines the style as "the professorial immersion in complexity." The more familiar way in which liberals characterize this is to say, as John Stewart said during the 2008 campaign, that Obama talks to us "like adults."

Does he? I'm starting to have my doubts. Yes, the president is capable of giving intelligent and mature answers to questions. But the intent is so obvious—and the effort shows such strain—that the answers feel more condescending than enlightening. Remnick's piece, in fact, doesn't show Obama's complexity; it shows Obama applauding his own complexity. The president is like a novelist who demands on telling you the motivation of every character, except he is the only character.

The result is that he actually ends up speaking to us like children.

*

Obama's form of children-talk is different from George W. Bush's. Obama's signature move, ironically, involves refusing to give simple answers to questions, a habit for which he clearly prides himself.
Chotiner now quotes Obama's on-the-one-hand-on-the-other-hand style of appearing "deep" on the question of drug legalization. I'll spare you Obama's quote (which states a great many Obvious Things) to get to Chotiner's characterization of the answer:
It's not just that the answer is now maddeningly long. Nor is it merely that Obama exhibits his annoying tic of stating his opponent's case in the most extreme, over-the top way (who exactly thinks marijuana legalization is a "panacea" for solving "all these social problems?") It's also, again, the condescension. We know there are other sides to the issue. We know the issue is complex. We know there are slippery slope arguments about drug legalization. But either he doesn't think that we know these things or, more damningly, he must remind us that he knows them, too.

The reason he does this, I would argue, is that he is more interested in telling us how he thinks than what he thinks. His defense of the NSA, for example, has largely rested on his statements that he and his team are trustworthy and thoughtful people.
Chotiner may be annoyed by Obama for condescending to his own kind (progressives), but he's just wrong that Obama is full of complexity -- more so than George W. Bush.
Why were progressives so angry at Bush's rhetorical style? Because Bush would state certain propositions (most importantly, that we would no longer tolerate states which do business with terrorists) without any nuance and without acknowledging the criticisms of his position and the drawbacks of it.
That is, Bush entirely ignored the progressive critique. And for doing so, he was labeled a "dummy." He just doesn't understand the arguments against his own ignorant positions, the line of reasoning went.
But compare this to Obama's statements on abortion. Does he signal, at all, that he even understands the moral consequences of his own position, or the moral attractiveness of the pro-life side? Of course not. Like the Cowboy Bush, he simply shoots from the hip and smokes the evil-doers (those who disagree with him) out of their caves.
Obama's Hamlet Act -- where he lists the upsides and downsides of a policy, which, itself, is a trivially easy thing to do -- is reserved for one situation only: The situation in which an important part of his progressive base disagrees with him -- on the NSA, on drug legalization, and, previously, on gay marriage.
On these issues, he feels the need to at least rhetorically flatter those who are part of his coalition but oppose his policy, stating, as Bill Clinton did once with respect to abortion, "I'm voting against you, but I appreciate the seriousness of your philosophical position on this point."
But George W. Bush did that as well, for God's sakes. So has every politician. Every politician understands when he's upsetting a significant bloc of his coalition and must attempt to mollify them by at least flattering them while imposing a policy that thwarts them.
Chotiner doesn't notice Obama's Smoke Them Out of Their Caves Cowboy Rhetoric on abortion, or on socilalizing the economy, or a dozen other issues because, I'd imagine, Chotiner agrees with Obama's basic take that these opinions are beyond the pale and marginal (or, at least, ought to be marginalized). He did notice when Bush did that to his opinions, because, of course, they were his opinions being haughtily dismissed.
I agree with the bulk of Chotiner's characterization of Obama's alleged Smart Talk. It exists simply so that those in his coalition who are disappointed by his decisions at least have a rhetorical hook upon which they can hang their continuing support. "Hey, he's doing everything wrong, but at least he talks like he understands, unlike that cretin Bush."
And I agree that Obama's alleged "nuances" and "insights" on policy are neither terribly nuanced nor particularly insightful. Obama seems to approach the Presidency as if he were a 2L law student merely issue-spotting on an exam, a fairly minor skill in the scheme of things. Yes yes yes, you've successfully spotted the issue of res ipsa loquitor, but can you now actually give us the right answer on this issue?
Obama's mere listing of Factors That Must Be Considered is the easy part (the issue-spotting), and then he wishes us to take his victory on the easy part as also a victory on the hard part (actually resolving the issue properly).
I do depart with him on whether or not the alleged "nuances" Obama brings to these discussions are much different than those Bush brought to the table. Bush spoke in nuanced ways, too, for example, about abortion (paraphrasing: I am pro-life myself, and I wish the country to be pro-life, but right now the country does not celebrate the "Culture of Life" required for this position to win out; but I will use my power to rhetorically and programmatically bring about such a state of affairs).
Chotiner either sees Bush's nuances as cynical attempts to have it both ways, or thinks that there are no nuances here at all, because he's so committed to the pro-choice side that he doesn't acknowledge there's a respectable opposition at all.
And this blinds him from seeing that Obama is doing the same sort of things as The Demon Bush.
Obama just takes a great deal longer to get the part where he says "splunge," and feels the need to praise himself and his intellect and temperament a great many times along the way.

posted by Ace at
02:48 PM
|
Access Comments