« Spaced-Out Challenge: The Full Moon, Great Amateur Photos, & the Hand of God
|
Main
|
Top Headline Comments 1-13-14 »
January 12, 2014
Overnight Open Thread (1-12-2014)
Gates and Barack Obama's Narcissistic War Insecurities
Moe Lane breaks down this paragraph from Gates' book and how much it says about Obama. The context is a request by Adm. Mullen and Gen McChrystal for 5000 more support troops early in Obama's term in order to keep the Afghan situation from deteriorating further:
[JCS Chairman Admiral Michael] Mullen and I repeatedly discussed with the infuriated president what he regarded as military pressure on him. "Is it a lack of respect for me?" Obama asked us. "Are [Petraeus, McChrystal and Mullen] trying to box me in? I've tried to create an environment where all points of view can be expressed and have a robust debate. I'm prepared to devote any amount of time to it-however many hours or days. What is wrong? Is it the process? Are they suspicious of my politics? Do they resent that I never served in the military? Do they think because I'm young that I don't see what they're doing?"
For Obama their request was all about him and political maneuvering. The possibility that Mullen and McChrystal really thought the 5,000 enablers were necessary doesn't seem to have occurred to him.
And Obama, Biden and their advisors didn't seem to understand military matters and the military in general.
That Sunday meeting was unlike any I ever attended in the Oval Office. Obama said he had gathered the group principally to go through his decisions one more time to determine whether Mullen and Petraeus were fully on board. The commanders said what he wanted to hear, and I was pleased to hear my proposal being adopted.

Then came an exchange that is seared into my memory. Biden said he was ready to move forward, but the military "should consider the president's decision as an order."

"I am giving an order," Obama quickly said.

I was shocked. I had never heard a president explicitly frame a decision as a direct order. With the U.S. military, it is completely unnecessary. As secretary of defense, I had never issued an "order" to get something done; nor had I heard any commander do so. Obama's "order," at Biden's urging, demonstrated the complete unfamiliarity of both men with the American military culture.
We're in the best of hands.
And it's Walmart FTW despite being The Worst Worst Place Ever To Work according to the Left.
This is really amazing - the much derided Walmart health-care benefits are much better than one could buy under Obamacare. Premiums are steeply lower for Walmart recipients, as are the required deductibles. And Walmart insurance gives employees access to more hospitals and many more doctors than are in the Obamacare exchanges. Will we see the same sort of protests against Obamacare as we've seen against Walmart? Of course not.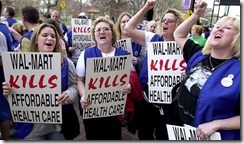 Supreme Court to Review Obama's Recess Appointments to NLRB
Now, for the first time in American history, the Supreme Court will consider just what constitutes a "recess appointment." The court will hear a case involving a Washington state canning company that lost an NLRB decision involving the questionably appointed commissioners. Senate Republicans have also joined the suit that, if overturned, could invalidate hundreds of NLRB decisions made after the president claimed his recess appointment power to name the three Democrats.

One of the question before the court will be; who decides when the Senate is in recess?
On one hand you can argue that the Senate is in recess when it says it's recessed, but if the Senate declares that it will conduct no business for a set period as it does during its pro forma sessions, that's arguably a de facto recess.
Why is a 30 Year Veteran Colonel Now Living in a Van Down By the River?
But retired Air Force Colonel Robert Freniere doesn't fit that profile.  According to the Philadelphia Inquirer, Freniere, who concluded a 30-year military career in 2006, spends most of his nights in an old minivan, not far from the military academy where his son is a student.  Despite an impressive service resume--and multiple graduate degrees--Freniere has struggled to find work in recent years:

"After his retirement, Freniere said, it took him a year to find work. Like many retired servicemen, he turned to jobs with defense contractors. Twice, the work took him to Afghanistan, he said.
When he came home, he had nowhere to go after separating from his second wife. (In an interview, she said that he does not help her pay the mortgage on their home.)

Freniere said he had not been able to find a contracting job since August 2012. He blames the federal sequestration for squeezing contractors of money and of the confidence to hire people. He has not lasted long at other jobs, as a substitute teacher and an executive in a company writing proposals for government grants.
But there's a mystery here since his pension ought to be enough to support him and his family.
Yet, elements of Colonel Freniere's story are puzzling.  For starters, there's the income issue; as a retired O-6, with 30 years of service, Freniere receives a pension equivalent to 75% of his base pay, somewhere around $8,000 a month.   We'll assume that his ex-wife gets half of his pension, as mandated by federal law.  That still leaves the Colonel with upwards of $4,000 a month to live on.
More here.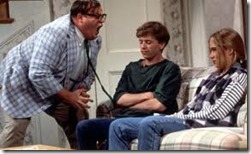 From the latest issue of Popular Science.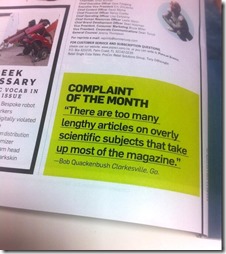 NYC woman shocked to see 'Negro' as an option on juror form
A New York City woman was shocked when she was asked if she identified as 'Black, African American or Negro' on a juror form.

Raeana Roberson, 25, who is black, received the form on Monday from the Queens County courthouse when called in for jury duty.

'I felt shocked and upset and totally disrespected,' Roberson told The Huffington Post.
No one tell her what the C in NAACP stands for or she'll totally freak.
How Many People Does It Take to Free a 12 Year Old's Tongue From a Frozen Flagpole
Okay 12 year old Maddie Gilmartin had a sudden idiotic urge to lick a flagpole which makes her a young fool - who's now learned her lesson:
[T]here was no dare involved. Maddie's a kid who was just curious and learned the hard way.

Her parents hope other kids will realize the dangers and not make the same mistake their daughter made.

"It was just completely innocent," Shawn said.

Maddie said her tongue now aches and feels like it was stung by a bee, but otherwise she's doing fine.
But the really disappointing part is the haplessness of the adults around her who left her stuck to the pole for 15 minutes while the authorities were summoned. Did no one think of warm water (or in a pinch urine)?
To us, the most amazing part of the story is that nobody was able to unstick the poor girl without calling the authorities. Police responded. Someone called a relative who worked in a hospital, and she in turn got a doctor's opinion.

About 10-15 minutes into Maddie's ordeal, her parents - with the encouragement of the cops and ER doc - poured hot water on the interface between the 98.6ΒΊ girl and the -4ΒΊ or so pole, and Maddie was freed. Taken to the ER, she learned she's going to hurt for a while - and recover. She then went home.

She seems like a bright child, in case you needed any more proof that bright people can do dumb things. It still kind of amazes us that someone can live in New England and not know (1) not to touch bare flesh to bare metal, and (2) how to unstick the twain if you ignore (1).
And no she had not seen the movie A Christmas Story if you were curious.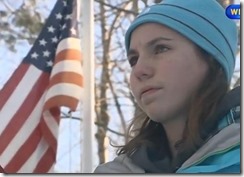 Woman Eats 4.5lb Steak in Less Than 3 Minutes
Like most pro eaters she's on the thin side - another blow to the Big Man theory.
Hats off to Canadian Molly Schuyler, who undertook a record-breaking 72-oz steak consumption on a whim at Sayler's of Portland, OR. Schuyler polished off the 4.5lb slab of meat in less than three minutes. The world record time this feat stood at 6:48. It's not clear whether Schuyler's record has official standing, though: record-setting conditions appear to stipulate that challengers use a knife and fork, not their hands. Nevertheless, Schuyler has done something amazing.
Weekly Commenter Standings
Top 10 commenters:
1 [1264 comments] 'Sven 10077' [177.42 posts/day][A comment every 8.1 minutes 24/7 = cry for help]
2 [498 comments] 'Niedermeyer's Dead Horse'
3 [426 comments] 'AllenG (DedicatedTenther) Ah, F It.'
4 [417 comments] 'Anna Puma (+SmuD)'
5 [404 comments] 'toby928?'
6 [395 comments] 'Mike Hammer'
7 [362 comments] 'Thunderb'
8 [325 comments] 'Hawaii'
9 [296 comments] 'soothsayer'
10 [290 comments] 'garrett'
Top 10 sockpuppeteers:
1 [75 names] 'Clarence' [10.53 unique names/day]
2 [74 names] 'The Political Hat'
3 [46 names] 'Cicero (@cicero)'
4 [37 names] 'toby928?'
5 [33 names] 'Doctor Fish'
6 [31 names] 'kbdabear'
7 [30 names] 'Mike Hammer'
8 [30 names] 'Hate Miser'
9 [29 names] 'BubbaLou'
10 [28 names] 'Hawaii'
The group. Yeah.
Where it's at - the Twitter
Tonight's post brought to you by then and now:
Notice: Posted by permission of AceCorp LLC, a subsidiary of Koch Brothers Inc. Please e-mail overnight open thread tips to maetenloch at gmail. Otherwise send tips to Ace.

posted by Maetenloch at
10:17 PM
|
Access Comments